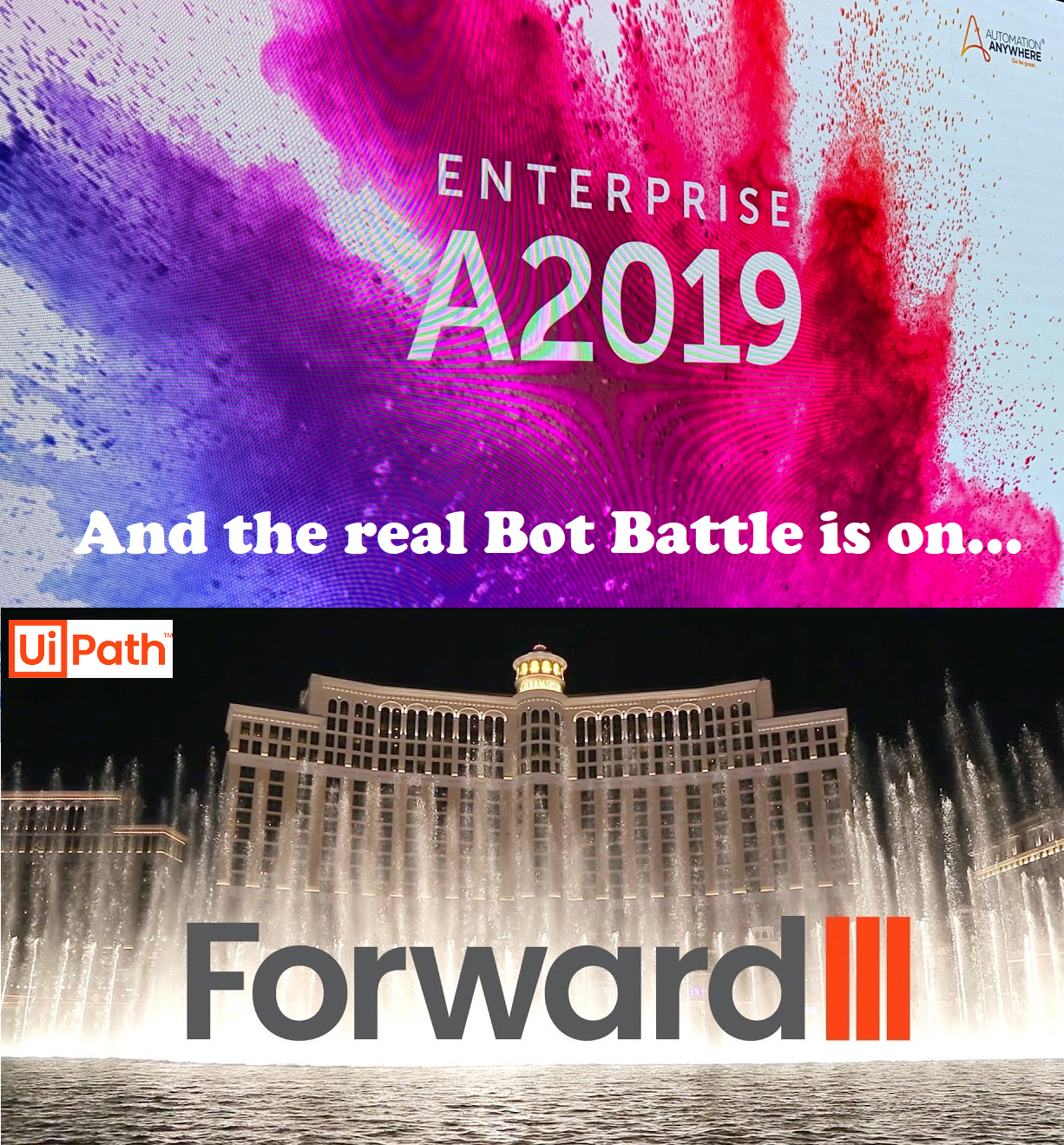 Well what a week that was in the world that is automation software… while 11 automation leaders at the HFS New York Summit pretty much all agreed that the world that was called RPA is stuck in the mire of making legacy tasks work better, we then were treated to Automation Anywhere's launch of its new platform upgrade A2019 right afterward at the Nasdaq center, where CEO Mihir Shukla declared he wanted a "Digital Assistant for Every Worker". A2019 claims its ease-of-use in the cloud, its new plug-ins into Microsoft Word and Excel, and its ability to be run from a mobile device make it the best task support tool in the business. Oh, the timing! Will UiPath stay safe with its status as the "developers favorite", will Blue Prism stay true to its "friend of the business pro", or will AA's focus on bridging a solution for both business and IT with the day?
So all eyes now turn to UiPath's flagship Forward III event in Vegas next week, where CEO Daniel Dines and his team are under intense pressure to drive an even more powerful narrative for the industry to keep itself at the forefront of robotic software. The onus is on the UiPath leadership, more than ever, to seize the initiative, especially as their noisy competitors are unlikely to keep the brakes off the PR Newswire next week… (Oh and HFS mega analyst Elena Christopher is there speaking, who co-authored the now-infamous "RPA is Dead, Long Live Intelligent Automation" blog. And Kudos to the UiPath folks for having the courage to bring in an untethered analyst viewpoint after some of the recent utter mush we've been subjected to at these things. Oh and a woman too, thank God!
Here are the 25 key tenets where UiPath, AA and Blue Prism must draw battle as they look to cross that chasm from RPA to a true digital workforce
Consultants, fellow analysts, here's everything you need to advise your clients… steal away as HFS is just giving it allll away….
1. Stop counting customers. Start counting and showcasing growth with accounts/scale… 40% of engagements are still in pilot mode, so these cannot be considered long term clients until they get into some form of live usage.
2. Stop hiring armies of salespeople who have no idea what they are selling. Sorry, but we really needed to say that one…
3. Stop amassing as many partners as possible. Prioritize quality not quantity (which would require well thought out partner programs).
4. Stop referring to SaaS as cloud. Seriously just stop. Now.
5. Make the gap between unattended and attended seamless because customers don't actually want to decide what flavor of automation they need, they just want automation.
6. Start addressing governance and meaningful management of bots in the context of broader workflow. Don't let massive attended automation and freedom to automate shift from democratization to chaos. address how attended is managed in a way that does not make the IT shops in all of their clients want to abort mission
7. Bring IT and business visions together as one integrated approach. Education must focus for technical and non-technical resources – into communities and educational institutions globally.
8. Shift focus to an integrated automation roadmap – expansion of functionality beyond RPA/RDA to AI and smart analytics. Badging everything as RPA is definitionally incorrect and fails to give clients a roadmap to follow to advance beyond (legacy) repetitive task automation, desktop and document automation.
9. Provide proven scale and depth of professional service to support the SI/advisor channel. This is the battleground where the winners and losers will be decided… if you have the support available to train the channel and your major direct clients, you will get your clients into double-bot figures.
10. You must drive digital change management to help enterprises grapple with transformation with its services investments. Relying purely on Big 4 advisors and service providers for change management will cost clients a fortune and drive many away. This is a key area UiPath needs to take the lead on.
11. Prove it has the lowest-code capabilities of all the bot players. The shift from low-code to no-code is on… proving real no-code abilities is becoming increasingly critical as frustration build with the ease-of development of some of these solutions. This is the real key to proving "one bot for every employee" is truly possible.
12. Really demonstrate you can win in the cloud. This is the impressive push from AA that UiPath and Blue Prism needs to counter… the ability to create public, private and containerized solutions for large automation is one of the main avenues to moving out of pilot mode into a fully industrialized approach.
13. Have the most mobile-enabled bot solution. Moving bot development into the hands of code-hating business professionals is key and having really cool mobile interfaces is becoming increasingly important.
14. The developer ecosystem must be expanded to extend functionality, libraries etc. Commit to specific goals for how much of their codebase will be available on Github et al to build an industry solution skewed against technology-vendor lock-in. Much of this RPA functionality is not rocket science or any trade secret.
15. Commit specific sums to meaningful partner relationships with leading service providers and consultants, including opensource partner technical support systems, events, education resources, and people to help the industry grow
16. Commit to funding local academies (building on their online academies) especially in blighted neighborhoods near its biggest offices to bring young coders and potential customers together with employees for on the job real-world training
17. Must get focused on core business processes by industry, such as supply chain in manufacturing, core banking in BFS, underwriting in insurance, billing in telecom etc
18. Revisit its client engagement model to ensure it is best serving its customer base – its rapid growth in salespeople may expand capacity, but if sales lacks vision, then clients may not be well served (as per comments in our recent survey above)
19. Commits to drawing down technical debt (Every SW company has it, some more than others). As illustrated above, our customer surveys point out which elements of their platforms and solution are known to need immediate re-engineering and investment
20. Identify and subsidize hands-on automation industry experts and influencers whose independent thinking deserves funding and not just focus on checking boxes with legacy analysts. The automation industry is being impacted by many unique stakeholders.
21. Kick off an enduring and sustainable initiative modeled after Salesforce's 1-1-1 program
22. Invest in cross-technology customer events that will expand overall value creation, for example partnering more aggressively with the likes of Salesforce, Microsoft, Amazon, Google etc.
23. Spearhead an Automation Industry Technology/Business Roadmap that shows a clear path for enterprise clients to progress from basic robotic task automation through to integrated automation and then to achieving genuine AI value
24. Provide sensible RPA pricing options. A "bot" is not a standard unit of measure. It is an abstract measure and a UiPath bot is different than AA and not the same as Blue prism. Yet most continue to price RPA as some of the function of "bots"
25. Focus on actual business transformation. We are using RPA to run ineffective processes cheaper and faster. That is not transformation and is a short term game.
True leadership will come from those who make the most advancements in these versus fancy rhetorical statements and press events. If you want to be a leader…. then bloody act like one!
Posted in : Artificial Intelligence, intelligent-automation, Robotic Process Automation, robotic-transformation-software