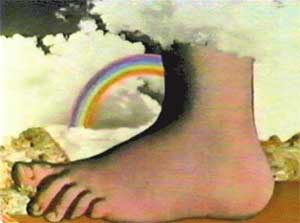 New data from the Central & Eastern European Outsourcing Association (CEEOA) points toward more sourcing dollars, pounds and euros being spent in the region. However, reaching the Promised Land isn't always the smooth ride you may have been anticipating when the train was leaving the station.  Here's our take…
Global Sourcing Buyers: Tread Carefully Through Europe
Buyers care where their providers are because stability, talent pool, infrastructure and the business and legal environment, determine how successful the relationship is going to be. Central and Eastern Europe is a fragmented region where cost, quality and scale varies.
However, firms that use a scorecard can identify different country clusters and start to make the right investment decision. As a rule of thumb, buyers find multilingual capability, stability and higher costs in the center of Europe while lower costs, IT engineering skills and higher risk toward the east. HfS Research recommends doing your due diligence with care: Score the various countries to ensure alignment with your requirements (ITO or BPO) and use site visits as an essential part of the investigative process.
Buyers Need support To Navigate the Region
Global sourcing buyers face a bewildering array of destinations to support their global delivery strategies but just because an economics minister says a country is a nearshore destination doesn't mean it actually is.  Firms buy services from a vendor rather than a country. But the country's geopolitical stability, business environment, human capital, rule of law and general infrastructure underpins how successful the relationship is going to be. HfS believes buyers have to navigate the Central and Eastern European region carefully because:
It's not India: Central and Eastern Europe is vast. From Albania, Poland to the Ukraine what you will find varies just as much as the music, language and food. While India tends to operate as one entity in buyers' minds, this region doesn't and you won't find an umbrella organization like India's Nasscom supporting you as you investigate setting up or selecting a provider to work with. Proceed with care.
Service scope varies. Multilingual support or low cost software engineering? It's not clear to buyers which locations they should look at for specific services (or where to encourage their service providers to invest) and no umbrella organization can really help. Poland is a well-established service delivery location for F&A BPO. Together with Romania, Poland, they offer strong language capability to support multilingual front/back office support for pan-European firms. Countries in the east of the region such as Ukraine or Belarus offer strong technical IT capability.
Cost, quality and scale differ. CEEOA data reveals rock bottom rates for custom software development in Albania—see Exhibit 1. Closer analysis reveals countries like Lithuania, Croatia, Moldova, Latvia, Slovenia or Albania are extremely immature markets for software engineering services and questions concerning scale are paramount. Future projections of IT graduates entering into the market really matter—your firm may well find staffing problems hit if a large service provider moves near your chosen city or if one of your larger competitors decides to do so. Quality varies with the local staffing pool: Ukraine has a huge number of CMMI and ISO benchmarks in play but has to be checked to ensure service delivery can scale?
Exhibit 1:  Software Development Rates Don't Tell the Whole Story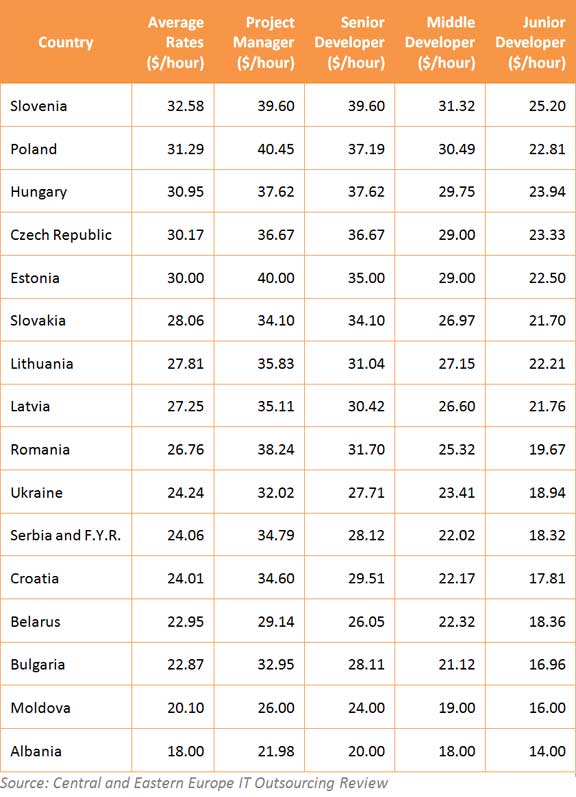 Cut through the confusion with a scorecard
Buyers need to measure the maturity and attractiveness of a potential location in Central and Eastern Europe by following a scorecard approach.  Measuring the country's maturity (i.e., political and economic stability, business environment, people, and infrastructure) against its IT maturity (i.e., IT penetration; local vendor landscape; market orientation, industry expertise and the quality of delivery) provides a vital decision tool for buyers—see Exhibit 2. Our own analysis reveals that the region divides into several clusters set around:
Maturity: Poland, Hungry, Czech Republic are the well-established locations but Poland really is the region's star. Lots of brochureware, best practices and government support encourages firms to set up shop in the country. There is a broad spectrum of cities and shiny new business parks; it's easy to get to and around with good infrastructure coupled with strong universities and high IT literacy rates. Poland is the defacto choice for many international firms looking at the region.
Stability: European Union membership makes it easier for buyers to do business. Many countries included in the CEEOA study enjoy EU status and are geopolitically stable (some more than others). Investment incentives, IP protection, labour laws and anti-corruption legislation are in place to protect buyers. One firm revealed to HfS Research that doing business within the EU is easier from a travel/visa perspective and that EU data security practices offer peace of mind.
Cost: Rates in the mature central belt in Europe are higher whereas in East they are lower.  IT rates in the Czech Republic which is tapped out for capacity beyond Prague and Bruno (there only really two major delivery locations in the Czech Republic). Labor arbitrage has almost disappeared and IT rate cards are almost on a par with onshore rates in the UK for example. Another client revealed to HfS how their Polish IT rate cards now come in around 25% than what they pay onshore (it used to be 40%) but they continue to use the region because it's less risky, its infrastructure works and it's easier to do business. Costs are lower in Romania but there's a racier climate in which to do business so buyers have to weigh up the cost versus risk.
Language. Firms looking for multilingual support will view language capability as critical to decision making. Few countries have a talent pool proficient in all European languages but English is a given in most locations and local providers will offer multilingual support in another anchor language. History and geography play role with Polish service delivery centers able to offer German support while Romanian service centers tie in closely to French, Spanish and Italian speakers—see Exhibit 3.
IT expertise. High standards of IT literacy are found across the region and many governments run dedicated schemes to encourage more IT graduates into the marketplace to support a budding nearshore industry. The region has historically strong engineering tradition and the academic infrastructure to support technical training. Buyers will find pockets of engineering brilliance in Belarus, Ukraine and Russia and can compete with the best that India has to offer.
Exhibit 2: HfS Scorecard for Global Sourcing Buyers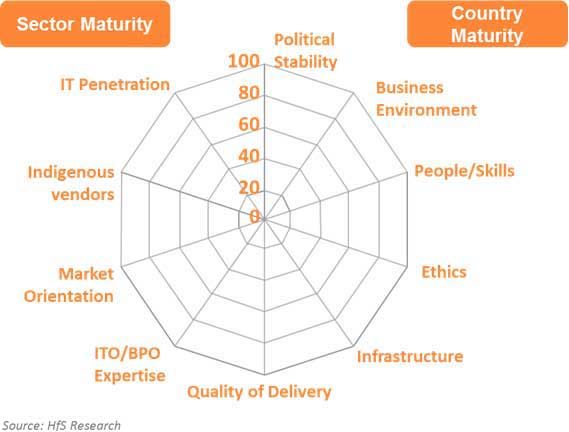 Exhibit 3: Mapping Multilingual Capability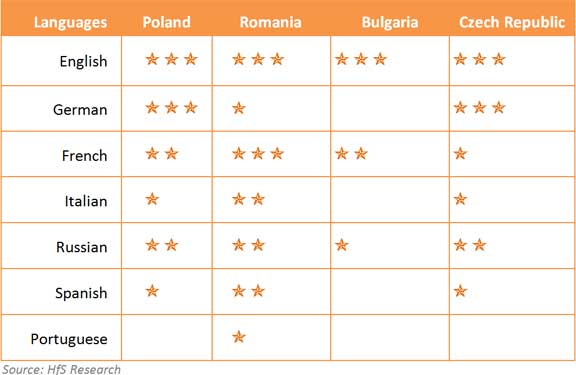 Key Takeaways
Due Diligence Counts
Cost and scale will always be an issue for Europe's nearshore industry when compared with India but there are advantages for those looking to service pan European customers with multilingual support or those that want low cost software development as part of broader global delivery strategy. HfS Research recommends buyers:
Use the scorecard as the first run. Weight the scorecard according to your requirements. Some firms will prioritize service providers in nearshore destinations for language capability or functional skills such as F&A services. Others will prioritize scale and delivery capability for low cost IT engineering services.
Use site visits as an essential part of the investigative process. Only meeting your intended partners on their home soil will enable you to assess whether your cultures match well enough to ensure a smooth working relationship. Instincts count when examining the supplier, its extended organization, and the executives who will work with you.
Leverage autonomy to drive discounts. The region's diversity offers you a negotiation lever. Countries offer financial incentives for attracting firms so investigate if there's any money on the table from location rebates which could sweeten your decision to set up shop. Lobbying by your company or local partners help make the economics of the business case and the final rates you pay more attractive.
Seek out local support organizations. Look for investment agencies that can help maintain interactions between the government, industry and replicating best practices among the country's IT leaders.
Click here to visit our research page and download your freemium copy
Posted in : Business Process Outsourcing (BPO), Finance and Accounting, Financial Services Sourcing Strategies, IT Outsourcing / IT Services, Sourcing Best Practises, Sourcing Locations