It's been more six years since we broadcast the concept of RPA to the industry and now we have finally unveiled the first comprehensive analysts of service providers and advisors in the space. Yes – it really does take that long for a discrete software market to build an ecosystem to install, develop, manage and scale. As my blogging pal Vijay Vijayasankar, one of the world most prominent enterprise software gurus, tweeted yesterday:

And what better than the new HFS Top Ten format where feisty analysts Elena Christopher and Maria Terekhova pull together the hygiene factors of execution and innovation with the "voice of the customer" as the makeweight factor to tell these suppliers apart: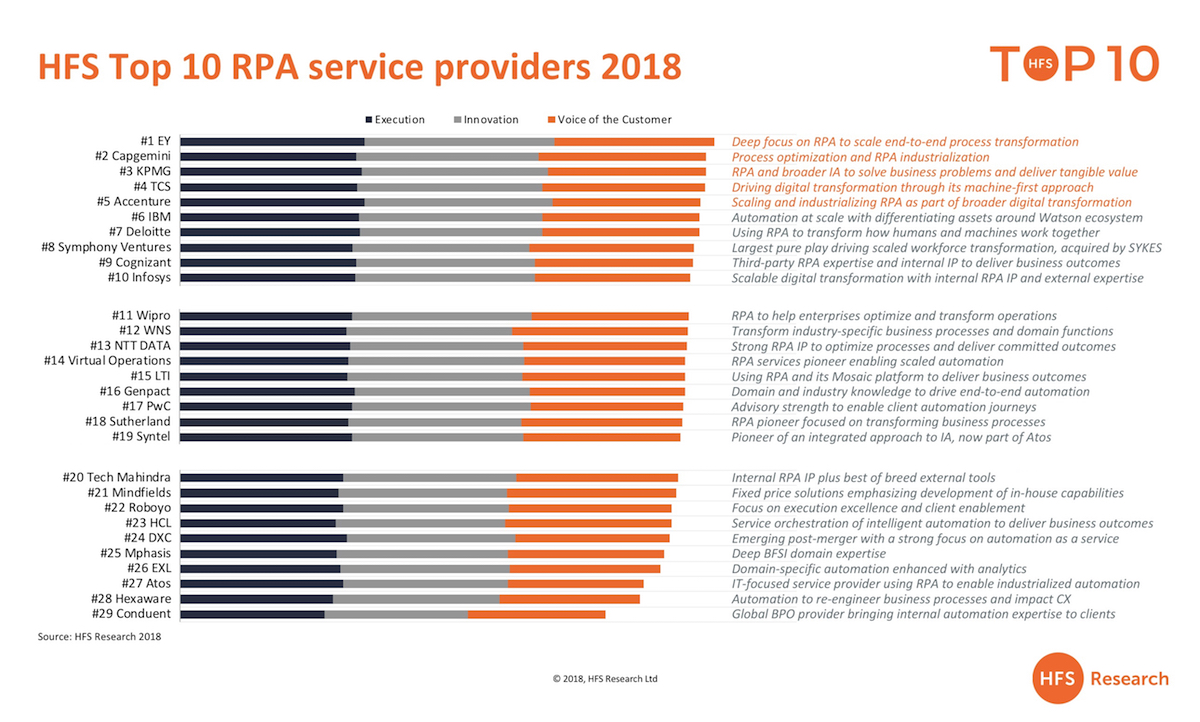 Click on charts to enlarge
Key elements of this research
Robotic Process Automation (RPA) has emerged as a powerful change agent, with enterprises around the globe embracing it as a means to automate manual processes and create a bridge to a digital future. Despite signs of vibrant growth such as the latest billion+ valuations of the most prominent RPA software firms, RPA is still a nascent market with enterprise strategies continuing to percolate and a notable dearth of experienced talent.
In a first of its kind report, the HFS RPA Services Top 10 report examines the role service providers are playing in the evolving RPA market. We assessed and rated the RPA services capabilities of 29 service providers across a defined series of innovation, execution, and voice of the customer criteria. The report highlights the overall ratings for all 29 participants and the top five leaders for each sub-category.
This report also includes detailed profiles of each service provider, outlining their overall and sub-category rankings, provider facts, and detailed strength and weaknesses.
While we may refer in passing to broader intelligent automation or elements of artificial intelligence as part of providers' capabilities, make no mistake, we focused this report squarely on RPA and assessed all providers only of their RPA services capabilities.

Research methodology
The RPA Services Top 10 report assessed and scored service provider participants across execution, innovation, and voice of the customer criteria. The inputs to this process were detailed RFIs we conducted with 29 service providers, reference checks with 58 RPA clients, briefings with leaders of RPA Services practices within service providers, HFS surveys with 659 Global 2000 enterprises, and publicly available information sources. Specific assessment criteria and weighting include:
Ability to execute (33%)
Depth and breadth of RPA offerings including capabilities across the HFS RPA services value chain, use case identification, change management, and governance expertise
Scale including deployments, clients, RPA trained resources, and commercial traction and growth
Delivery of value including the ability to drive value through end-to-end process approach rather than short-term cost-cutting

Innovation capability (33%)

RPA strategy and roadmap including vision and credibility of strategy, integration with broader intelligent automation strategy, and identifiable investments in RPA strategy

Focus on business outcomes and process transformation including the ability to deliver outcomes, models for co-innovation around process transformation, and transformation consulting

Technology innovation including depth and breadth of internal RPA-related IP and external partnerships for RPA
Voice of the customer (33%)

Direct feedback from enterprise clients via reference checks, HFS analyst/enterprise relationships, surveys, and case studies critiquing provider performance and capabilities

Executive summary
A first-of-its-kind comprehensive study of 29 RPA service providers: The HFS Research RPA Services Top 10 report is a first of its kind study where we rated 29 service providers across elements of service execution, innovation, and voice of the customer.No single type of services firm stood out as the de facto leader for RPA services: Our resultant Top 10 leaders are a mixed bag of consultants, global system integrators, and RPA services pure play firms—all supporting customers across the RPA Service Value Chain. The broad roles of the services players reflect a growing but still nascent market with limited talent resources and services firms jockeying to secure their role as the service provider of choice as enterprises scale RPA.

The overall Top 10 leaders are EY, Capgemini, KPMG, TCS, Accenture, IBM, Deloitte, Symphony Ventures, Cognizant, and Infosys. These firms exhibited a strong mix of service execution excellence, applied innovation and vision, and verified customer satisfaction to rise to the top of our RPA services study.
Being adept at provision of AI-focused services does not make a provider an RPA expert: RPA and the various building blocks of AI are different technologies requiring distinct skills. Many services firms who fared well in our AI Services Blueprint have not necessarily cultivated deep capabilities in RPA. While they complement one another in the intelligent automation context of our Triple A Trifecta, it is critical to ensure your provider has actual RPA chops.

Trained RPA talent is growing, but experience is thin: The average number of trained RPA resources across the 29 providers in our study is 1,160, with the median at 675 and total resource base at 32,474. However, HFS estimates that at least 80% of these have less than two years of direct RPA experience.
Enterprise satisfaction with RPA services is squarely mediocre: Customers have spoken! The average satisfaction score for our study was 77% out of 100%, with many firms that usually achieve high satisfaction scores receiving lower than typical ratings from both their hand-picked references and HFS' survey-based ratings. We believe part of the causality lies in enterprise frustration with time to benefits. Transformation takes time. While many small RPA initiatives at a single process or function level can be quickly implemented and proven to show benefits, broader scaling and movement to a hybrid digital and human workforce takes time. The market hype, often from RPA software vendors, continues with its mantra of "RPA is quick and easy," thus continuing to obscure the reality that RPA and broader intelligent automation is not a quick-hit lever but part of broader scaled digital transformation.

Change management and governance capabilities are lacking:Service providers' ability to provide change management capabilities and assist with setting up and ensuring solid ongoing governance were the lowest rated execution criteria, reflected as an element of depth and breadth of RPA capabilities. Enterprises and service providers alike need to implement these capabilities as ongoing elements of their automation strategies and not just pay them lip service.

High satisfaction is tied to focused RPA engagements: The providers that scored well in the voice of the customer metric generally had a very focused approach to how they are offering and delivering RPA—as part of optimizing business processes as with BPO firms or as their sole focus as with the RPA services pure plays. As one enterprise executive put it "the focused approach helps us achieve targeted benefits and then move on without the pressure and expectation of a visible center of excellence and loads of expenditure on licenses." This belies the lack of scaled RPA initiatives.

The biggest gap in RPA services capabilities is in post-implementation: Service providers have built strong depth of capabilities in RPA planning and implementation services. They are less experienced at supporting clients after go-live for management, operations and optimization services. As enterprises continue to scale RPA and broader intelligent automation, HFS expects clear needs to emerge in line with supporting in-house implementations versus managed services.

Service providers' greatest contribution to the RPA market is their IP: While RPA technology skills are valuable, the various frameworks, accelerators, libraries and enabling tools that are being developed by the service provider community to facilitate RPA adoption are their greatest contribution. Much of this IP has been focused on process automation identification and feasibility studies, quantifying potential ROI, and fast tracking implementations. This is now shifting to enablement of RPA extension (RPA+cognitive or AI elements), building industry and domain-specific accelerators, and vendor neutral (and multi-tool) management platforms for integrated human and digital workforces.

The prevailing approach to RPA software by services firms is best-of-breed agnostic: All 29 service providers included in our study refer to themselves as RPA software agnostic. This list includes the seven firms that have developed their own RPA software. These firms will generally defer to client choice or existing investments in other tools, but do position their own tools as powerful greenfield options.

Of the "big three" RPA software products, service providers have the most experience with UiPath: All service providers in our study have built their RPA services capabilities around some variation of the RPA software big three of Automation Anywhere, Blue Prism, and UiPath. UiPath ranks as the RPA software product that service providers have the most experience with, followed by Blue Prism and then AA.

Beyond the big three, Pega, Nice, WorkFusion, and Softomotive rose to the top: Service providers have complemented their big three RPA focus with various other firms. Many global service providers already have Pega or Nice practices based on their broader platform capabilities, and RPA is an add-on. This has helped propel Pega and Nice into the fourth and fifth slots, respectively, for depth of use by service providers. WorkFusion was noted as a viable option for BFSI clients, and Softomotive was noted as cost-effective.
Premium HFS subscribers can click here to download their copy of the 2018 RPA Services Top Ten Report
Posted in : intelligent-automation, Robotic Process Automation