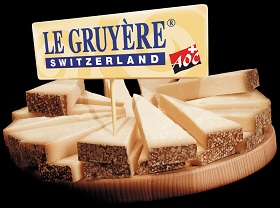 For once I am stumped for a catchy title, and am opting for some good ol' jargon-laden gruyère to tee-up Part IV in the series discussing our New Normal in Outsourcing Delivery survey.  At least I've avoided the 'T' word lately, to grant myself a morsel of poetic license to indulge in a little schmolz… 
But we all love the term "Cloud" (c'mon, you know you do…).  It gives us a nice fluffy visual of ripping out all that complex, clunky computing chaos from our organization, and having some nice services vendor deliver us everything we need for our business… leaving us with simply a screen, a keyboard and lots off additional space in the office to set up that Fussball table… or a Twister mat in the corner… 
Why Cloud Computing is the future of outsourcing delivery 
While I am probably the first cynic to de-odorize the latest cheese fumes that infuse our industry, I have to admit I am rather taken with the whole philosophy of Cloud Computing.  Cloud signifies the coming-together of business process and IT delivery in a fully outsourced model (see earlier post).  Cloud's not simply about outsourcing the heavy-duty computing grunt – it's about the delivery of real business services, enabled by the applications needed to support them, powered by the requisite computing and network infrastructure to host and deliver them. 
If Cloud was only about gutting the clunky, expensive and environmentally-unfriendly infrastructure, and having Amazon and co. deliver the computing power, then it's really just an infrastructure utility offering.  However, if you're going to have your data and applications hosted externally in the Cloud, do you really need to manage them yourself anymore?  It all depends whether you need to customize the applications yourself because it gives you some sort of competitive advantage.  For example, do you really gain a competitive edge with the way you run your benefits administration, or process your insurance claims, or isn't it time to find a services vendor that will host the app, the associated infrastructure and even process the transactions for you?   If you feel your edge is customer service, or great internal employee care, then you can keep inhouse staff to take care of that, but what's the point in managing all the related IT and back-office processing if someone can do it for you? 
To refer back to the fundamental principle of outsourcing, if a third-party services vendor can perform a task for you at lower cost, and to an equal or higher standard, and the costs and risks of transitioning into the outsourced environment are outweighed by the business benefits, then there's little sense in doing it yourself.  And if that vendor can add genuine consultative value to improve that task and add to your overall business performance, then we're talking about real business effectiveness, and not simply a cost-arbitrage scenario.  
Cloud's value will only be reached when vendors and customers are honest with themselves 
The challenge posed to the outsourcing industry to find new performance thresholds, is shared equally by both customers and services vendors: 
1) Customers:  do you know how to take business performance to the next level, and are you having the right conversations with the right services vendors who have the process depth and delivery model to help you determine what that next level is?  Do you have full confidence in the solutions being touted by the vendors with whom you are talking, or are you afraid you're simply being heavily "sold"?  Have you seen real evidence of their capabilities to deliver real business effectiveness? 

2) Services vendors:  have you determined where you're truly distinctive in the market and can bring real business performance improvement to your clients beyond simple cost-efficiencies?  Or are you simply following the crowd and adding a thin veneer of industry jargon over your standard capabilities?  And if you choose to ignore the hype and focus on standard service delivery, will you get squeezed out of the market in the future by smarter competitors with deeper process and delivery capability? 
The question is how long it takes for our customers and our services vendors to dig deep and find honest answers to these questions.  We knew back in 1995 that e-commerce was the future of retail, but it really took a decade for it to become widely-adopted.  Cloud will likely take 3-5 years to become fully-formed as a business utility offering, but we can be sure its seeds have been sewn and its roots already taking shape, as our new study essentially reveals: 
Figure 1: The roots of Cloud in an outsourced environment: Two-thirds of  customers now evaluate ITO/BPO solutions as bundled options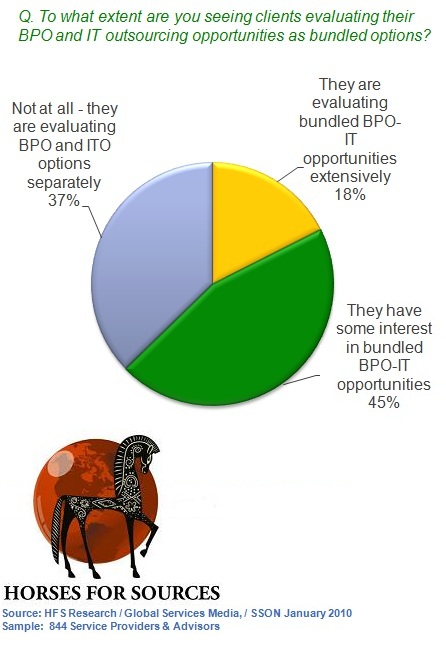 The roots of Cloud services can be found in today's blended ITO/BPO engagements 
Just a couple of years' ago, it would have been unthinkable that so many customers would be entertaining the concept of "hybrid" BPO/ITO solutions, where they would seek to outsource business processes alongside the IT componentry that supports them.  Only a handful of customers had "bundled" both their BPO and supporting apps management with a single provider.  And these tended to be in cases where large customers had opted to "lift and shift" entire shared services operations over to their service provider and it was simply easier (and contractually more attractive) to lump everything over to one vendor to take care of everything.  Today, as Figure 1 illustrates, close to two-thirds of customers are evaluating their outsourcing options looking at both both ITO and BPO in a more blended model and nearly one in five are doing it extensively (that's a lot of engagements). 
In many engagements today, we are seeing both ITO and BPO feed off each other, where services vendors are getting much more proficient at cobbling together hybrid teams of systems architects and business process analysts to develop broader engagements that tackle end-to-end business process flows.  Many of the more recent BPO engagements we are seeing have been extensions of existing ITO relationships, where the incumbent IT services vendor has brought in BPO teams to layer on business services. 
Being predominantly a BPO person myself, I am getting increasing calls from infrastructure guys trying to find out how "BPO fits in with their Cloud strategies".  Simply put, BPO provides that layer of flexible personalization to a Cloud/SaaS offering that can make it workable for a business.  I may be somewhat biased towards BPO offerings, but I am going to put a stake in the ground and declare that those service vendors which successfully develop Cloud offerings, that are supported by deep BPO expertise, are going to win out in the long-term.  While today, these "bundled" offerings may not be anything nearly as sophisticated as fully-integrated Cloud solutions, pulling together the business process and supporting IT apps and infrastructure, within an outsourced model, is the first step on road to achieving integrated Cloud services. 
The bottom-line:  Cloud will

separate the real business services providers  from the body-shoppers
As companies increasingly look to take advantage of standardized business processes, the fusion of IT delivery supported by business process services will accelerate.  The ultimate challenge is for IT architects to understand how BPO delivery works, and business delivery analysts and operators to understand how to standardize their services on standard applications and infrastructure. 
Moreover, services vendors need to decide whether to provide the data center and networking capability themselves, or manage it via partnerships.  Customers care about where their confidential information is housed, and many will prefer it to be within the confines of a trusted service vendor.  Don't be surprised to see some partnerships and mergers between strong infrastructure services and BPO vendors in the coming months as the move to Cloud services picks up more steam. 
To cut to the chase, Cloud Computing presents the biggest opportunity for today's services vendors to deliver blended IT/BPO services, where they can not only drive down costs through labor arbitrage and the removal of IT hardware with its associated energy costs (that surmount to 60% of the costs of maintenance), but also to improve business performance through holistic, integrated business solutions.  The ability to demonstrate real industry business process depth to compliment a robust Cloud infrastructure is the only way to do it, and the time to develop that acumen is upon us.  2010 will see separate the men separated from the boys in this market.  Vendors pushing standard labor arbitrage services under a thin veneer of "Cloud marketing" will quickly get cast aside as the table-stakes get a lot tougher. 
Posted in : Business Process Outsourcing (BPO), Cloud Computing, hfs-industry-2010, IT Outsourcing / IT Services, kpo-analytics, SaaS, PaaS, IaaS and BPaaS, Sourcing Best Practises, the-industry-speaks