Enterprise data businesses Syniti and Data Migration Resources have joined forces in a move they believe makes them the biggest data software platform and services pureplay in this, or any other, town.  And we see no reason to doubt their claim. With the thirst for quality data at a pandemic-driven all-time-high to base critical enterprise decisions, this merger is perfectly timed.
Under the Syniti banner – and with Syniti CEO Kevin Campbell remaining at the helm – the new company has the resources and global footprint to answer the 'Are these guys big enough?' question when it comes to tackling the most complex data requirements of the top echelons of the global 2000. The Newco claims it offers the largest collection of data specialists and an AI-driven platform converging capabilities across data management, analytics, and governance.  With Campbell energized and back in his element, who drove one of the first BPO pureplays Exult, before he inspired the multi-billion dollar BPO and technology growth trajectories in Accenture (see blog), you have to believe the newly re-invented king of data services is taking his new company somewhere very interesting…
Tie up comes after record growth for SAP-certified Syniti
Both parties share a common focus on people and intend that the new scale of the organization will give their prized data specialists the opportunity and desire to stick around to build long careers and the culture to attract more.
Syniti enjoyed record growth in 2020 (with some regions reporting more than 275% growth YoY). It reported the best Q1 results in its 23-year history at the end of April 2021. It's riding a wave of rapidly increasing investment in smart analytics (Exhibit 1). Almost three-quarters see investments rising either significantly, or moderately.
Exhibit 1: Do you see investments increasing, decreasing, or staying the same for smart analytics in the next 12 to 18 months?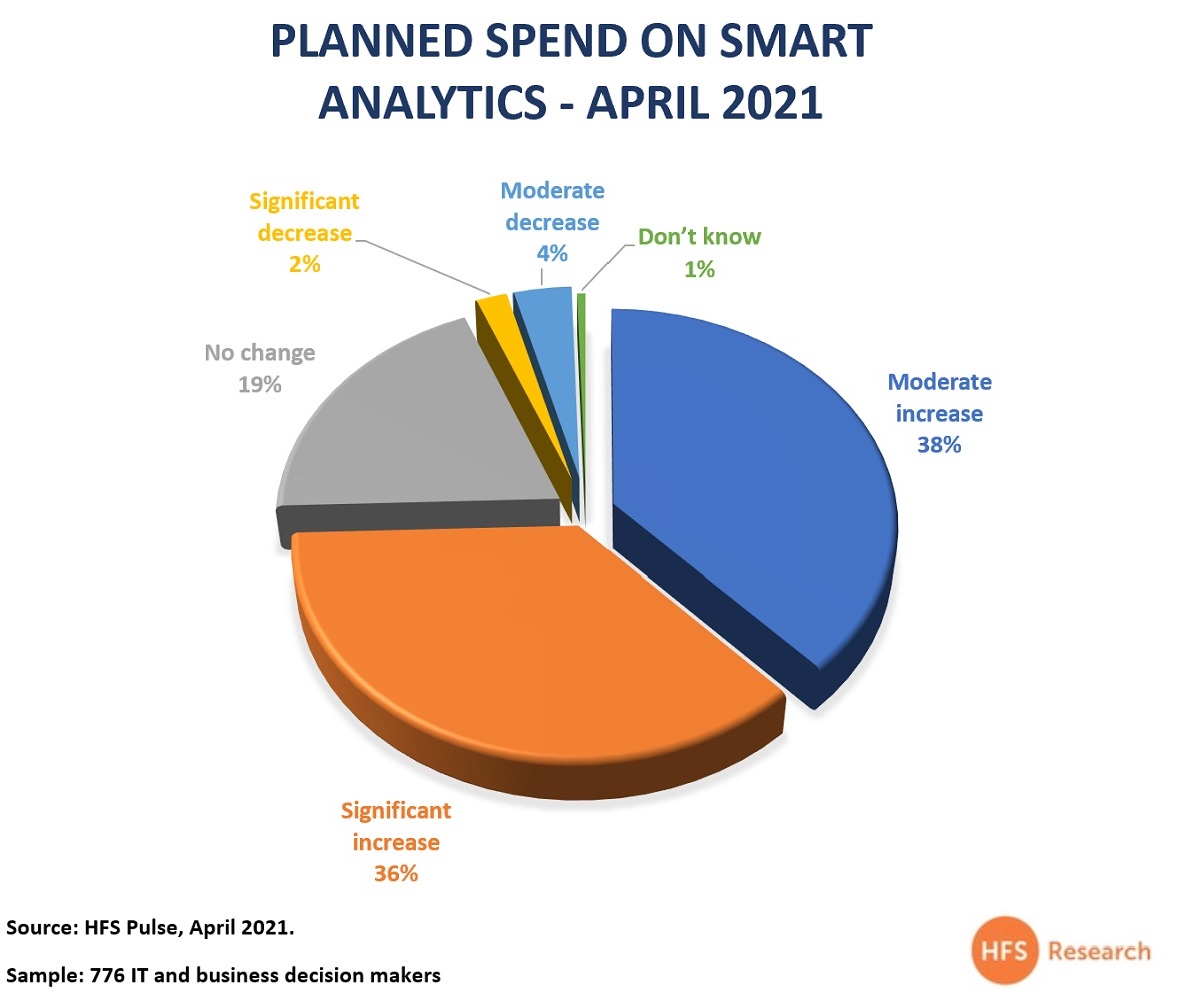 Syniti has been expanding from its SAP heartland (where it now holds SAP Certified Gold Enterprise Support Integration) to introduce real-time data replication with Amazon Web Services (AWS).
It is also an SAP platinum partner when it comes to helping businesses move to SAP S/4HANA, SAP SuccessFactors, and SAP Ariba. SAP resells data migration software from Syniti as SAP Advanced Data Migration by Syniti. Deloitte, IBM and DXC have been Syniti's leading SI partners to date.
Joining together offers a global footprint and platform for acceleration
Syniti and DMR have been competitors in the North American market – each with facilities in India. Syniti has expanded to Europe and Asia-Pacific and DMR has gone into Latin America. The plan is to scale up globally, making use of the combined power of their India operations and sharing sales teams and the best of the products, tools, ideas, methods and techniques applied by each business. The aim is to accelerate their individual growth through combination – staking a bigger claim to the rapidly expanding demand for enterprise data management than either could alone.
The combined solution portfolio – comprised of the Syniti Knowledge Platform, DMR CONCENTO, Rapid Data Governance (RDG), and other software solutions, offers customers and partners aggregated, integrated capabilities to address a wide range of data-led business and IT requirements.
DMR products will remain supported into the foreseeable future and the combined might of the organizations will be applied to accelerate the ongoing development of DMR's CONCENTO RDG – a potentially powerful differentiator if it delivers on its promise of cutting implementation costs by up to 50%.
Bridge Growth Partners are the majority owner of the new enterprise with DMR CEO Ryan Rodenburg joining the executive board with a 'CEO of the Americas' remit.
Bottom Line: Effective combination of assets holds the key to long term success
Thousands of hours of teaming ahead of the official merger proved the two parties can work together well. But the long-term success of the deal is likely to reside in how effective the new organization can be in making 1 + 1 = 3 when linking up its assets in a range of client-value-creating combinations. The new organization makes for a more balanced products/services company going forward, something the market is starting to reward.  What is critical now is to encourage Syniti's energized service provider partners, especially Deloitte, IBM, Accenture and DXC to increase their focus and staff training on the bigger, badder Syniti.
In short, we need to understand that data is the strategy to get us ahead of our markets. Here are five steps we must take:
Get The Data to Win In your Market. This is where you must align your data needs to deliver on business strategy.  This is where you clarify your vision and purpose.
Re-think processes to get the data, Then you must re-think what should be added, eliminated, simplified across your workflows to source this critical data.
Design your new operational workflows in the cloud. There is simply no option but to have a plan to design processes in the cloud over three-tier web-architected applications.  In the Work-from-Anywhere Economy, our global talent has to come together to create our borderless, completely digital business.  This is the true environment for real digital transformation in action.
Automate processes and data.  Automation is not your strategy.  It is the necessary discipline to ensure your processes provide the data – at speed – to achieve your business outcomes. Hence you have to approach all future automation in the cloud if you want your processes to run effectively end-to-end.
Apply AI to data flows to anticipate at speed. Once you have successfully automated processes in the cloud, it is easy to administer AI solutions to deliver at speed in self-improving feedback loops.  This is where you apply digital assistants, computer vision, machine learning, and other techniques to refine the efficacy of your data.  AI is how we engage with our data to refine ourselves as digital organizations where we only want a single office to operate with agility to do things faster, cheaper, and more streamlined than we ever thought possible.  AI helps us predict and anticipate how to beat our competitors and delight our customers, reaching both outside and inside of our organizations to pull the data we need to make critical decisions at speed.
Posted in : IT Outsourcing / IT Services, OneOffice, smac-and-big-data