We've been pretty vocal regarding the unfocused direction the industry which has called itself "RPA" has taken, and the obsession some of the firms are having with their self-declared valuations. So let's change the story from how much these firms actually believe they are worth to where they need to invest their funding to show they are serious about being part of a transformative industry.
Don't get us wrong, in software world, it's common practice to get attention that your company is valuable and investors are falling over themselves to hurl money at it – this is common practice in markets that are very focused on selling to IT executives. And we've seen far more ludicrous "valuations" than the 35x earnings ones the robotic software firms are claiming (just look at Blockchain and AI).
So why aren't we seeing firms like UiPath shift the focus to the investments and changes they intend to make to propel a truly transformational value proposition with their products? Especially where the prime target for growth is the business executive who is far less accustomed to a world where his/her suppliers are obsessed with how much they're worth, as opposed to how they can help you take your business through painful change.
It's critical now to shift the vision to reality of making these bot dreams come true
UiPath, more than its competitors, has always pushed the vision of democratized IT. Literally, RPA or a "bot for every worker" and not just a sanctioned crew of IT professionals (or even a sanctioned crew of enterprises) is a brilliant marketing gimmick. However, with UiPath's hypergrowth and rapid-fire funding, the time has come to connect the dots between a folksy vision and how UiPath can truly enable the transformation of work.
As HFS recently articulated in our blog "RPA is dead. Long live integrated automation platforms", RPA is being used to automate tasks and prop up legacy processes. Broad business transformation is decidedly lacking and arguably cannot be achieved without supporting tools like artificial intelligence and analytics as well as digital change management to address how change is driven, managed and perpetuated. The one perhaps notable shift in the change winds is the on the democratization front – RPA is being bought and consumed primarily by business units not central IT. However, as enterprises push towards integrated automation, with a higher order of technical complexity of tools and data challenges, IT once again becomes essential. Integrated automation may drive the ultimate democratization – the balance between IT and business operations.
Despite its growth and funding, UiPath is a very long way from achieving this vision
Our recent survey work with "power-users" of robotic software products (what we were calling RPA and RDA) clearly highlights the top three strengths and challenges of the UiPath solution (with sampled comments):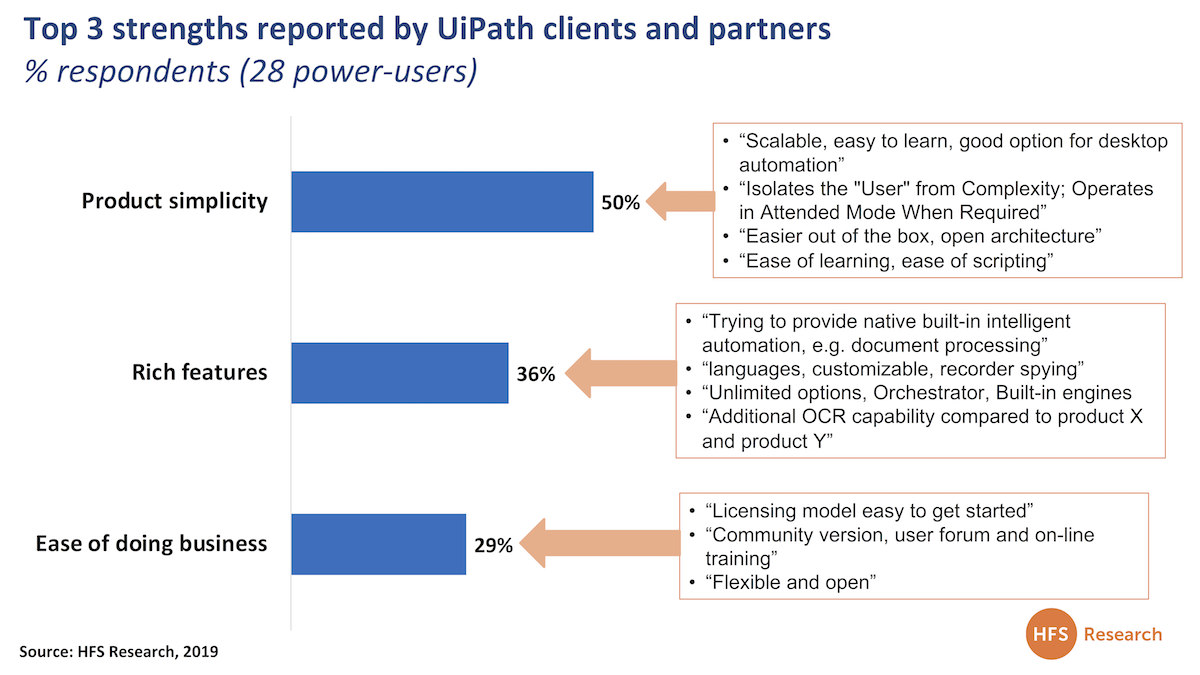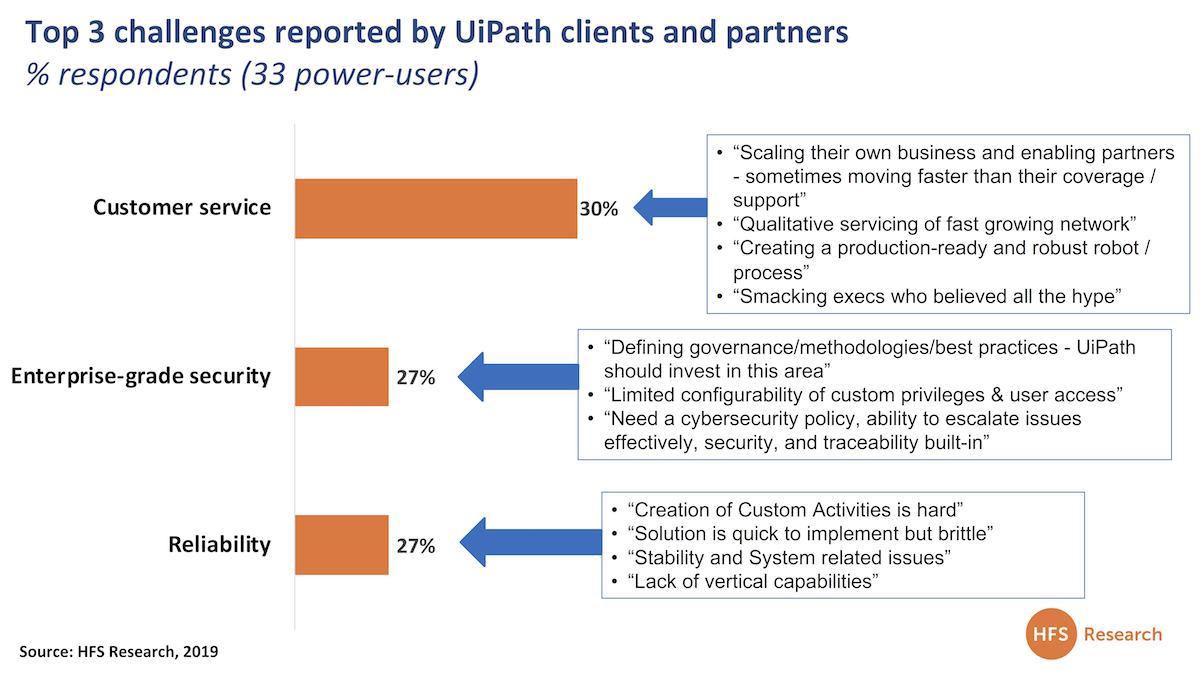 The Bottom-line: To democratize technology and drive business transformation beyond task-oriented robotics activities, here are 15 key initiatives UiPath (or its competitors) must take on:
1. Must bring IT and business visions together as one integrated approach. Education must focus for technical and non-technical resources – into communities and educational institutions globally
2. Must shift focus to integrated automation – expansion of functionality beyond RPA/RDA to AI and smart analytics. Badging everything as RPA is definitionally incorrect and gives clients no roadmap to follow to advance beyond basic repetitive task, desktop and document automation
3. Must drive digital change management – help enterprises grapple with transformation with its services investments. Relying purely on Big 4 advisors and service providers for change management will cost clients a fortune and drive many away. This is a key area UiPath needs to take the lead on.
4. Must include unattended and attended processes (not just focus on attended)
5. The developer ecosystem must be expanded to extend functionality, libraries etc. Commit to specific goals for how much of the UiPath codebase will be available on Github to build an industry solution skewed against technology-vendor lock-in
6. Demonstrate commitment to building a stronger QA team, and fully transparent local customer support and customer success teams to drive customers (as per the number 1 challenge outlined above)
7. Commit specific sums to meaningful partner relationships with leading service providers and consultants, including opensource partner technical support systems, events, education resources and people to help the industry grow
8. Commit to funding UiPath local academies (building on their online academies) especially in blighted neighborhoods near its biggest offices to bring young coders and potential customers together with UiPath employees for on the job real-world training
9. Must get focused on core business processes by industry, such as supply chain in manufacturing, core banking in BFS, underwriting in insurance, billing in telecom etc
10. Revisit its client engagement model to ensure it is best serving its customer base – its rapid growth in salespeople may expand capacity, but if sales lacks vision, then clients may not be well served (as per comments in our recent survey above)
11. Commits to drawing down technical debt (Every SW company has it, some more than others. As illustrated above, our customer surveys point out which elements of the UiPath platform and solution are known to need immediate re-engineering and investment
12. Identify and subsidize hands-on automation industry experts and influencers whose independent thinking deserves funding and not just focus on checking boxes with legacy analysts. The automation industry is being impacted by many unique stakeholders.
13. Kick off an enduring and sustainable initiative modeled after Salesforce's 1-1-1 program (of which the Notre Dame announcement by Daniel Dines was a great a start)
14. Invest in cross-technology customer events that will expand overall value creation, for example partnering more aggressively with the likes of Salesforce, Microsoft, Amazon, Google etc.
15. Spearhead an Automation Industry Manifesto that shows a clear path for enterprise clients to progress from basic robotic task automation through to integrated automation and then to achieving genuine AI value
Posted in : enterprise-integration-platforms, Robotic Process Automation, robotic-transformation-software