Join us for a Webinar on June 2 at 11:00 am ET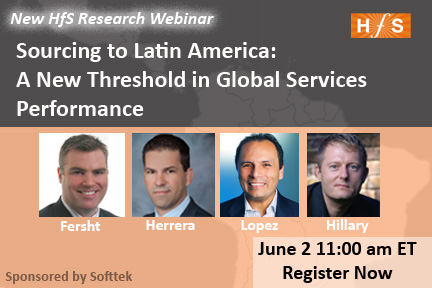 If you follow us closely, you've probably already read our research study on the Latin American global sourcing industry, The Latin America Sourcing Landscape in 2011: How Latin America Powers Global Services Delivery.
After that taste of the study, we're sure you'll want more. So we've assembled a stellar panel to delve into Latin America in a special HfS Research Webinar at 11:00 am ET on June 2.
Join HfS Research Founder and CEO Phil Fersht as he's joined by:
Phil, Esteban, Beni and Mark have a packed agenda, with the following questions up for discussion:
With global sourcing delivery showing no signs of slowing down across IT and business processes, what we can expect in the coming years?
Latin American strategies underpin global delivery with increasingly mature services, so  what are the region's strengths and challenges?
How should buyers consider the global trade-offs (i.e., vs. India) when calculating their future sourcing investments?
How should buyers balance their portfolio of local, regional and global providers?
How should buyers approach smarter pricing strategies where formulating a global sourcing roadmap?
Register now for Sourcing to Latin America: A new threshold in global services performance on June 2 at 11:00 am ET
Posted in : Business Process Outsourcing (BPO), Captives and Shared Services Strategies, Finance and Accounting, IT Outsourcing / IT Services, Procurement and Supply Chain, Sourcing Best Practises, Sourcing Locations