Ever wondered what would happen if you brought the six most prominent IT and business services savants together for a one-hour debate on the future of the sourcing and services world?  Well, wonder no more as this becomes a reality on 17th May at 12pm EST, 5pm BST:
 Join us on May 17th at 12pm ET | 5pm BST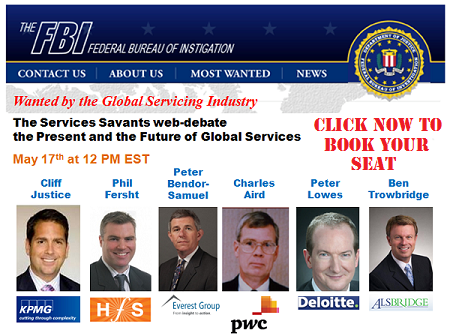 Our six panelists are primed to debate the issues and take your questions:
Cliff Justice, Partner & U.S. Leader, Shared Services and Outsourcing Advisory – KPMG
Phil Fersht, Founder and CEO – HfS Research
Peter Bendor-Samuel, CEO – Everest Group
Charlie Aird, Global and US Shared Services and Outsourcing Leader – PricewaterhouseCoopers
Peter Lowes, Principal – Deloitte Consulting
Ben Trowbridge, CEO – Alsbridge
Where we will attempting to divert them from shameless sales pitches to discuss the following topics:
What does the enterprise IT and business process outsourcing and shared services industry really look like today? Is it a genuine "industry" or simply the globalization of business?
What is working for enterprise services clients – where (and why) are they struggling?
How are services buyers and providers defining "success" today – and does this need to change?
What impact is a "factory mentality" having on outsourcing? Is there anything we can do to change this, or are we already in a race to the bottom?
How can (and should) advisors help the industry – and what differentiates today's advisory firms in the market?
How has cloud computing impacted the enterprise – is it everything we thought it was going to be?
What measures can both enterprise clients and service providers take to improve sourcing relationships and achieve more business value?
What are everyone's recommendations on next steps for the future of the services and sourcing industry?
Join us on May 17th at 12pm ET | 5pm BST

Posted in : Business Process Outsourcing (BPO), Captives and Shared Services Strategies, Cloud Computing, IT Outsourcing / IT Services, kpo-analytics, Outsourcing Advisors, Outsourcing Heros, Security and Risk, Sourcing Best Practises