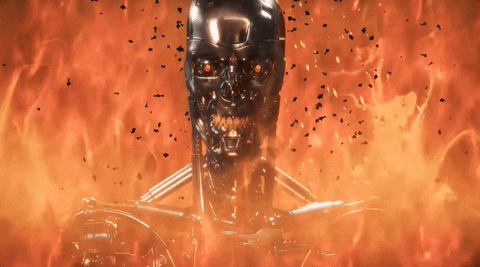 Seriously folks… there's the hype, then the excitement, then even more hype… and then the realization that it wasn't quite what you thought… and then, finally, coming to terms with the fact you're no longer going to hit that elusive jackpot.  To hear some people still showering us with cryptic unaudited revenue numbers, and from neolithic analysts still parroting their marketing, just spanks of desperation to keep faking a market that simply isn't there.  Can we just push the off-button on this charade, please?
What, exactly, is "dead" and where are the signs of life… when it comes to process software and enterprise automation?
The RPA that "died" is the poorly-defined "RPA" that got hyped up to create hockey-stick growth excitement for investors. It wasn't defined correctly, was a mash-up of desktop automation with pure-RPA (unattended back office) and all the deals that got signed were "attended" so weren't even "robotic". 
The pieces of RPA that survive are the process orchestration tools (discover, design, automate and mine) that form part of what we see as the evolution towards "Intelligent Digital Workers" which augment human experiences and help with real customer-to-employee intimacy. Let's also not forget these apps also need to be enterprise-grade, compliant with ITIL and security factors etc. Scale only occurs when the business designs and IT enables… The winners in the future are smart enterprises with leverage technologies to anticipate where their customers are going… often before their customers even know themselves.
It's been a year since we declared RPA "Dead"… so what's been happening since?
It's been nearly a year since we penned our now-infamous blog "RPA is dead.  Long Live Integrated Automation Platforms". Coming from the analyst firm that first introduced RPA to the world in 2012, this caused quite the stir.  In fact, one of the leading service providers even shutdown its RPA practice as a result and most of the others are left scratching their heads still trying to figure out where the money really is…Since the "dead" post, we've seen a swift realization from investors that the RPA "market" was being engineered by a small handful of marketeers attempting a reincarnation of the dot-com bust era where everyone goes nuts over robot butlers and a bunch of naïve enterprise clients who'd been oversold too many RPA licenses that they had any idea how to deploy.
We weren't helped by a small handful of analysts who really should know better than to pontificate false marketing in exchange for an ego-stroking and glittering robo-stardom they'd never before experienced… and a great big Vegas party that precipitated the most embarrassing collapse we've seen in the history of process technology. Many good people had bet their careers on hype, false hope – and blatant lies – and are still on the job market trying to get their lives back on track. In fact, the whole fiasco very nearly destroyed the real market that these tools can help catalyze, if they are allowed time to develop and form part of a broader, integrated solution.  Our recent HFS Top 10 covers this form the view of 300+ current adopters, however, this market is changing very quickly and it won't make sense in the future trying to put a lot of products in the same "market" that is changing into one that encompasses so much more than basic screen scraping, macros, and process loop recorders.
Instead, we need to focus on the development towards an intelligent digital workforce that help us deliver real customer and employee experiences
What isn't dead is the fact that RPA created the path (and conversation) to a much bigger market that's evolving, once you get real about business process issues and the true path operations leaders need to take to make them awesome.  But, if you can't accept we're in the early stages of a marathon, not midway through a 110 meters hurdles dash, we can define an exciting future for the world of automation.  But a "bot for every desktop", or "hyper-automation"? Really, folks?  Can we just start talking again in plain English about what is actually realistic, what works and how we need to change ourselves to get there?  Can we start talking about an Intelligent Digital Workforce?  Can we start looking at how to move from dumb admin bots that keep old process loops and apps stitched together, and how enterprises can invest in intelligent workers that help us achieve much more intelligent interactions and experiences?  Can we focus on intelligent digital workers tuned to deliver (and learn) superlative experiences from processes we have designed to bring our customers and employees together?
The emergence of an Intelligent Digital Workforce is a key component of developing a OneOffice Experience.  RPA creates the foundation, but the next phase is to evolve to Intelligent Digital Workers
This shift toward intelligent digital experiences is a foundational element of HFS' OneOffice Experience for Employee Experience (EX) and Customer Experience (CX). CX will increasingly be considered an umbrella term for the experience interacting with an entire organization, whether it's the customer, partner, employee or any other entity. An EX culture is one where people work together shifting from transactional interactions to deeper relationships. Organizations need to ensure they get the balance right; which includes optimizing the use of emerging technology with a robust business case to improve CX to the long-term benefit of the business, getting the right information flows in place, eliciting strategic advantage and ensuring exceptional CX: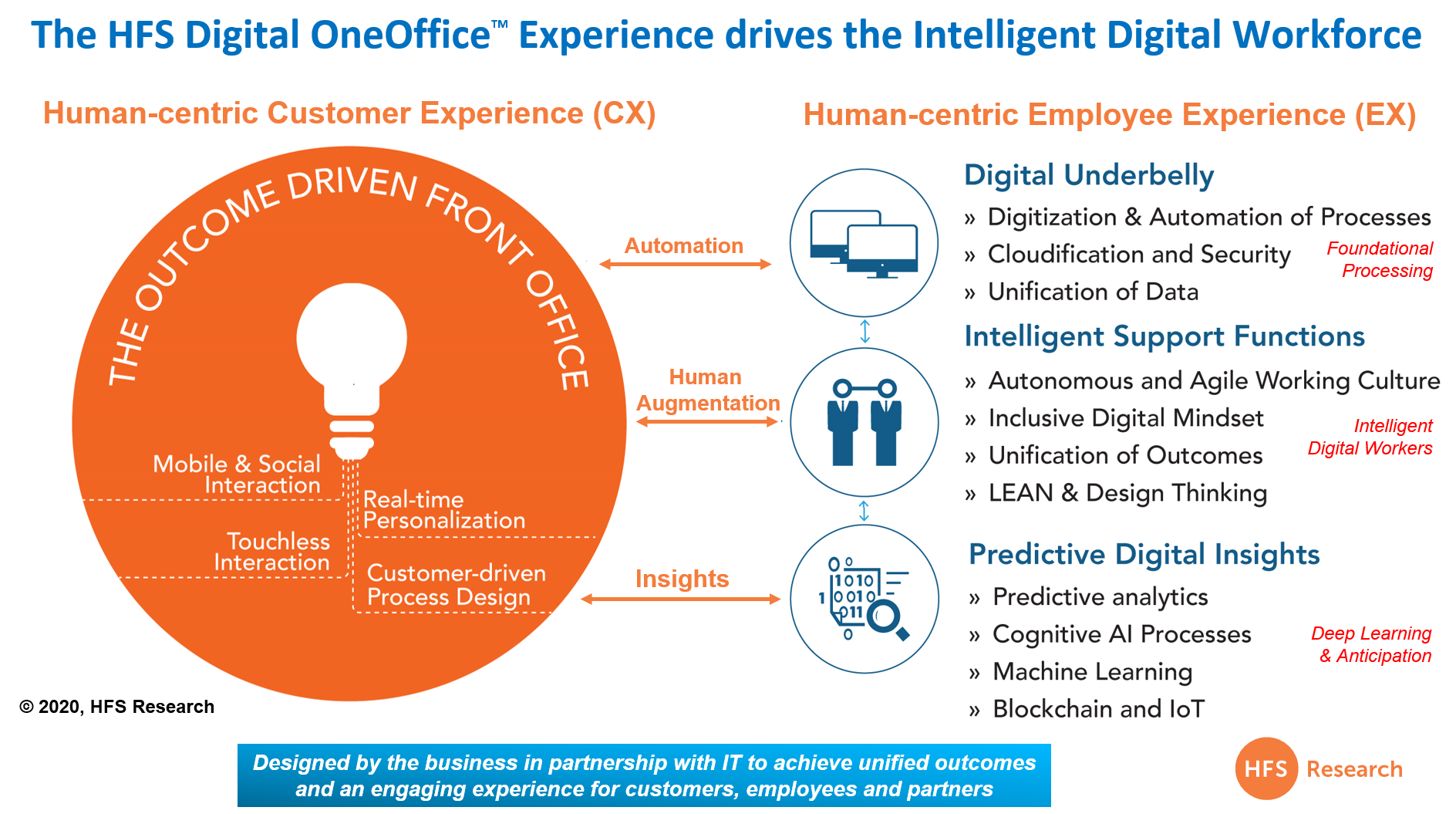 The HFS OneOffice Experience typifies how customer, partner and employee experience are coming together to drive a unified mindset, goals and business outcomes.  OneOffice conceptualizes how customer-centric experiences can be designed and supported by end-to-end processes across what we used to term front and back offices. Today's RPA bots essentially are embedded in the "Digital Underbelly" where they form part of the foundational processing layer for enterprises, while the emergence of smarter tools that can truly augment humans are where the future of RPA lies. Iftoday's current crop of software providers can develop their bots beyond the current static tools that really just keep old processes chuntering along. Digital Workers are emerging as the enabling technologies that are slowly becoming a critical component of developing CX design and delivering on the experiences smart process operators are designing processes to support.
HFS highlights five important principles of using Intelligent Digital Workers that all companies looking into implementing these solutions need to consider:
The Bottom-Line:  Intelligent Digital Workers are a powerful tool for connecting customer and employee experiences to drive a unified mindset, goals and business outcomes.  The RPA vendors need to get there if they want find their edge in the market
Experiencing a OneOffice enterprise with Intelligent Digital Workers looks different for every organization, but considering the HFS 5 principles will help your company define and execute on a strategy that benefits all of the stakeholders in your ecosystem rather than just having a "tick the box" approach to the technology.  Some companies will focus first on customer-facing, others will start with making internal processes easier and more intelligent.  Implemented well, Intelligent Digital Workers can better connect CX and EX, helping to provide the digital insights and intelligent support that a OneOffice experience requires. This is where the real market for process automation is heading… whether the current cast of RPA characters can make this shift is not inconceivable, but do they have the time and patience of their investors and clients to make the shift?  Time will tell… but not much time!
Posted in : Artificial Intelligence, Design Thinking, intelligent-automation, OneOffice, Robotic Process Automation