The biggest problem with enterprise operations today is the simple fact that most firms still run most of their processes exactly the same way as they did 20/30/40 years ago, with the only "innovation" being models like offshore outsourcing and shared service centers, cloud and digital technologies enabling those same processes to be conducted steadily faster and cheaper.  However, fundamental changes have not been made to intrinsic business processes – most companies still operate with their major functions such as customer service, marketing, finance, HR and supply chain operating in individual silos, with IT operating as a non-strategic vehicle to maintain the status quo and keep the lights on.
Enter the concept of Robotic Process Automation (RPA), introduced to market in 2012 via a case study written by HFS and supported by Blue Prism, which promised to remove manual workarounds and headcount overload from inefficient business processes and BPO services.  However, despite offering clear technical capability and the real advantage of breathing life into legacy systems and processes, RPA hasn't inspired enterprises to rewire their business processes – it's really just helped them move data around the company faster and require less manual intervention.  In addition, most "RPA" engagements that have been signed are not for unattended processes, instead, most are attended robotic desktop automation (RDA) deployments. Attended RDA requires a loop of human and bot interplay to complete tasks.  These engagements are not the pure form of RPA that we invented – they are a motley crew of scripts and macros applying add band-aids to messy desktop applications and processes to maintain the same old way of doing things. Sure, there is usually a reduction in labor needs – but in fractional increments – which is rarely enough to justify entire headcount elimination. Crucially, the current plethora of "RPA" engagements have not resulted in any actual "transformation".
The major issue with RPA today is that it is automating piecemeal tasks.  It needs to be part of an integrated strategy
Real research data of close to 600 major global enterprise shows just how not-ready we are to declare any sort of robo-victory. In our recent survey of 590 G2000 leaders, only 13% of RPA adopters are currently scaled up and industrialized. Forget about leveraging RPA to curate end-to-end processes, most RPA adopters are still tinkering with small-scale projects and piecemeal tasks that comprise elements of broken processes.  Most firms are not even close to finding any sort enterprise-scale automation adoption.
RPA provides a terrific band-aid to fix current solutions; it helps to extend the life of legacy. But does not provide long-term answers. The handful of enterprises that have successfully scaled RPA across their organizations have three things in common:
A unifying purpose for adopting automation,
A broad and ongoing change management program to enable the shift to a hybrid workforce, and
A Triple-A Trifecta toolkit that leverages RPA, various permutations of AI, and smart analytics in an integrated fashion.
So HFS is calling it as we see it. RPA is dead! Long live Integrated Automation. And by integrated we mean integrated technology, but also, and all importantly, we mean integration across people, process and technology supported by focused objectives and change management. Integrated Automation is how you transform your business and achieve an end-to-end Digital OneOffice.
Integrated Automation is not about RPA or AI or Analytics. It is RPA and AI and Analytics.
Business problems are not entirely solved by one stand-alone technology but by a combination of technologies. While only 11% of the enterprises are currently integrating solutions across the Triple-A Trifecta, there is emerging alignment. The supplier landscape is also starting to realize that clients will buy integrated solutions (see Exhibit 1) and examples below:
RPA products are seeking to underpin AI and data management capabilities. WorkFusion was arguably the first to combine RPA and AI with its "smart process automation" capability. Other subsequent examples include Automation Anywhere with its ML-infused IQBot, Blue Prism announced its AI Lab to develop proprietary RPA-ready AI elements, and AntWorks embeds computer vision and fractal science in its stack to enable the use of unstructured data. What these products having in common is their use of robotics to transform tasks, desktop apps and pieces of processes.  Hence, we need to refer to these "RPA" products as Robotic Transformation Software products which is a far more appropriate description.
AI and analytics focused products are starting to embrace Robotic Transformation Software, instead of undermining it. IPsoft launched 1RPA with a cognitive user interface. Xceptor's data-led business rules and AI-based approach to automation leverage RPA to help extend its functionality. Arago is starting to go to the market where it can help orchestrate RPA capabilities within its platform.
Enterprise software products are integrating the triple-A trifecta capabilities in their products. SAP Leonardo aspires to harness the emerging technologies across ML, analytics, Big Data, IoT, and blockchain in combination. It also acquired RPA software company Contextor (late 2018) similar to Pega when it acquired OpenSpan in 2016 adding RPA functionality to its customer engagement capabilities.
System Integrators are orchestrating the Triple-A Trifecta across multiple curated products. This typically combines some of their IP and service capabilities. Accenture launched SynOps in early 2019, offering a "human-machine operating engine." Genpact's Cora, a modular platform of digital technologies, similar to HFS' Triple-A Trifecta, is designed to help enterprises scale digital transformation. IBM's Automation Platform includes composable automation capabilities that orchestrate responses and alerts between Watson and Robotic Transformation Software solutions. KPMG's IGNITE brings RPA, AI and analytics tools together with KPMG IP and services.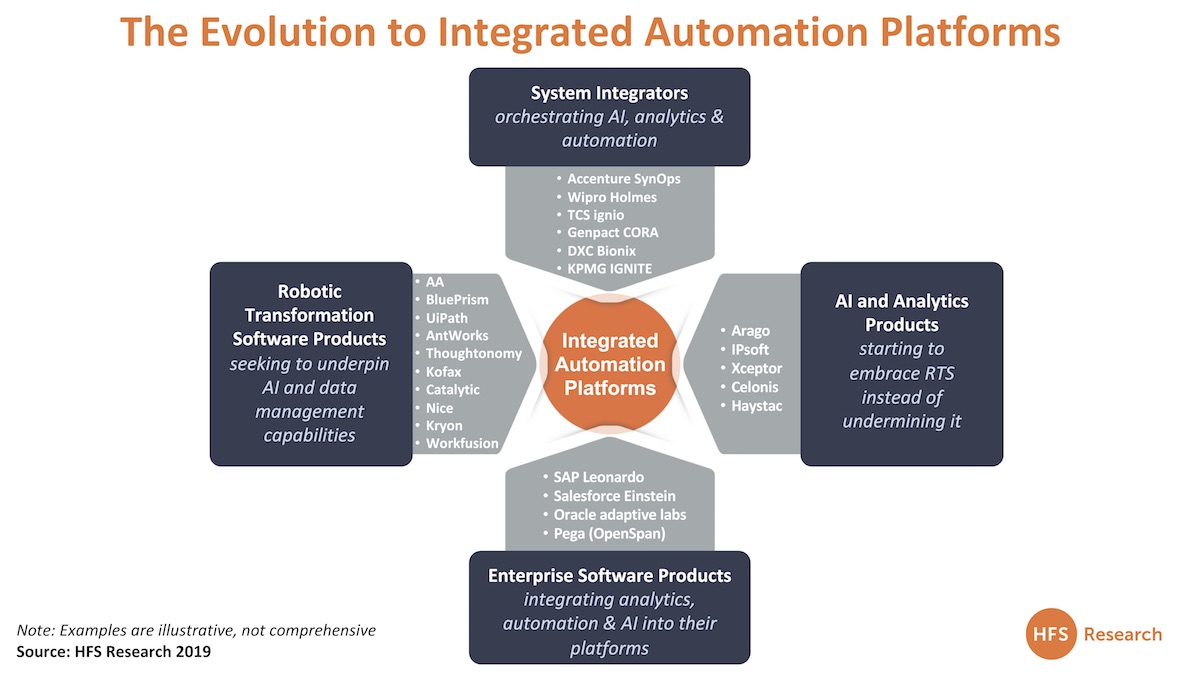 Integrated Automation is not just about Technology. It is Technology + People + Process.
The real point of Integrated Automation is actually to move beyond the tools. Yes, the Triple-A Trifecta offers more functionality, but it still does not work unless you change your business, your people, your processes.  Integrated automation is the effective melding of technology, talent, organizational change, and leadership to get to the promise land. It requires the integration of the Triple-A Trifecta change agents in your toolbox and their application across the original trifecta of people, process, and technology. If you keep throwing technology at a business problem, you will have more technology rather than a solution.
Technology has overpowered the discussion today without adequate focus on people and process: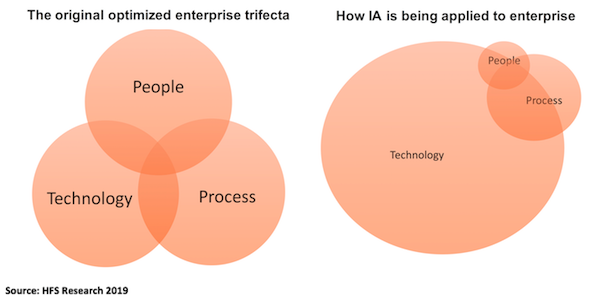 Source: HFS Research 2019
Integrated Automation is not a Product or a Service. It is a Product and a Service.
Just like we realized that throwing bodies at a problem does not solve the problem, we need to recognize that merely hurling software at business process will not drive transformation. The real genius lies in understanding what to use when and how. The software also needs to come with support and services. Otherwise, we're just selling more snake oil and magic. Strategic and collaborative relationships of the future will be formed by providers that can consult as a trustworthy advisor and execute as an "extension" of clients' operations. Enterprises need partners to drive innovation, contribute investment, apply automation and new ideas, and focus on delivering business outcomes – and that requires a combination of services and software. An ecosystem approach with symbiotic relationships between service and product companies is a must-have ingredient for automation to succeed and truly be transformative. It is imminently clear that no one can be everything to everyone.
Adoption is not the measure of success for Integrated Automation. It is about Change Management.
Fifty-one percent of the highest performing enterprises see their cultures as holding them back in the digital transformation journey, while only 36% of the lowest performing enterprises identify culture as a problem to progress. Providers need to offer change management approaches that are agile, measurable, and iterative to be impactful. Scaling up digital initiatives and enabling the right governance models are also critical points. The ability to codify "business outcomes" in contractual agreements, pricing structures, and performance measures is also a vital element to drive change. While there is no nirvana around pricing, it needs to be implemented based on every client's unique requirements and context. The flexibility to put skin in the game with innovative and non-linear commercial models is essential to drive real change.
Integrated Automation will not be effective with a functional approach. It requires an end-to-end "OneOffice" strategy.
Less than 12% of the enterprises we surveyed have an enterprise-wide approach to automation. This strong focus on task-level and process-level automation remind us that automation often takes place in functional silos, with parallel but unconnected initiatives. The ability to balance task-specific and process-specific pilots and production instances with broader enterprise mission and vision is certainly daunting, but it is precisely what needs to occur to enable scaled and successful automation programs.
The collaboration between business and IT is another crucial issue. While automation initiatives require IT involvement, the programs are generally impacting and enhancing business processes—which requires participation from business constituents who understand the functions in question. The ideal leadership mix, then, is a combination of IT and business. However, our data shows that just one-fifth of respondents have created integrated IT and business leadership teams to grapple with automation strategy and deployment.
Bottom Line: Integrated Automation utilizes the power of AND, not OR! 
We are lucky to live at a time where we have a multitude of established and emerging change agents at our disposal: global sourcing, design thinking, Robotic Transformation Software, AI, Analytics, IoT, blockchain among others. But, unfortunately, most of the discussions in the market end up becoming a comparative discussion versus integrative discussion – man versus machine, offshore versus automation, RPA versus AI, consulting versus execution, and so on. These change agents must work together rather than operate in silos to solve real business problems. The power of AND is much greater than OR and Integrated Automation is all about the power of AND. Thus, RPA is dead. Long live integrated automation!
Posted in : Artificial Intelligence, Business Data Services, Cognitive Computing, intelligent-automation, Robotic Process Automation