Retail banking remains the most visible segment of the global banking market with the greatest alignment (and exposure!) to consumer behavior and sentiment. This perpetual tension between what consumers want and what banks provide has driven nearly a decade of sexy front-end somewhat superficial digital investment to help banks defend against fickle customer loyalty. In our post-pandemic world, the top imperative for retail banks has shifted from digital engagement to front-to-back modernization. To succeed, digital innovation must permeate throughout banking operations and modernized core systems to enable new forms of value for end customers. Retail banks will get there with the help of their ecosystem partners.
The Best Service Providers for Retail Banks, 2023—Disruptors, Enterprise Innovators, and Market Leaders 
The HFS Horizons Report: The Best Service Providers for Retail Banks, 2023 assesses how well service providers are helping their retail banking clients embrace innovation and realize value across three distinct horizons:
Horizon 1 is digital: Ability to drive functional optimization outcomes through cost reduction, speed, and efficiency
Horizon 2 is experience: Horizon 1 + enablement of the OneOffice™ model of end-to-end organizational alignment across the front, middle, and back offices to drive unmatched stakeholder experience
Horizon 3 is growth: Horizon 2 + ability to drive OneEcosystem™ synergy via collaboration across multiple organizations with common objectives around driving completely new sources of value
The purpose of the HFS Horizons model is to align enterprise objectives with service provider value. We assessed 21 service providers across their value propositions (the why), execution and innovation capabilities (the what), go-to-market strategy (the how), and market impact criteria (the so what) to best understand and plot the value they offer to their retail banking clients.  Here are the results: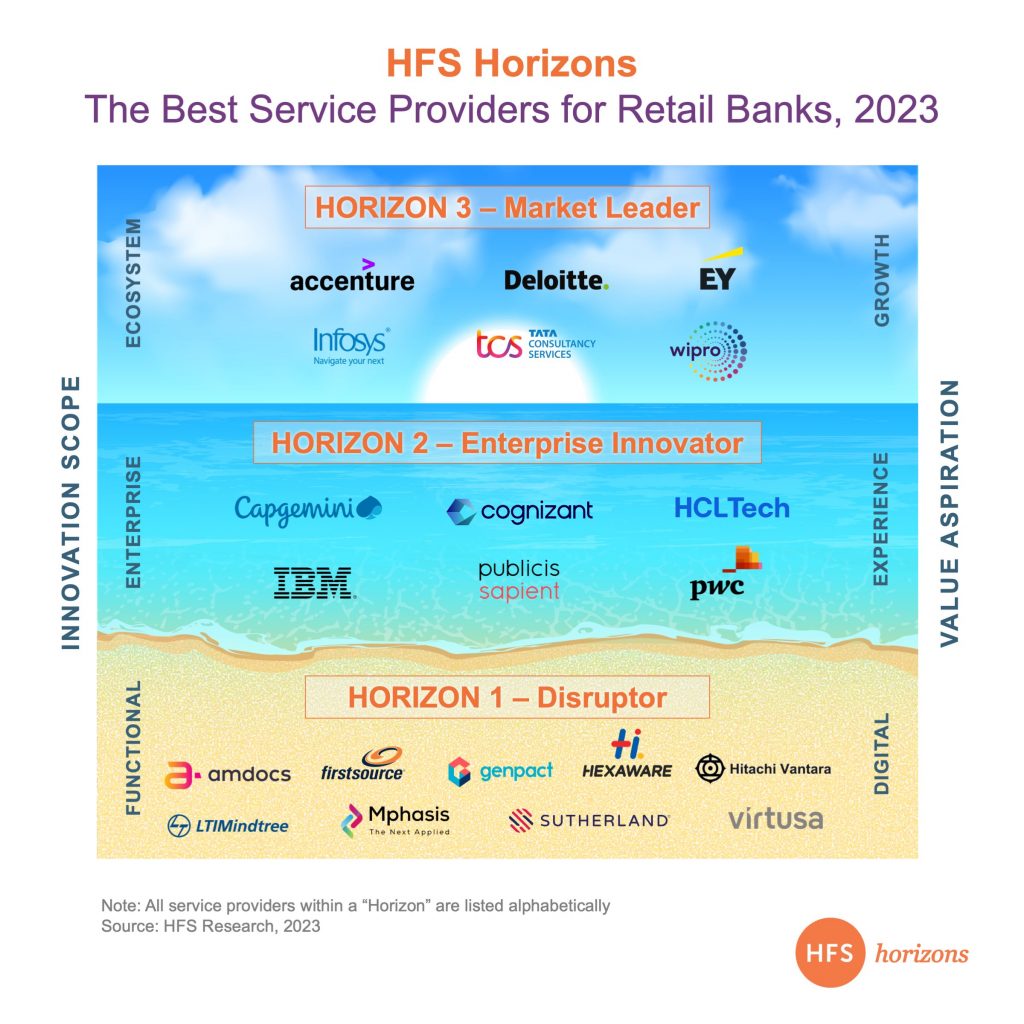 Note: All service providers within a "Horizon" are listed alphabetically
The Horizon 3 leaders are, in alphabetical order, Accenture, Deloitte, EY, Infosys, TCS, and Wipro. These service providers have demonstrated their ability to support retail banks across the journey from functional digital transformation to enterprise-wide modernization to creating new value through ecosystems.
These leaders' shared characteristics include deep industry expertise across the retail banking value chain, a full-service approach across consulting, IT, and operations, a strong focus on innovation, internally and externally with partners, co-innovation with clients and partners, and proven impact and outcomes with its retail banking clients around the world.
Retail banks should select their partners based on the value they seek.
The HFS Horizons model aligns closely with enterprise maturity. We asked the retail banking leaders we interviewed as references for this study to comment on the primary value delivered by their service provider partners today and in two years. Overwhelming, respondents indicated that the value realized today is Horizon 1—functional digital transformation focused on digital and optimization outcomes (72%). Two years from now, the story changes with an enhanced focus on using service providers to help achieve enterprise transformation (24%) and a heavy focus on driving growth and new value creation through ecosystem transformation (28%). Retail banks should select their partners based on the value they seek. The most effective service providers of the future need to enable the growth and transformation of retail banks across the ecosystem continuum.
Which of the following statements best represents the primary value delivered by your service provider today? And in the next two years?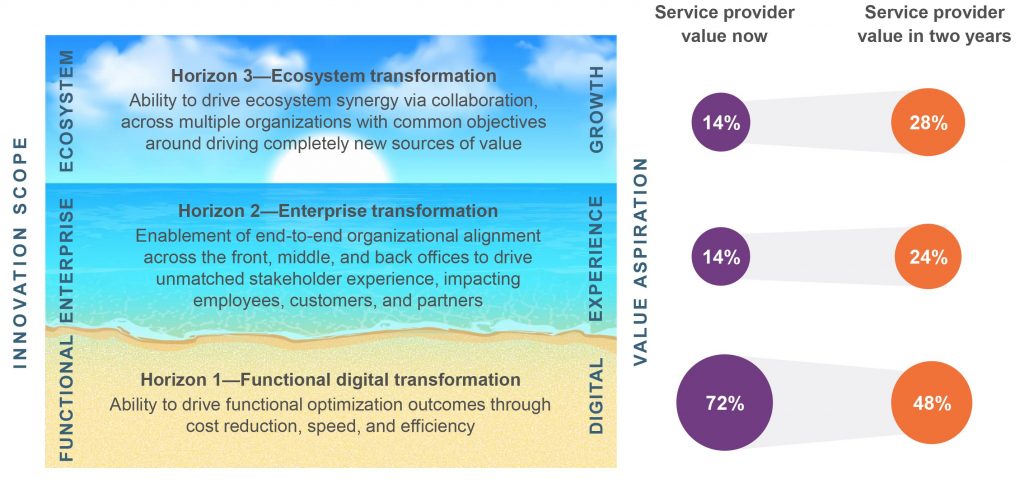 N=41 retail bank respondents
Source: HFS Research, 2023
The Best Service Providers for Retail Banks, 2023—Disruptors, Enterprise Innovators, and Market Leaders report highlights the value-based positioning for each participant across the three distinct horizons. It also includes detailed profiles of each service provider, outlining their provider facts, strengths, and development opportunities.
HFS subscribers can download the report here
(available free for a limited time).
Posted in : Banking, BFSI, Business Process Outsourcing (BPO), HFS Horizons, IT Outsourcing / IT Services, Retail, Uncategorized