All the stakeholders in the outsourcing industry have finally spoken – 871 enterprise buyers, providers and advisors – in an unprecedented study of broad opinion as to whether it's finally time to drop the term "outsourcing" for business and IT services.  
HfS Research has reached out (see survey) to its unique community of services and operations professionals, and can finally reveal the answers we have long been searching for – that it's time to re-brand the industry formerly known as outsourcing, with 61% of the industry stakeholders voting to drop the term: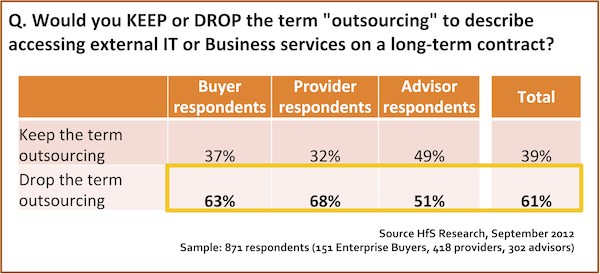 Half of the enterprise buyers responding have over $5bn in revenues, 73% are significant influencers, and most of them have many years of experience with "outsourcing".  HfS would like to thank all of you who took the time to share your opinions on such a pivotal issue.
What's immediately revealing is that close to two-thirds of buyers and providers are fed up with the term, and the fact it's almost impossible to remove the image that outsourcing is only about the offshoring of labor, as opposed to engaging with service providers to create business value.  The advisor community is evenly split, with a good number of them enjoying the fruits of advising on outsourcing transactions – changing the "O" word is bad for business for many of them.  Conversely, there are also many management consultants who would like to remove the term, as it often prevents them from having meaningful and productive discussions with clients, who run a mile when the "O" word crops up.
But what alternative terms have each stakeholder community suggested to replace the "O" word? And what will the termination of the "O" word mean to industry stakeholders?  Will they lose their identity, or is this the beginning of a new era?
Stay tuned… all will be revealed.  Right here!
Posted in : Business Process Outsourcing (BPO), Global Business Services, HfS Surveys: Dropping the "O" Word, IT Outsourcing / IT Services, Outsourcing Advisors, Sourcing Best Practises