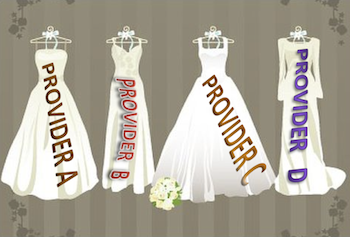 When God created "outsourcing", she/he/it clearly had a sense of humor.  I mean, how do you encourage people who offloaded a chunk of their low-end processes offshore to get together and form an "industry"?
Sure, you can pull together those providers and consultants who've made a fortune orchestrating the "offloading" to get together and feel good about what they do (or at least convince themselves they should feel good about it) but the reality is, outsourcing "networks" are strange concoctions of individuals striving to feel part of a "community" that doesn't really exist.
Let's cut to the chase here – "outsourcing", for most buyers, is like purchasing a wedding dress – a one-time transaction followed by seven years of relationship struggles and future legal wrangles.  I mean, when was the last time the missus went to a wedding dress convention?
In this context, how can you encourage buyers to get together to spend days-on-end reliving that one-time purchasing experience with the fervor of a civil war battle re-enactment? Do service providers really think they are going to meet hordes of "outsourcing buyers" in wedding-dress selection mode when they splurge forty grand sponsoring the room keys at some event?  Of course they don't – they just like the fantasy that if they flash their brand everywhere, something positive will happen.
What's broken here is the fact that "outsourcing" is broken terminology and isn't a real industry. Most of tomorrow's deals are not going to involve major staff transitions from buyer to provider as part of the deal – today those engagements are on the wane as most of the bloated buyers have been progressively trimming their fat in recent years.  Moreover, most of the providers today have the capacity they need to service their clients and will only entertain major "lifts and shifts" of employees if these deals are strategic to their growth ambitions, and involve the transition of both domain expertise and technology assets.
Isn't today's "outsourcing" really "expertise augmentation"?
If your firm decides to select a new marketing agency, you don't automatically declare "we outsourced marketing".  Instead, you make the point that your firm is augmenting its expertise in marketing.  Noone alludes to the fact that your firm may have discretely offloaded a few marketing staff in the process, as they weren't relevant with many of today's marketing demands, such as advanced analytics and social business strategy.
Exactly the same applies with processes such as procurement, finance, claims management, software development etc.  Most firms rarely transition out more than a quarter of their functions in an outsourcing engagement, they are simply increasing their focus on being relevant with today's needs.
At HfS, we are proud to boast a vast array of networks which actually total 130,000 individuals – but you can hardly classify the commonality across these people as "outsourcing" – that is just one component of many, which constitutes the orchestration of global operations. We have broad groups of shared services specialists, outsourcing governance pros,  finance and procurement executives, business analysts, customer services managers, IT leaders, systems architects and functional heads etc.  We have clusters of Big-5 consultants who focus on anything from outsourcing to tax advice and service providers who'd do anything to remove the term "outsourcing" from the Oxford English and  Webster dictionaries.
The Bottom-line:  Are you an outsourcing pro, or a global business pro?
So isn't it high-time we stopped convincing ourselves there really is an outsourcing industry?  If you base your entire career living in a perpetual outsourcing transaction-cycle involving hordes of staff transfers and staff re-badging, then, fair enough – YOU REALLY ARE AN OUTSOURCING PROFESSIONAL.  However, if you want to focus your career on improving processes, finding new and creative ways to improve companies' productivity and growth, and leverage today's availability of global talent into the bargain, aren't you probably what we are calling a GLOBAL BUSINESS SERVICES PRO?
Posted in : Business Process Outsourcing (BPO), Captives and Shared Services Strategies, IT Outsourcing / IT Services, Outsourcing Advisors, Outsourcing Events, Social Networking, Sourcing Best Practises