We're excited to unveil our eagerly-awaited Top Ten report covering Native Automation Services (click here for your copy).  In short, Native Automation services leverage a range of emerging technologies to create intelligent and automated workflows in the cloud enabling new "native" standards for consistent cross-functional enterprise operations.  Let's remind ourselves that automation is not your strategy.  It is the necessary native discipline to ensure your processes provide the data – at speed – to achieve your business outcomes. Hence you have to approach all future automation in the cloud if you want your processes to run effectively end-to-end.
The report examines the capabilities of 12 service providers. We assessed and rated their native automation service capabilities across a defined series of execution, innovation, OneOffice alignment, and voice of the customer criteria. So let's see how the leading service providers fared: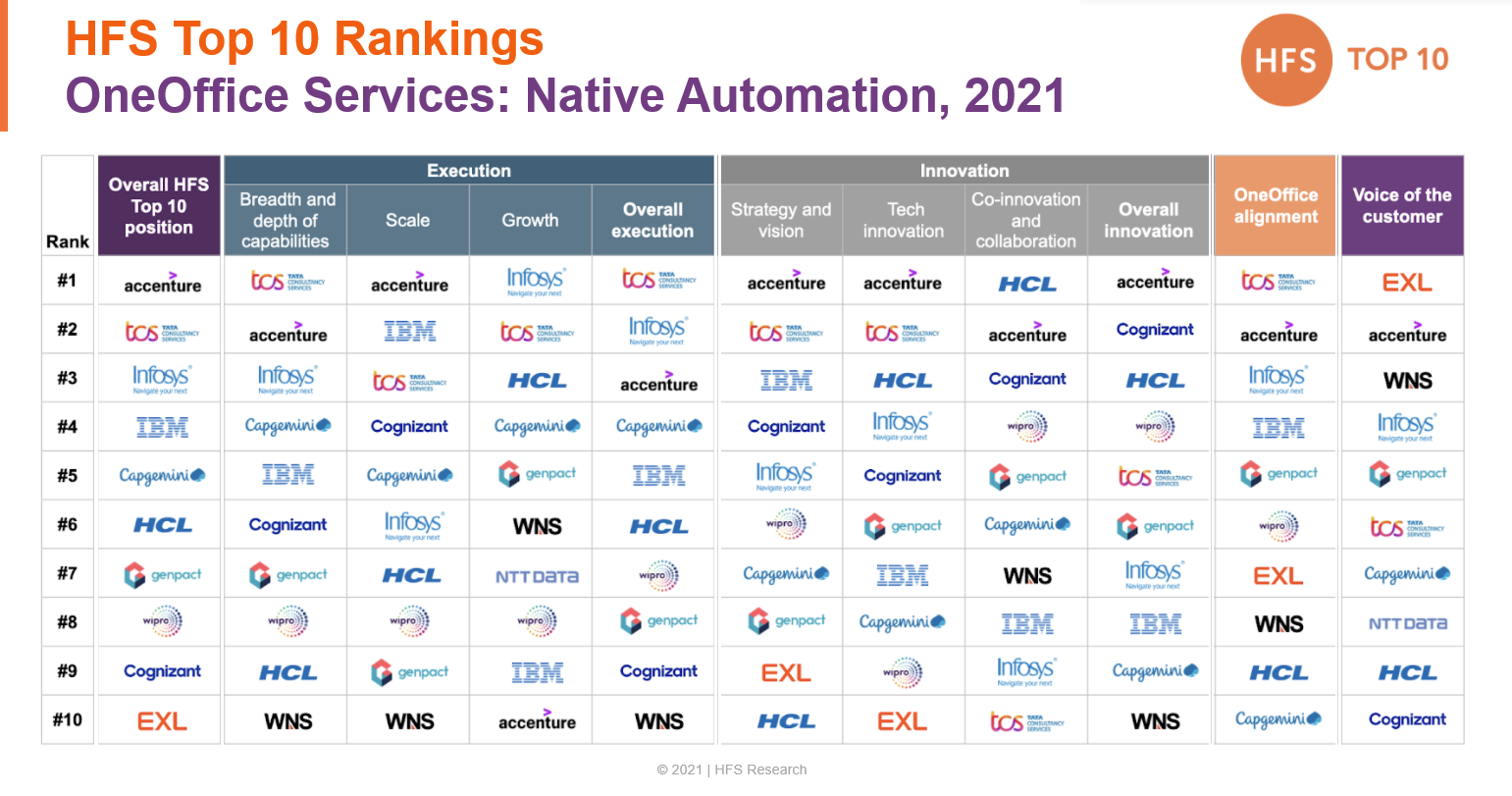 Key criteria for rating Native Automation service providers
Native Automation Excellence.  Native automation is one of three enabling capabilities supporting the journey to OneOffice. It covers services that leverage a range of emerging technologies to create intelligent and automated workflows in the cloud, enabling new "native" standards for consistent cross-functional enterprise operations. The top five leaders in our study, Accenture, TCS, Infosys, IBM, and Capgemini, showcased exemplary capabilities across the assessment criteria, demonstrating the inclusion of automation as a standard "native" element of transformed enterprise operations.
Execution.  Native automation is scaling, but most engagements are still at the front end of the value chain in the planning and implementation stages. Native automation is an essential element of enterprise operations transformation. But remember, the value is from working smarter and solving problems, not from successfully implementing a single-thread technology. The increase in outsourcing and managed services deals points to automation truly becoming a native element of enterprise operations. TCS shone in this category, closely followed bt Infosys and Accenture.
Innovation.  Native automation engagements are becoming more tech-diversified, but robotic process automation (RPA) is still the dominant technology. RPA and process intelligence have become the power couple of automation engagements, packing a powerful combo punch of understanding and automating processes then measuring the impact of the automated processes. Study participants tell us RPA and hyperscalers dominate their partner landscape, with Automation Anywhere (AAI) and UiPath as co-leaders; almost 70% of respondents named them as a top automation partner, followed closely by MS Azure and AWS, reminding us that ecosystems are changing and on-prem was so pre-pandemic.  Accenture dominated the innovation categories, followed by impressive showings by Cognizant and HCL.
OneOffice Alignment.  Service providers say they are delivering OneOffice digital transformation in an average of just 65% of their native automation engagements. This suggests the need to work harder to forge the link between native automation and its essential role in delivering OneOffice transformation. It's time to walk the walk: Take the OneOffice message beyond the thought leadership and into the deal.  TCS was able to win this category, clearly helped by its merging together of data, process delivery in recent years to deliver a front-to-back experience for many of its automation clients.
Voice of the Customer.  Native automation customers speak, and they want proactive recommendations! One hundred percent (100%) of the customers we interviewed indicated they regard their native automation service provider as a strategic partner. Enterprises largely recognize and appreciate services providers' proven expertise, skills, innovation, and scale that help make their businesses better. But they want their service provider partners to challenge them and provide more proactive ideas for improvement. Business process and data management services provider EXL was the surprise winner of this category, proving that a deep understanding of clients' institutional processes is so critical when is comes to redesigning workflows.  It is no coincidence its business process management rival WNS also surpassed expectations here, while Genpact was also a high performer.
Bottom line: Automation is the native disciple that sets up the platform to drive AI capabilities to refine your data
Once you have successfully automated processes in the cloud, it is easy to administer AI solutions to deliver at speed in self-improving feedback loops.  This is where you apply digital assistants, computer vision, machine learning, and other techniques to refine the efficacy of your data.  AI is how we engage with our data to refine ourselves as digital organizations where we only want a single office to operate with agility to do things faster, cheaper, and more streamlined than we ever thought possible.  AI helps us predict and anticipate how to beat our competitors and delight our customers, reaching both outside and inside of our organizations to pull the data we need to make critical decisions at speed.
As enterprises grapple with the enablement of their post-pandemic, work-from-anywhere future, native automation is going mainstream. It is rapidly becoming an essential element of enterprise operations transformation—enabling the modernization of work through thoughtful process reinvention and eradication of soul-crushing manual work. Service providers play a critical role in driving transformative solutions and mindset change about how and where work gets done.
HFS subscribers can click here to access their copy of HFS OneOffice Services Top Ten: Native Automation Services 2021
Posted in : Artificial Intelligence, intelligent-automation, Robotic Process Automation