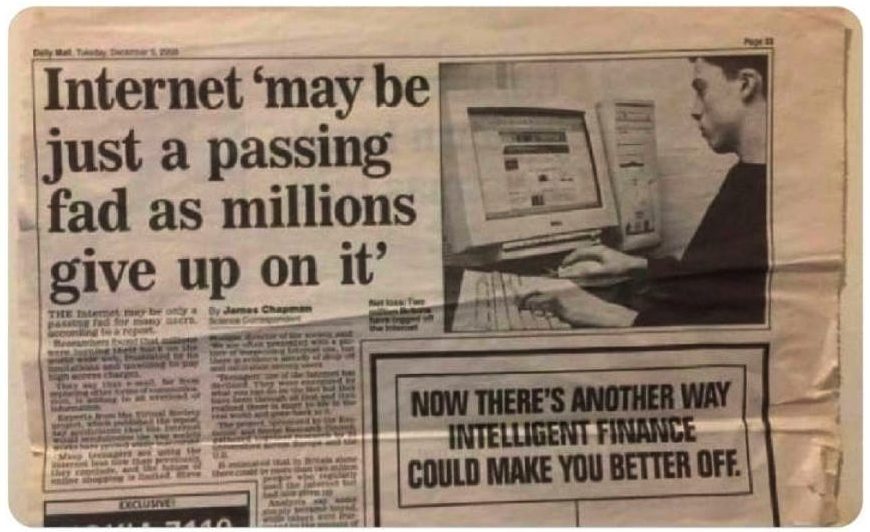 Recent headlines such as those in the WSJ (The Metaverse is Quickly Turning Into the Meh-taverse), and similar in the FT, remind us of such classics as 'Internet may be just a passing fad as millions give up on it' from the year 2000 edition of the UK's treasure trove of fact, The Daily Mail. Such black-and-white premature pronouncements are typical of headline hunters. As leaders planning their investments and ensuring we extract the advantages we need from technologies as they emerge, we must take a more measured approach and a longer view.  The Metaverse is so much more than Zuckerburg's stumbling business model; it's the complete immersion of augmented experiences enabled by AI and, ultimately, by Web3.
Anyone who thinks Disney has given up on the Metaverse has lost the plot 
The headlines are being made by what are largely corrections in investment in the consumer Metaverse. For example, Disney is reported to have shut down the division, which (among other things) handled Metaverse strategies.
But these layoffs are part of a broader effort to reduce corporate spending and boost free cash flow. Disney is cutting $3 billion in content spend. No one is saying that's the end of Disney content.
Let's be real here. The idea that Disney has entirely shelved its Metaverse ambitions just does not ring true. Their ambitions "for storytelling without boundaries in our Disney Metaverse" have not gone away.
Meta's rollback is no surprise and is likely to encourage investment from others 
Mark Zuckerberg may be playing bait and switch with AI on his most recent earnings call rather than with the Metaverse, but then again, who isn't? ChatGPT is investors' latest drug of choice; why wouldn't he play up Meta's capabilities in it? Frankly, Meta distancing itself from the Metaverse landgrab will be welcome in a community that prefers decentralization and cooperative collaboration to the Zuckerberg monopoly any day of the week. We expect the Meta roll-back to encourage investment from elsewhere.
Investment in the metaverse continues apace, as we shared in a POV referencing KPMG's investor perspectives survey – Follow investor money – it's leading directly to the metaverse.
How we should realistically size the prize 
So what is really going on? A figure of $1 trillion for the Metaverse economy was reported at Davos just a few short months ago. Where did that come from? The answer: a global survey of CEOs who were asked roughly what percentage of their revenues they expected to come from Metaverse-related activities by the end of 2025. For context, this represents less than 1% of global GDP (which is predicted to deliver $118 trillion in 2025 – source, Statista).
The predicted opportunity

equates to

the size of a 1000m high skyscraper

in comparison to the

current reality – which

at the same scale

would appear just 2.45m tall
Source: HFS Research 2023
The $1 trillion opportunity is one Accenture takes seriously and CEO Julia Sweet has referenced it in public. Accenture is investing heavily in the Metaverse and believes it is one of five pillars of success for the enterprise over the next decade. 
18 Metaverse services providers expect, on average, to see 15% growth this year 
Accenture is far from alone in believing there is a very real and present opportunity in the Metaverse. Our recently published – and inaugural – HFS Horizons Metaverse Services report 2023, includes profiles of 18 leading services and consulting businesses who are designing and delivering Metaverse services and products right now. HFS estimates they are collectively generating $2.45 billion from these services – and across the board that is expected to grow by 15% this year.
Exhibit 1: 18 leading service providers and consultancies feature across three value horizons in our inaugural Metavese Service report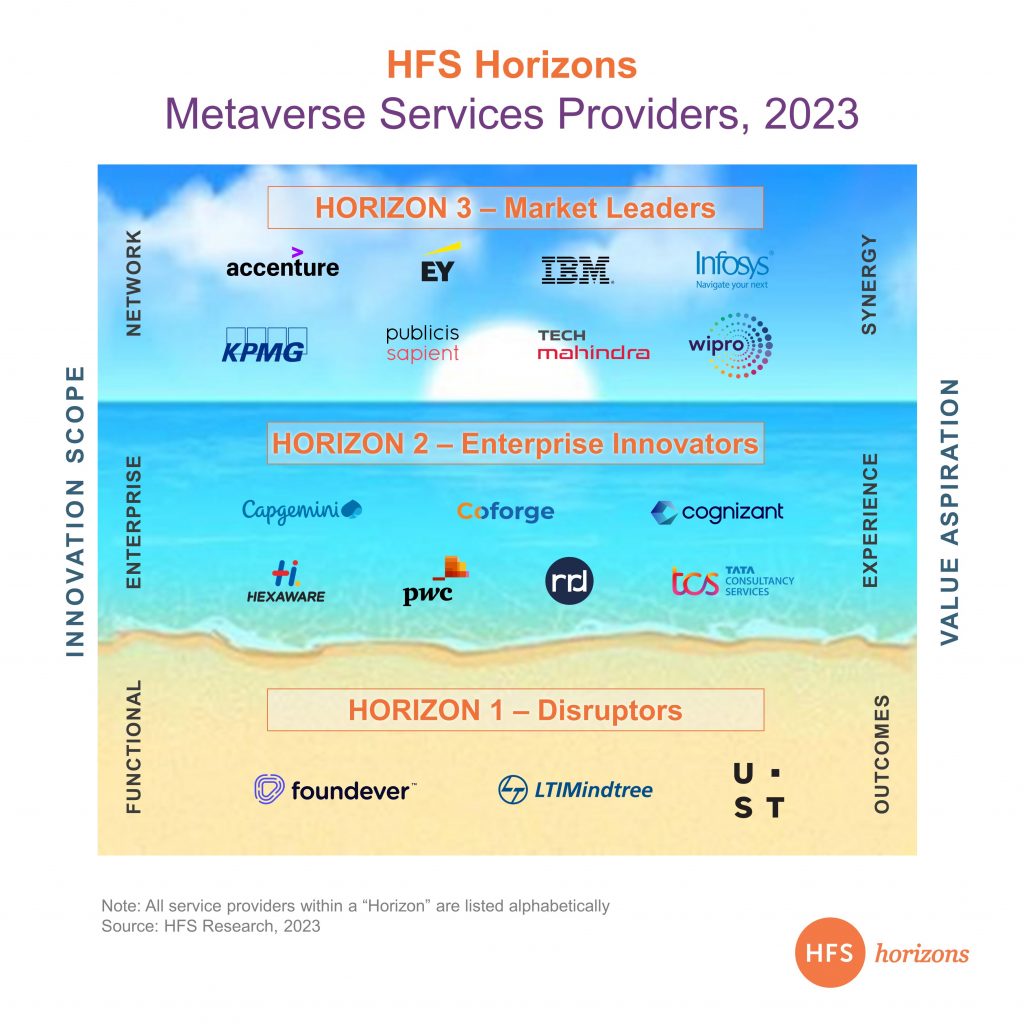 These include (exhibit 1) Accenture, Capgemini, Coforge, Cognizant, EY, Foundever, Hexaware, IBM, Infosys, KPMG, LTI Mindtree, Publicis Sapient, PWC, RRD, TCS, Tech Mahindra, UST, and Wipro. 
They expect to increase headcount by around 20% this year, to serve a real enterprise need (to a total of ~31,000 across the 18 service providers we surveyed. You can download the report, here: https://www.hfsresearch.com/research/hfs-horizons-metaverse-services-providers-2023/ 
Enterprises are continuing to increase Metaverse investments
We also found that Metaverse spending, along with low–code investment, were the only two areas in which enterprise investment in emerging tech is not being cut. Metaverse investments showed the greatest increase in investment, with 87% of enterprises committing between 5% and 20% more spend in 2023. The important caveat to this is that most are starting from very low bases. 
The Bottom Line: Investment, services, practices, and products prove the Metaverse is not going away. Join investors now or scramble to catch-up later 

Enterprise leaders should not allow knee-jerk headlines to distract them. The Metaverse is not going away, as proven by the investments continuing to be made and the practices, products, and services being established by leading service providers and consultancies. Your rivals are increasing their investment in the Metaverse. Your choice is between joining them now or scrambling to catch up later. 
HFS subscribers can download the report here
Posted in : Artificial Intelligence, Automation, ChatGPT, HFS Horizons, Metaverse, Web3