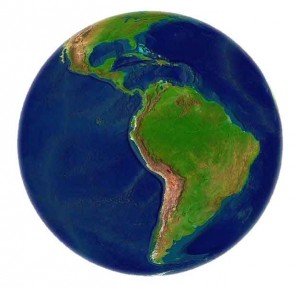 Latin America really is emerging as a nearshore powerhouse for both IT services and BPO, and we thought it high-time an analyst firm actually  took a close-up look at the region. The result is a broad-ranging study, the results of which were distributed by Softtek today.
Discover how Latin America Powers Global IT Delivery: Download the report now.
We've got a quick glimpse a the study's six key findings:
Global IT delivery strategies more frequently include Latin America: The power of a well-crafted global delivery strategy lies beyond labor arbitrage and low-cost offshoring from India. Although most projects featuring a global delivery strategy stick to application development work, there are opportunities for more advanced relationships beyond staff augmentation and software engineering services. New remote infrastructure management offerings and service offerings that focus on niche areas of application expertise now see global delivery locations spread beyond India into Latin America. The region is vast and offers the ingredients to make any nearshore move successful: it has a thriving technology economy, it brings competitive software development rates, it can demonstrate industry innovation, and with vast human capital it has the potential to scale.
Latin American strategies underpin global delivery with increasingly mature services: Firms investigating service delivery from the region like the cultural familiarity bred by the influence of the US and Europe. Customer interviews reveal how distance and time-zone repeatedly offer real-time collaboration opportunities and reduce the burden of oversight and resourcing through physical proximity and better resource alignment. The region continues to offer coding, testing and other IT support but this paper uncovers US firms sourcing niche application services for specific industries (e-banking/gaming), analytics (retail), and bilingual back office support services (finance and accounting). Buyer choice continues to grow as a diverse set of providers continue to invest in new locations in Latin America and customers find more opportunity to realize value as client/vendor relationships develop over time.  HfS has developed a location scorecard tool to help buyers assess each country in Latin America as a global delivery destination.
The region offers buyers three routes to value:

Specific skills at lower costs than onshore in the US or Europe. The region still offers labor arbitrage for desirable skills.
Reducing the risk for immature processes. Portfolios of applications that demand more interactions between onsite and offshore teams or that have highly interactive methodologies in play require more oversight especially if their internal processes are weak.
Supporting a broader market move into the region. Engaging with local providers and using local resources demonstrates a broader commitment to the region.
Calculate the true TCO and measure risk: This report finds that rate cards for services don't tell the whole story. Although the region offers labor arbitrage for desirable skills, it's fading just as quickly as anywhere else. Pure labor rate comparisons must factor in costs for staffing levels (onsite, offshore, nearshore) during different phases of the relationship, such as knowledge transfer and transition. Clients attest to lower attrition levels and fewer site visits, and when they were required, these site visits as part of the governance were much easier to do—these and other soft factors impact the total cost of ownership. Taking work to Latin America does not guarantee success or drive instant savings however—any move nearshore needs careful consideration against the type of work that needs to be done, the maturity of the internal processes and the challenges it creates for corporate culture.
Build the business case with care—resource levels need careful consideration: Quantifying resource levels on a typical nearshore engagement and comparing this to an offshore engagement from India is difficult to do when firms have to factor in that the number of resources flexes depending on the stakeholders involved and the IT process maturity in play. Highly leveraged offshore relationships may demand the provider lands resources onsite with the client to make the deal work—the net effect could be that highly leveraged offshore relationship costs more when landed resources at the client site are factored into the cost rather than blending of going 90% offshore to India rather than nearshore to Latin America.
Local providers must play the global delivery card too: Outsourcing in Latin America will continue to grow because the region can serve many different types of demand. The business services industry is at a stage of globalization, which means for buyers that it's really going to be a competition between different providers rather than different countries. This paper recommends buyers conduct due diligence and check what path their prospective providers are following. Do they offer the opportunity (i.e., tools, methodologies, best practices) for more advanced relationships beyond simple staff augmentation services? Local Latin American service providers must operate their own service operations with service delivery mechanisms and capabilities to support their customers as they enter into emerging markets beyond Latin America such as China or Russia.
As customers mature in how they buy their services from providers in the region, so too does the suite of services on offer. As a result, firms can tap into more sophisticated functionality from their nearshore partners—the study found finance transformation and outcome based relationships superseding low-cost staff augmentation.
To give you a further glimpse of the report, this figure provides a profile of the projected growth in sourcing services spending by major service category in Latin America from 2009 and 2014. The report also includes forecasts for each region within Latin America.
Discover How Latin America Powers Global IT Delivery:
Posted in : Business Process Outsourcing (BPO), Captives and Shared Services Strategies, IT Outsourcing / IT Services, Procurement and Supply Chain, Sourcing Best Practises, Sourcing Locations