When it comes to achieving innovation when outsourcing, buyers need to identify where real innovation is possible, and where they only really need operational efficiency.  
Innovation is about deploying creative and unique methods to drive new productivity or top line growth into the company.  In reality, some processes have that potential, while others, quite frankly, only offer a means to an end.  
Our new innovation study, conducted in conjunction with our BPO networking partner, the Shared Services & Outsourcing Network, reveals some staggering results from 136 senior BPO buyers, when we asked them where they were achieving significant innovation today, and where they saw the potential to achieving significant innovation within a two-year time frame: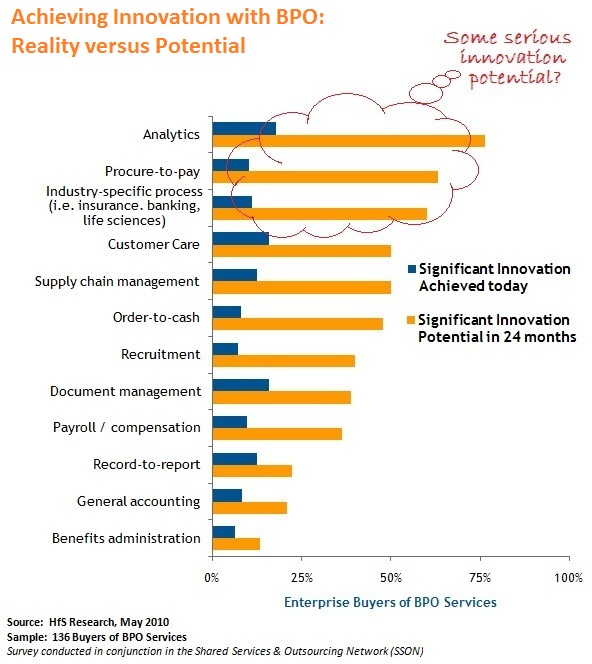 Determine the ceiling of innovation value 
This data reveals an awful lot about outsourcing today.  Essentially, most business processes can be improved to a certain extent when they are outsourced, whether it be through better workflows, application of new technology, and domain knowledge from experts.  And most buyers today still feel most – or all – of their outsourced processes can benefit from further innovation. 
However, some processes clearly have a ceiling of innovation value that can be attained, which is where the move towards standardization comes into play.  For example, once you've got a benefits or payroll solution that delivers the required functionality, is delivered via a hosted / SaaS model, and the provider has the costs and service quality performing to an acceptable level, is there really a whole lot more value your business can gain from them, to increase productivity further and drive new top-line growth?  Cloud Computing and SaaS can further help drive down the operating costs and optimization of delivery, but once you're happy with the processes and the service, that may be the limit of future innovative value that you can expect to attain. 
Pinpoint where future growth and productivity can be attained with a BPO provider 
Where there is significant opportunity to achieve innovation, is where there is significant room to improve process flows, add domain knowledge, creativity and technology into the mix to achieve impactful business outcomes.  This is especially prevalent with those processes that are often a long way from standardization, and can benefit from consultative business partners to develop a specific innovation agenda (see Part II).  Analytics innovation clearly represents a major opportunity for providers and buyers to work together to make better use of information to drive results, in a cost-efficient manner.  It also encompasses a much greater need for consultative support from the provider.  And it's the same story as you go through those processes where the innovation opportunity is significant, for example, P2P (massive productivity and cash flow); supply chain (driving product to market quicker); customer–care (driving new income), recruiting (reducing time-to-hire and improving talent selection), and so on.  Each innovation gap tells a story of where the future value lies. 
The HfS Viewpoint: The key lies in determining  and achieving the right balance between operational efficiency and innovative value.  Both are crucial.  
That means, when selecting BPO partners to drive new business value, buyers need to focus on identifying which ones can genuinely help them innovate, versus those who can keep the machine cranking.  In most cases today, buyers are increasingly finding they can source to multiple BPO and consulting partners – those to help them innovate in processes that have real value-potential, and those which can keep the costs down and the operations functioning.  Many buyers today with some BPO experience, are now seriously considering adding more competitiveness to their provider mix to get more creative value. 
On the flip-side, providers need to determine where they add the most value.  For example, ADP has the lion's share of the managed payroll business – so does it need to broaden beyond that into adjacent processes, for example P2P, that requires greater innovative and consultative support?  Cognizant has a strong portfolio of industry-specific offerings in verticals such as life sciences and banking – does it need to broaden more aggressively into more horizontal processes, such as F&A or procurement?  Accenture and IBM have strong offerings across many of these processes, so where should they choose to invest more of their resources in a tightening market? 
Buyers and providers need to work out a game-plan whereupon they determine what innovation is possible, and how it needs to be achieved.  Some buyers feel they don't need a hell of a lot of innovation, and some providers are happy delivering standard services with little innovation impetus, beyond a few basic requirements.  In the future, we'll be drawing up illustrations of the innovators and the operational players.  There is room for both – the key is to determine how much focus to put into each area. 
All-in-all:  Both buyers and providers need to be honest with themselves to determine whether they are truly prepared to invest in either achieving or delivering innovation.  If not, stick to being operationally efficient and stop talking about an innovation game-plan that will never happen.
Posted in : Business Process Outsourcing (BPO), Cloud Computing, Finance and Accounting, Financial Services Sourcing Strategies, Healthcare and Outsourcing, HR Outsourcing, kpo-analytics, Procurement and Supply Chain, SaaS, PaaS, IaaS and BPaaS, Sourcing Best Practises, sourcing-change