We're gearing up for our HfS 50 Sourcing Blueprint Sessions, taking place April 24-25 in New York City for a two day spectacle of sourcing-savvy soliloquies: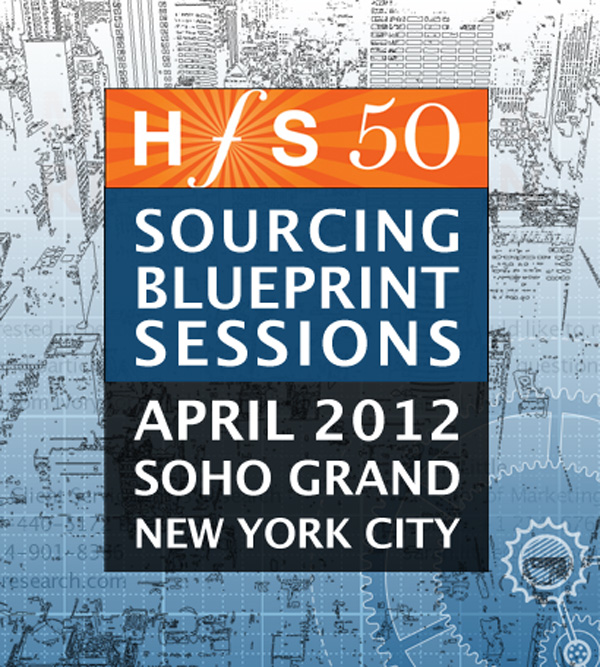 One year on and the HfS 50 just got bigger and badder than ever
Over the last year, our elite peer group of sourcing buyers has doubled in size – making this our biggest, baddest and most discussion-rich meeting to date. And in response to the high-demand, we have managed to extend an extra ten invitations to the event – so if you are a client of BPO or IT services, a shared services or governance leader, or a senior service provider executive and would like to get involved with the HfS 50, please contact Tom Ivory for more information.
This exclusive event will include the development of a 2015 Blueprint for the sourcing industry, culminating in a tempestuous vendor/buyer face-off that will include leaders hand-picked from several of the top tier service providers.
Key discussions will include the following titillating topics:
What do we want – and what should we expect – from the vendor account manager?
Outsourcing higher value processes – what's feasible and how options should be evaluated
Re-energizing the governance function
Blending shared services and outsourcing into a productive, manageable governance framework
Vendor management and performance management strategies
Forward-thinking and productive pricing strategies that can actually work
Globalization's impact on today's sourcing strategies
 Please contact Tom Ivory for more information
Posted in : Business Process Outsourcing (BPO), Captives and Shared Services Strategies, Finance and Accounting, Financial Services Sourcing Strategies, HR Outsourcing, HR Strategy, IT Outsourcing / IT Services, kpo-analytics, Outsourcing Events, Social Networking, Sourcing Best Practises, Sourcing Locations, sourcing-change