The colossus Cloud Business Services study we just conducted, in conjunction with the Outsourcing Unit at the London School of Economics, has served up some contrasting concerns that business executives are having versus their IT counterparts:  Cloud's potential impact on work culture versus its impact on the value of the today's IT department.
Essentially, two-thirds of business executives have expressed concern over the impact Cloud business services could have on the speed by which they could be driven to operate in virtual environments.  Moreover, a similar number expressed concerns over Cloud impeding their ability to collaborate with other businesses.
Conversely, IT executives are hugely worried (80%) by the potential for Cloud providers to exploit customers, but contradict these fears by also worrying about competitors leveraging Cloud to steal competitive advantage from them: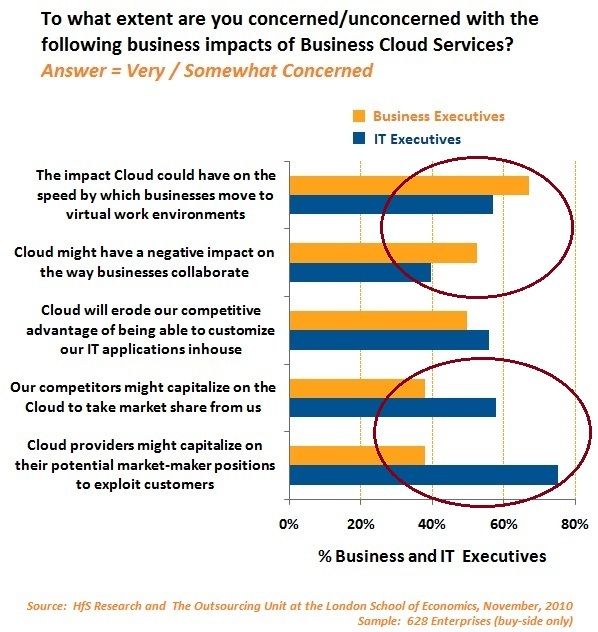 The bottom-line: when the business execs look at Cloud, they sense a major cultural change in the way they work, while IT executives are terrified by the potential curtailment of their value  as the technology-enabler of core business processes.
The fact that the IT side of the house recognizes the competitive advantages Cloud can give business (see Part I), creates a massive challenge to the CIO today: how can their IT department become a vehicle for helping their organization find competitive value from Cloud. Because if the CIO fails to deliver this value, the business side will be forced to look at alternative avenues.  We'll talk about the business transformation implications of Cloud shortly.  Stay tuned for more…
Posted in : Cloud Computing, IT Outsourcing / IT Services, SaaS, PaaS, IaaS and BPaaS, Sourcing Best Practises, sourcing-change, the-industry-speaks