Our new study of 1350 outsourcing industry stakeholders, conducted with our friends at the Outsourcing Unit at the London School of Economics, continues to reveal home-truths about what's really going on in the business.  Quite alarmingly, we can also reveal that many providers are not entirely in synch with what their customers actually want from them.
We asked  a cross-section of buyers with significant influence over outsourcing decisions, to reveal the critical attributes they seek in a provider. At the same time, we asked providers what attributes they believe their clients deem critical.  And  – guess what – their are significant gaps between what clients want and what providers think they want: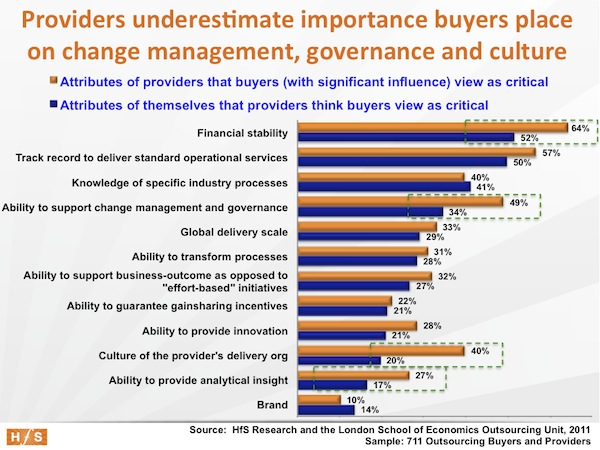 Providers are underestimating the importance buyers (34% compared to 49%) are placing on their ability to help address their change management and governance challenges.  This indicates a significant communication problem is going on in industry – buyers are clearly realizing they need a ton of help and are actually looking to providers to deliver it.  We believe some providers are simply unaware of the extent to which buyers are concerned about these issues, and are over-focused on being price-competitive, demonstrating operational delivery capability and risk mitigation.
Moreover, to prove further this communication gap between buyers and providers, 40% of buyers see the culture of a provider's delivery organization as a critical attribute, compared to only 20% of providers.  This begs the question whether many providers ever stop to examine seriously their delivery culture and how it gels with their clients.  How can so many miss the importance their culture has on their clients' decision-making?  Again, the answer has to be a lack of good ol' communication.
Analytical insight is also becoming increasingly important to buyers (27%), with many providers – again – underestimating the extent to which those decision-makers want to learn more about their capabilities.  Are providers simply convinced their clients and prospects are only interested in the basic table-stakes of outsourcing?
The bottom-line: understanding and communicating service-culture is the critical component of successful outsourcing
HfS believes that the knowledge and intentions of providers' clientele is quickly maturing, and they need to find smarter ways to communicate with them, understand what's really important and invest in their services to respond to their needs.  Currently, the outsourcing industry has a problem – providers either aren't listening to their clients, or simply aren't being given the environment to listen.
Let's face facts here – outsourcing has historically been far too reliant on contractual terms, to the detriment of the softer elements that are needed to foster better provider/buyer relationships.  And it still is.  However, what's transpiring is that buyers are increasingly looking for more from their provider to help them better manage their outsourcing engagements. They don't want continually to spend millions each year on consulting support to improve their governance capabilities, their processes, their analytics, their innovation roadmaps etc.; they want this stuff embedded in the day-to-day service-culture of their partner.
HfS ultimately sees three root causes inhibiting this development:
Buyers need to try harder to get the message to providers about what's really important to them;
Advisors, consultants and intermediaries need to help facilitate (not restrict) more communicative environments for buyers and providers (pre and post contract);
Providers need to spend more time demonstrating how their service-culture is the right fit with prospective buyers, and how they can help them with all the painful change and governance issues they are going to face over the long-haul.
Posted in : Business Process Outsourcing (BPO), IT Outsourcing / IT Services, Sourcing Best Practises, sourcing-change, state-of-outsourcing-2011-study, the-industry-speaks