The one thing that has always baffled me about the European Union, is how they try and unite a hodge-podge of countries which despise each other, when all they really want to do is carry on doing things their way and never take orders from anyone.  
They clearly have three goals within the EU:
1. To make pots of money from that expensive Euro (what a great excuse to raise the price of a coffee from 50 cents to $10);
2. To have a powerless European governance system and keep things exactly as they have always been at the local level;
3. To beat the Americans at golf  every two years (even though the Irish don't need any continental help in that regard).
And when you look at the individual outsourcing intentions of continental Europeans versus the other regions, from our new study that we just conducted with the Outsourcing Unit at the London School of Economics, exactly the same philosophy seems to apply: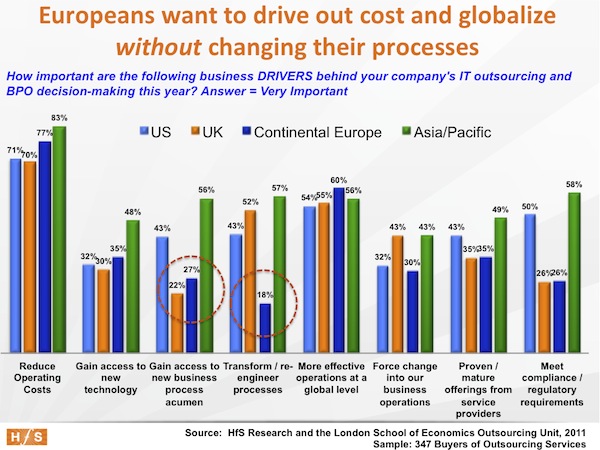 So what's really driving outsourcing decision-making across the world?
United States: Let's save some money, but also use this as an opportunity to globalize operations, transform processes and gain access to compliance standards and business process acumen that we – let's face it – simply don't have.  Let's take a realistic view of what we can get from the experience: use it as an opportunity to manage our ropy processes more effectively, but let's not go overboard with the "forcing change" stuff, or having any fancy new technology thrown at us – as there's never such a thing as a free lunch, folks.
Britain: Please can we shed the costs and change the bloody processes – but our existing bunch are going to be smart enough to figure it out – and we certainly don't need to be told what to do – especially by our former colonies.  We used to run the world, you know…
Continental Europe: Ah… mes amis!  Let's rip out ze costs, but for 'eaven's sake, don't make any changes to our mother-ship.  By all means, sack all the expensive foreign staff in the vorldvide offices and sheeft ze vork to India or Les Philippines, but – we repeat – don't CHANGE anything!
Asia: You mean we can offload all our terrible back office stuff and have you lot run it for us cheaper and better? Take it now – ALL of it!
So there you have it: HfS sums up world politics and culture in a single chart and blog post.
Posted in : Business Process Outsourcing (BPO), IT Outsourcing / IT Services, Sourcing Locations, state-of-outsourcing-2011-study, the-industry-speaks