EquaTerra, or "EQ" as they are commonly known in the trade, has formed part of the heartbeat of the sourcing industry over the last eight years.  When three frustrated TPI consultants had finally despaired of their employer ever "getting" BPO, they snuck off to set up their own shop, coined a goofy name, convinced all their buddies to take a leap of blind faith with them, before stripping off at a Luau and shaking their booties at their unsuspecting followers.  Yes, these guys were clearly on a path to building a multi-million dollar global advisory outfit that would be submerged into a highly respected auditor and management consultancy.
What was amazing, was the sheer speed with which EQ caught up their industry to become, initially, the leading advisor for HRO and F&A BPO engagements, while quietly developing its competency in ITO.  From there, the firm had excited Glen Davidson so much, he publicly resigned from his Accenture job during an awards dinner acceptance speech to announce the establishment of "EquaTerra's Public Sector" organization.  From that moment on, the firm knew no bounds, establishing its software process evaluation tool, EquaSiis and taking over Morgan Chambers' European advisory organization.  They even reached the spectacular heights of doing some research with us!
Meanwhile, the leading management consultancies were still raking in so much coin selling shared services advisory engagements, it was easier for many of them to advise their clients against outsourcing, than actually help them through a sourcing evaluation process.  Why risk your $20m-a-year engagement doing shared services improvement for a $1m project to look at outsourcing?
However, the boom in outsourcing had really taken hold by 2006, and the management consulting firms realized they were not equipped to deal with these complex, stressful operational deals (to quote the CEO of one of the boutiques, "This is real workman's consulting").  AT Kearney, Deloitte, KPMG, PwC – to name a few – started hiring consultants in earnest to win outsourcing advisory work, hoping their superior brands would be enough to swat away these pesky boutiques and their fancy methodologies.  "We're focusing on the strategy side" said one management consulting partner, "And leaving the transactional work to the specialists". However, the management consulting firms quickly were discovering they could rake in a cool $1m-$3m+ managing an outsourcing transaction cycle,whereas a "Phase 1" strat evaluation rarely netted them more than $500K.  Plus, there was never much action with the governance work, as buyers were not resourcing for "change management" (more on this topic to follow soon).
So the management consultancies realized they need to poach the specialists from the boutiques, but were in for a rude awakening when they discovered how much the top talent at Alsbridge, EQ, Everest, TPI et al. were raking in.  Plus, these guys were a unique breed – they actually liked the boutique culture, along with the specialism and IP their firms were generating.  Bottom-line, these boutiques didn't fit their compensation models or their cultures.  Add to this the fact that "outsourcing" had always been something of a dirty word, and poorly understood by the other consulting practices.  Hence, it was pretty clear, as long as five years' ago, that the best route into the outsourcing game for some of the management consultants was to do the unthinkable and actually acquire one of these boutique firms.
So why didn't any of them bite the bullet and snap-up up a boutique?

Quite simply, the top consulting brass have struggled with the "build versus buy" decision for the following reasons:
They have persisted with the MBA-model, which just doesn't work with complex outsourcing deals. Several management consultancies have struggled to understand why they can't stick a team of 26-year old MBAs onto their clients to crunch through a deal, while the boutiques have a cost structure that enables them to put experienced "workmen" with genuine deal experience, whose rates are often cheaper. And while you can get away with some juniors on ITO deals, with BPO you actually need experienced process experts – not kids.
Outsourcing is still something relatively new and foreign to their classical consulting practices. Outsourcing of IT, and more recently business processes, has grown rapidly over the last decade and many of the consultancies have been slow to adjust.  Only now are they recognizing they need this competency, or risk getting edged-out of long-standing clients who are morphing into global outsourcing operating models.
The "hire the leader" tactic to build competency has largely failed. In years gone buy, if niche consultancies were overpriced, the large shops would simply hire the top one or two partners, safe in the knowledge their main delivery guys would follow.  This just hasn't worked too effectively with boutiques, as the top outsourcing advisory talent is well-paid and happy in their boutique environment.  Plus the fact there are literally only a couple of dozen real "market makers" in the outsourcing advisory space worth hiring.
The boutiques have wanted too much money. Some of the boutiques today will be wishing they took offers on the table before the Recession, as the consolidating and commodotizing market has knocked down the market value considerably.  However, with EQ now out of the frame, there are only a small handful remaining with sufficient scale and IP, and these firms will have renewed hope they can cash-out sometime soon.
So… has KPMG made a wise move purchasing EquaTerra, and how will this impact the industry?
*The outsourcing advisory business is all about talented people, experience and relationships.  What has impressed me most about this deal is the fact that KPMG has created 17 new partners from the EQ organization. These people have stuck together for years, have considerable IP, experience and relationships, and are moving over to this new environment together.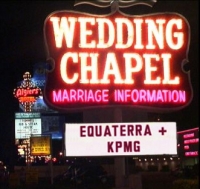 *It would have been extremely messy if KPMG had tried to hire away these folks one-by-one. They have retained the top talent and have created careers for them within their organization.
*Quite simply, there is a really bad (and worsening) talent shortage in our industry, and KPMG has just snapped up a good portion of it in one full swoop.
*Now their challenge is to integrate EQ and create a culture the new partners and their teams can get used to. Retaining the core team is critical to the success of this venture. If they can do that well, they will likely have recouped their investment in a few short years, not to mention the new client relationships they can forge as a result of their extended competency.
*If KPMG can't keep it's new partners happy and there is a mass exodus, then this acquisition will have failed.  Having hired a close-knit group, it does run that risk, and needs to work hard to integrate the EQ people.  This merger is all about talent and IP – and they are intertwined.
*KPMG is also very excited about this and took a long, hard look before they took the plunge – it is a big, big deal to them and they have put a stake in the ground to show how serious they are about this business.  The firm has clearly chosen this space as the one they want to lead, and should be applauded for making a bold move that none of their competitors have (so far) chosen.
What will be the competitive reaction and new market landscape?
The one "prize" boutique left on the market is TPI, even though it can hardly be called a boutique anymore, with its new-found alignment with Compass.  The outsourcing market will have a solid year and its valuation should start to pick up, so I would surprised if any of the large consulting firms, such as Deloitte and PwC, makes a serious move this year.
My prediction for 2011: we now have 4 major players, and they're no longer boutiques:  Deloitte, KPMG, PwC and TPI.  Providers will have to re-evaluate their influencer strategies, as more intricate and finessed relationships are required.  The old "referral" model is pretty much dead.  The remaining boutiques, namely Alsbridge and Everest, should be able to pick off more business, now they have less competition, and can take better advantage of their more flexible cost structures.  Yes, we have a sea-change in the industry, but the buyer still has choice and we have better integration of the traditional consulting model and the boutique methodology.
Posted in : Business Process Outsourcing (BPO), Finance and Accounting, HR Outsourcing, IT Outsourcing / IT Services, Outsourcing Advisors, Procurement and Supply Chain, Sourcing Best Practises