75% of finance executives agree that the new wave of digital technologies is fundamentally changing the way that the finance function operates. So what will the finance function of the future really look like?
Join us on April 21st to be part of this exclusive webinar and find out!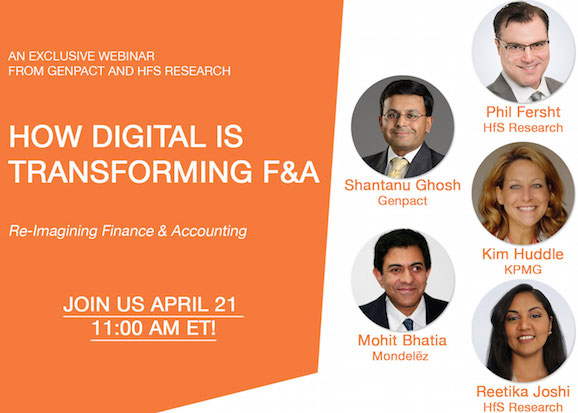 Join these experts from HfS Research, Genpact, Mondelez and KPMG as they discuss the findings from recent research that shows how digital technologies are delivering competitive advantage. They will share their insight on the future of F&A and explore:
What are the key drivers for F&A leaders to embed digital technologies, such as SaaS platforms, analytics, mobility tools, RPA, and machine learning, into their operations?
Where are most F&A organizations in their digital journeys and what lessons have they learnt?
What are the talent requirements and skill sets that finance leaders need in their functions to take advantage of digital technologies?
Where are digital pioneers investing and what challenges are they experiencing?
Posted in : Cognitive Computing, Design Thinking, Digital Transformation, Finance and Accounting, kpo-analytics, Outsourcing Advisors, Robotic Process Automation, smac-and-big-data, sourcing-change, Survey: Re-architecting Finance for the Digital Age