Trying to analyze why one Indian service provider had a better quarter vis-à-vis another is becoming pretty moot.
Yes, there are various nuances clearly helping or hindering some of the W-I-T-C-H firms with certain deals, such as TCS' flexibility to win selective large complex deals, Cognizant's savvy US leadership team, HCL's price aggressiveness to pillage legacy EDS contracts, and the fact that Wipro and Infosys somehow "lost their mojoes" in the kerfuffle. However, the bottom-line is clear:  The Indian services business is hurtling toward commodotization, and there needs to be a much more radical play from their ambitious leaders to alter the game.
In order to highlight this dynamic, we took quarterly revenue and growth performances over the last 4 years and created a predictive revenue forecast for each of the W-I-T-C-H providers, based on the past four-year historical variances: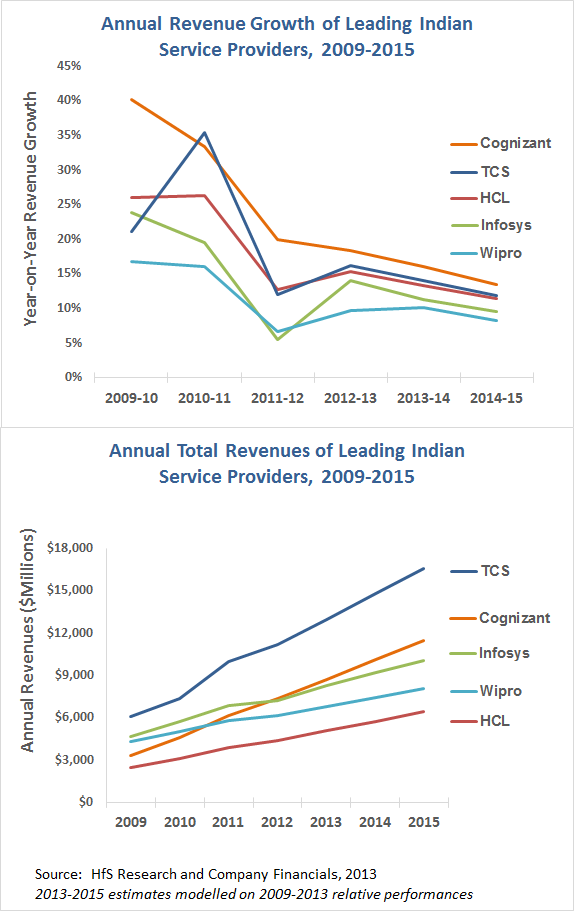 What this data tells us, is that the growth trajectory is now declining at such a clip that none of these providers may make the HfS IT Services Top Ten if they continue with their current growth strategies.
Why the WITCH providers can either fight for the old dollars, or revamp for the new
Essentially, what these five great firms have achieved is to create huge factories of (predominantly) young talent that can service operational technology and business process work that can be standardized, externalized and run from their Indian centers.  The simple fact that their margins have remained largely unaffected, despite increasing price pressures, is two-fold:
A weak Rupee which has kept the Indian firms hyper-competitive throughout the Recession years;
Industry-leading innovations in training and developing hundreds of thousands of employees from the Indian colleges.
Only Accenture and IBM, and more recently Capgemini, have really been able to compete aggressively for the operational work, because they invested heavily in developing their own Indian (and other global) delivery centers in recent years in order to catch-up.
However, as this data plainly dictates, we're now on a fast-track to lower growth that will likely be dipping below the 10% mark by the end of next year, for some of these firms.  So… this leaves two stark choices for the WITCH firms:
1) Accept the industry is commodotizing and be prepared for slower growth and reducing margins.  Hell, we'll still be massively wealthy and our owners and long-term executives are so rich, who cares?
2) Aggressively acquire the capabilities to find new sources of growth.  Relying on the same tried and trusted formula of hiring kids, keeping prices low and selling ever-harder is clearly going to see us sink into the middle-of the-pack – we have to make radical changes if we are going to buck the trend.
The Bottom-line:  It's a clear decision for today's leading Indians – prepare for commodotization, or invest for new growth
The WITCH  providers will forever go down in the folklore of business globalization in the way they quietly infiltrated the major global financial institutions, moving from 10 to 50 to 250 to 1000+ FTEs in many of them, before their Western incumbent competitors realized they'd just had their lunch eaten (and for some it was too late to come back).  Other major industries followed, from manufacturing to retail, life sciences to insurance, hi-tech to energy.
However which way you may want to criticize the low-cost model, they disrupted the industry and their competitors struggled to respond. But – like any market disruption –  once it's been disrupted a new landscape emerges and the next wave of winners will be those who continue to satisfy the customers' needs profitably.
While wage arbitrage will continue to provide a lever for new investments, the next wave of customer demands is shifting into new areas where no clear leader has yet emerged.  It's no longer going to be all about ABAP programmers, help-desk jockeys and accounts payable clerks.  The next round of winners will be those who can re-invent their clients' business process to work around SaaS platforms such as Workday and NetSuite;  who can recreate an organization's entire approach to managing and analyzing its data;  who can become genuine partners to both their clients' front and back offices; who can consult, think, act and create for their clients.  Tomorrow's businesses want to get smaller, smarter and leaner, not fatter, more bloated and too sluggish to adjust to today's global environment.
I do not believe today's WITCH providers can get from today's commodity needs to tomorrow's emerging needs by making the occasional niche purchase to fill a few competency gaps – it's just too slow and painful a process.  The only genuine strategy is to go for the "big bang buy", the game changer that will force the shift to Sourcing 2.0. We'll take a look at some good potential candidates shortly… stay tuned.
Posted in : Business Process Outsourcing (BPO), Finance and Accounting, Financial Services Sourcing Strategies, HfSResearch.com Homepage, HR Strategy, IT Outsourcing / IT Services, Sourcing Locations, sourcing-change, Talent in Sourcing