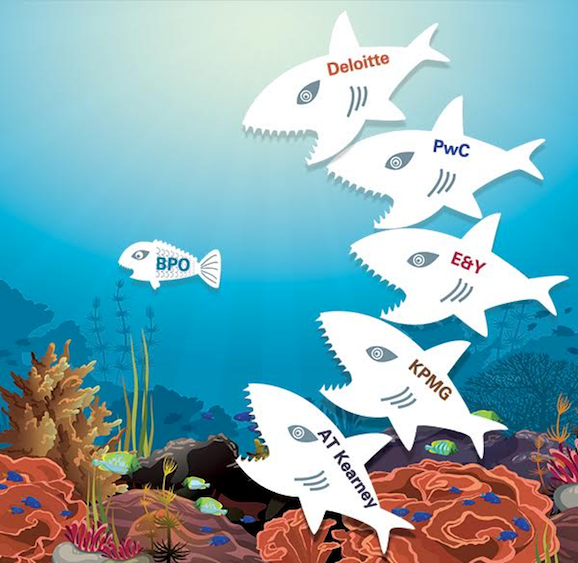 We've been talking about the great divide between consulting and outsourcing models for decades, but – finally – it's time for the two to get much closer together as the forces of the As-a-Service Economy combine to weld the two models into a new services mongrel which combines simplicity, efficiency and capability for enterprises finally attempting to drag themselves away from their perpetual treadmill of obsolete technologies and valueless process flows.
The whole premise behind As-a-Service is one of a fundamental cultural change with how enterprises approach their operations and partner more collaboratively with capable service providers to re-imagine their processes, based on defined business outcomes. Simply put, it's a huge, huge challenge for most current services relationships to morph into anything closely resembling an As-a-Service model, with the current mindsets of most buyside and sellside delivery staff. Buyers need deep expertise to help them reorient their skills and capabilities – and their service providers need to make serious investments and sacrifices to help them, which give their accountants and shareholders hives.
Coupled with the troubles facing buyers and their service providers, is the abject failure of most of today's sourcing consultants to do anything difference to reform their old way of doing things. Yes, it's a Catch-22 of many service industry stakeholders not wanting to change their ways, but being forced to address these issues to remain relevant and – let's face it, employed. In short, the pace at which the services economy is evolving will render many people unemployable in a few short years who fail to get ahead of this.
Just remember how foreign the concept of cloud computing was just five years' ago… you think it's going to take that long again for RPA to take hold, and significant advancements in artificial intelligence to reshape how enterprises run their operations?  Think again, people; things simply have to change – and these market forces will make sure there will be winners, survivors and losers who will fizzle away into insignificance.
But the answers are staring us in the face – the future of services is a combination of the ability to create business value based on processes that are run efficiently, simplistically, and to common standards we find acceptable.
Consultants make a living demonstrating value in order to create demand to sell their capabilities.  This is where too many service providers will terminally struggle 
Clever consultants find problems, not just solve them. The only way to get buyers to do anything different is to convince them that hiring you will inspire them to make these changes. This is what able consultants do – they want to be billing themselves out 2,000 hours a year to their clients, so they are constantly looking to find problems, not merely make incremental improvements to existing processes that add minimal value.
BPOs need consulting skills – at scale – to succeed.  I hate to say this, but you can't achieve real success with the next wave of labor-lite solutions with a couple of smart visionary guys living on planes with their PPT mosaics.  That may have worked for BPO rounds one and two, but this is round three and there needs to be lots more feet on the ground to be effective. Most of today's BPOs are operating with very thin layers of consultants to front their client relationships.  Simply put, they do not have enough to genuinely scale this beyond a few discreet engagements.
Clients will pay when they see the value in front of their faces.  BPO grew up on the sale of immediate cost reduction – a unique value sale that created the industry we are in today. However, as the labor savings run out of room, the sale has to shift to one of future ROI and value – something, let's face it, which is very challenging for our legacy service providers and advisors to succeed at and manage. However, clients frequently pay for skillful consultants who can come in and make a difference, who will find problems and sell their capabilities to solve them to their clients. The As-a-Service value proposition is really a combo of this consultative prowess and the efficiency and simplicity of effective BPO.  So, the two need to be better conjoined to grant clients what they really need.  (I stress the term need, as opposed to want, as many enterprises do not know what they need, so there isn't too much to want until they have it spelled out in front of them…)
BPO delivery staff are simply not very "right-brained".  It's just how the industry has evolved – lots of people who have a transactional mindset.  They do what they are told, they follow a process… that's nigh-on impossible to change. However, put BPO staff under the management of skilled consultants and this impossible mindset may just start to be molded.
Consultants will struggle without an As-a-Service delivery model behind them.  While BPOs clearly need consultants, the same applies vice versa. Clients increasingly do not want to spend millions on custom engagements – the cash just isn't there, like it used to be, to reconfigure their operations.  However, they will buy managed services that are predictable and have a sustainable value proposition.  I have used the term Expertise-as-a-Service for a while now, and it's making increasing sense as the realities of the As-a-Service Economy continue to unravel.
There is no written curriculum for this industry to follow.  Yup – we can rewrite the rule book, folks.  We're really venturing into unchartered waters, so what's preventing this marriage of business models?
New market entities can chase after As-a-Service projects without the risk of self-cannibalization.  This is significant.  Let's just assume, for example, Deloitte purchases an F&A BPO business and launches a spin-off As-a-Service provider business that doesn't conflict with its audit business. This new entity can bid for brand new As-a-Service deals that incorporate the benefits of RPA, AI etc without any legacy revenue that will get eroded – it can pick off re-bids from legacy deals that have become stagnant, in addition to bidding for "virgin" As-a-Service deals from clients venturing into the model for the first time. Bottom-line  – all new business is gravy.
As-a-Service demands the whole gamut of people-process-technology change.  The pilgrimage to As-a-Service is all about simplification – people willing to offload the transactional work to focus on higher value talks; IT willing to write-off legacy applications and systems that may have absorbed millions of dollars to keep them functioning over the years; and processes that have become obsolete and need re-imagining to align with providing genuine value.
Clients need to trust providers to give up more… consultants are successful because they build trust.  This is what consultants do – they invest in clients to trust them, as trust is all they really have.  Service providers struggle to build trust because it's all about the deal to them – once they have a contract, it's about meeting the obligations, as opposed to really building that trust.  It's just the nature of the relationship.
The Bottom-line: Change is coming with the advent of As-a-Service, and it might not be quite what you expect 
You only need to have a few conversations with key industry stakeholders to realize something isn't quite right with the industry these days. Many buyers are in denial that they need to do anything different, despite all the disruptive technology emerging; most service providers recognize the disruption, but are more concerned with sounding impressive than actually delivering.  Can we really progress in this era of denial and bullshit?  Of course not…. we will see a few bold moves to get ahead of this market, and some may well come from this potential marriage of big consulting and big BPO.
Posted in : Business Process Outsourcing (BPO), HfSResearch.com Homepage, HR Strategy, IT Outsourcing / IT Services, kpo-analytics, Outsourcing Advisors, Robotic Process Automation, SaaS, PaaS, IaaS and BPaaS, smac-and-big-data, sourcing-change, Talent in Sourcing, The As-a-Service Economy