This week, we're beginning to unravel the colossus study we just ran with the London School of Economics delving into the future potential of Cloud Business Services.
We managed to receive 1053 participants across business buyers, IT buyers, advisors, providers and industry influencers – if anyone else in the industry has performed such as exhaustive study of Cloud business services, please enlighten us!   Thank you to all our loyal readers who completed the study, and our friends at SSON who helped engage their network.  A complimentary report of the study findings will be winging its way to you all very soon.
One of the unique angles of our study has been to contrast the views and intentions of the non-IT business community, and solely IT executives.  And – as we suspected – the dynamics driving the future direction of Cloud adoption within the business functions is going to come from the business function leaders who "get it".
Cloud Business Services are no longer hype – both business and IT executives are buying-into the value Cloud can bring to their jobs and their organizations. Let's examine further: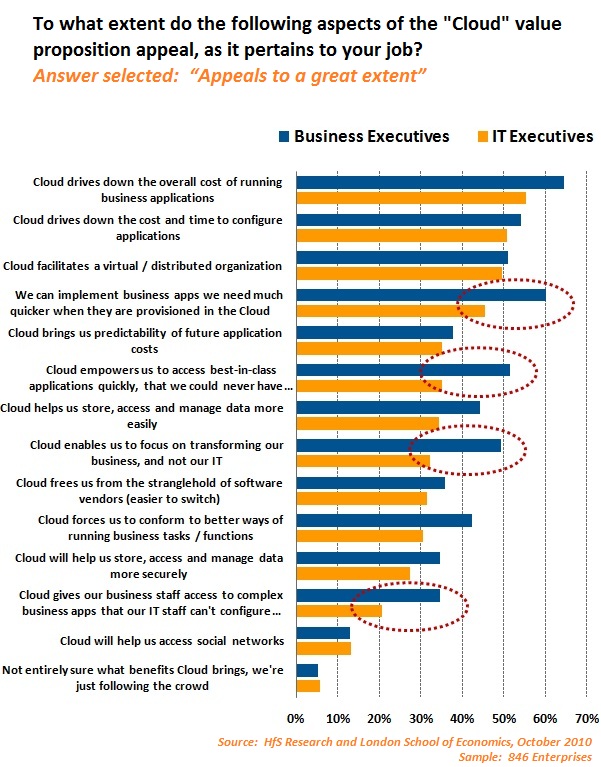 *The ability to access business applications quicker, faster, cheaper and in a virtual business environment are the major drivers – and it's the business side of the house which is even more engaged by the potential value than the IT-side.
*Most notably, half the business respondents seriously value the focus Cloud brings to transforming their business, as opposed to their IT.  Barely a third of IT respondents were as enthralled by this.
Does this mean that the real impetus behind future adoption of Cloud Business Services is going to come from business function leaders with heavy influence over IT spending for their function?  And what role will Cloud Business Services play in altering the make-up of today's outsourcing and integrated services engagements?
Stay tuned for Part 2, and Part 3… and probably Parts 4 and 5 as well…
Posted in : Cloud Computing, IT Outsourcing / IT Services, SaaS, PaaS, IaaS and BPaaS, Sourcing Best Practises, the-industry-speaks, Uncategorized