If there's one industry that has struggled with its identity over the past two decades, there's no bigger culprit than Business Process Outsourcing (BPO).  Ten years ago India's IT body NASSCOM* voted among its BPO council leaders to rename itself "Business Process Management"  (BPM) to amplify the nature of services being undertaken as "managed" by service providers as valued business partners, and not merely low-cost providers of outsourcing via cheap labor.  However, most of the tech industry associates BPM with Business Process Management software and it's arguable that the nomenclature only served to confuse enterprises further.
The value is in the Data.  Processes provide the underlying execution to get at it
Data and processes are inextricably linked. The focus on value has shifted firmly to the strategic value of data and how designing processes can help you achieve the data outcomes that create the value.  Enterprises must re-think what should be added, eliminated, and simplified across their process workflows to source this critical data.  In short, enterprises want to buy continuous access to data outcomes and experience great service partnerships to achieve them.  That is what BPO is all about why HFS has termed the phrase "Business Data Services".
Despite the obvious brand identity challenge, BPM did represent the emerging era of BPO beyond cost savings (see 2010-2020 below), but after a decade, surely it's time to revisit the very identity of business services to address the most critical need 600 of the G2000 enterprises really want…  data: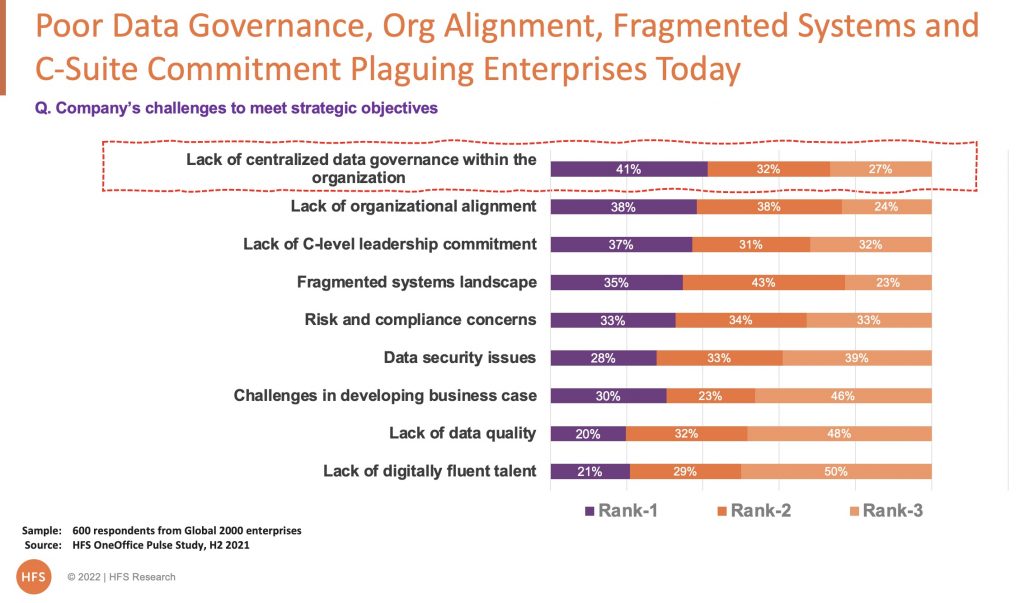 Smart enterprises want to buy services that provide them with specific types of data.  They care less about buying "effort"
When we reflect on the phases through which BPO has evolved we can clearly identify three different eras:  (1) Globalization, (2) Digital Pontification, and (3) Business Data Services: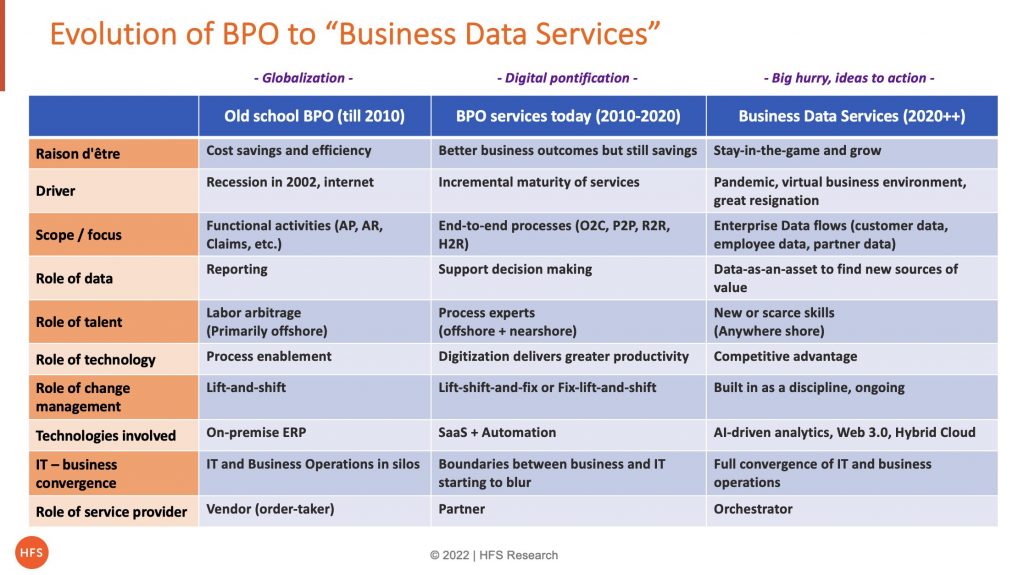 A brief history of BPO… from 'people and process' to 'data outcomes and experiences'
We can date BPO back to Adam Smith's Wealth of Nations in 1776 where he discussed the "gains from the trade that exists in dynamic, free markets. Companies and countries that overcame the barriers to trade would reap the rewards. Those that did not overcome the barriers would forever be beholden to those that did."  He also declared that "Wealth is created through productive labor, and that self-interest motivates people to put their resources to the best use".  Was he thinking about core/non-core?  Had he planted the very kernel of partnerships to drive customer impact and competitive advantage?
However, we have to fast-forward to the 1940s when ADP started handling payroll for companies outside of their own operations, and the '60s when EDS developed an integrated system to process health insurance claims.  In the '70s and '80s, we saw the rise of call centers first in UK and US before work was shifted to Ireland and Canada in the 1990s because of cheaper salaries and lower employment benefits.  We also saw American Express, British Airways, and GE open 'captive' units in India to take full advantage of moving non-core work out of the main enterprise to have the work executed at a much lower cost over the medium-long term.  Basically, any processes that couldn't be tied to an ERP rollout – and executed as such – became a target for outsourcing.  The advent of the Internet and real-time access to data had made many news things possible to run a virtual business that could access talent and technology anywhere in the world.
Old school BPO (pre-2010).  Once the ambitious Indian entrepreneurs saw how effectively these major globals could run operations out of India, upsprung hundreds of BPO delivery firms over the next decade, with India at the heart of functional data-centric work, the Philippines becoming the epicenter of voicework.  From customer services, to finance and accounting, to HR, to procurement to insurance claims processing and payment processing… the half-trillion-dollar a year BPO business was born with offshore labor at the core, and getting the work shifted as expediently as possible the hook to the eager enterprise clients.
Digital ponitification (2010-2020).  This was the era where we cogitated and really saw the art of the possible.  We saw the value and potential of end-to-end processes bringing employees closer to their customers aligned by common goals (OneOffice), and the blurring of the boundaries between business and technology as business executives invested in the value of SaaS and automation, helped by advancements in low-code technologies.  In short, these BPO providers were making the shift from order-takers to partners.  However, there needed to be a catalyst to drive the rhetoric to reality – we knew what was possible, but there wasn't much of a burning platform for change during these years of economic growth.
Business Data Services (2020++).  The collision of disruptive forces has provided the catalyst to take BPO from its pontification decade to enacting these ideas into reality:  the rush to operate in a global business environment, the pandemic-induced talent crunch upping the ante to invest in an automation backbone, and providing a more challenging and rewarding work environment.  Throw in spiraling inflation, a military conflict in Europe, and a desperate need from enterprises to hurry into functioning virtual models and hyperconnected supply chain ecosystems, and enterprises need more help than ever from third-party outsourcers and their armies of millions of staff to keep their businesses moving forward.
The Bottom-line: Today the onus for enterprises to buy services is to get the data they need to be effective operationally and make decisions to be competitive. 
When enterprise leaders look at their operations, they need data on their people and performance, their accounts and cash flow, their spend management, their customer engagement and satisfaction, their inventory levels, their sales effectiveness, their marketing impact etc.  Do ambitious business leaders really care about the effort levels being made to get this data anymore?  Whether it was 150 FTEs, 50 RPA licenses, some smart AI feedback loops, and a few chatbots?  Of course not.  What they care about is getting the data they need to stay in the game and be successful.  Having the best possible partnerships to achieve that data on an ongoing journey provides them with the ecosystem they need to be competitive.
*HFS is partnering with NASSCOM to study these dynamics of business services in-depth to shape the future of this industry
Posted in : Business Data Services, Business Process Outsourcing (BPO), OneEcosystem, OneOffice, Uncategorized