Blue Prism yesterday announced the acquisition of Thoughtonomy, a SaaS-based integrated automation platform with Blue Prism RPA baked into its core. After six years and much flirting with potential suitors, Terry Walby's Thoughtonomy successfully exits into the welcoming arms of Blue Prism. This was always the logical end-game for Terry's business, which he bootstrapped from day 1 and tirelessly pushed at the automation world. HFS was particularly inspired with the firm's work at the UK's National Health Service (NHS) (which you can read here).
Essentially Thoughtonomy is RPA + cognitive capabilities + cloud. Net-net, Blue Prism is buying a cloud (SaaS) wrapper for its own product; arguably, it could have (and should have) built that itself, but decided instead to pay a tidy sum. However, this cloud wrapper puts Blue Prism in the ring with Automation Anywhere's V12 cloud product, which is drawing a lot of plaudits from enterprise users (our forthcoming Robotic Transformation Software Top Ten will reveal its performance across several hundred enterprises). More importantly, it increases Blue Prism's attractiveness as an acquisition target itself by upgrading its cloud-readiness from "available cloud reference architecture" to a legitimate SaaS-based offering. We touted Blue Prism as a potential target for IBM three years ago, and with a scalable cloud story and IBM/s major pivot around Cloud with its RedHat acquisition, surely this Cloud-ifying of Blue Prism makes the firm even more attractive to them.
Finding the synergies to justify the price tag – cloud with a potential side of cognitive capabilities, but the focus is too UK centric
Now, Blue Prism can contend with Automation Anywhere's claim that "BotFarm is the first and only enterprise-grade platform for scaling bots on demand". The midmarket can benefit from Blue Prism's RPA technology, with very little setup cost or initial investment. Mid size companies that considered automation out of their reach can enjoy the democratizing effects of cloud, avoiding the hassle of on prem infrastructure.
The shopping basket also contains Thoughtonomy's gross assets, reported at 31 May 2018 as £5.6m and established relationships with Thoughtonomy's big-name clients including NHS, AEGON, and Sony. Partner implementation and reseller arrangements are in place across many of the usual suspects in SI and consultancy such as Computacenter (from where Terry Walby moved to IPsoft before setting up Thoughtonomy).
Like Blue Prism, Thoughtonomy is UK based so there's not much by way of additional footprint synergies to be realized. Blue Prism, therefore, will only be adding a limited new channel and will have to rely on its existing sales and delivery channel to make this acquisition pay off. The US market is where the bulk of new demand for automation solutions is surfacing, and Thoughtonomy isn't adding to Blue Prism's US team, which is under huge pressure from US-centric competitors with much larger pools of funding.
In HFS' 2018 study of customer satisfaction with RPA, client ratings of Blue Prism and Thoughtonomy reveal some additional areas of complement – notably Thoughtonomy's embedded intelligence (see Below). Blue Prism used some of the $130M it raised in January of 2019 to establish an AI lab to further the addition of cognitive capabilities to its product stack. Thoughtonomy now helps shorten R&D cycle time.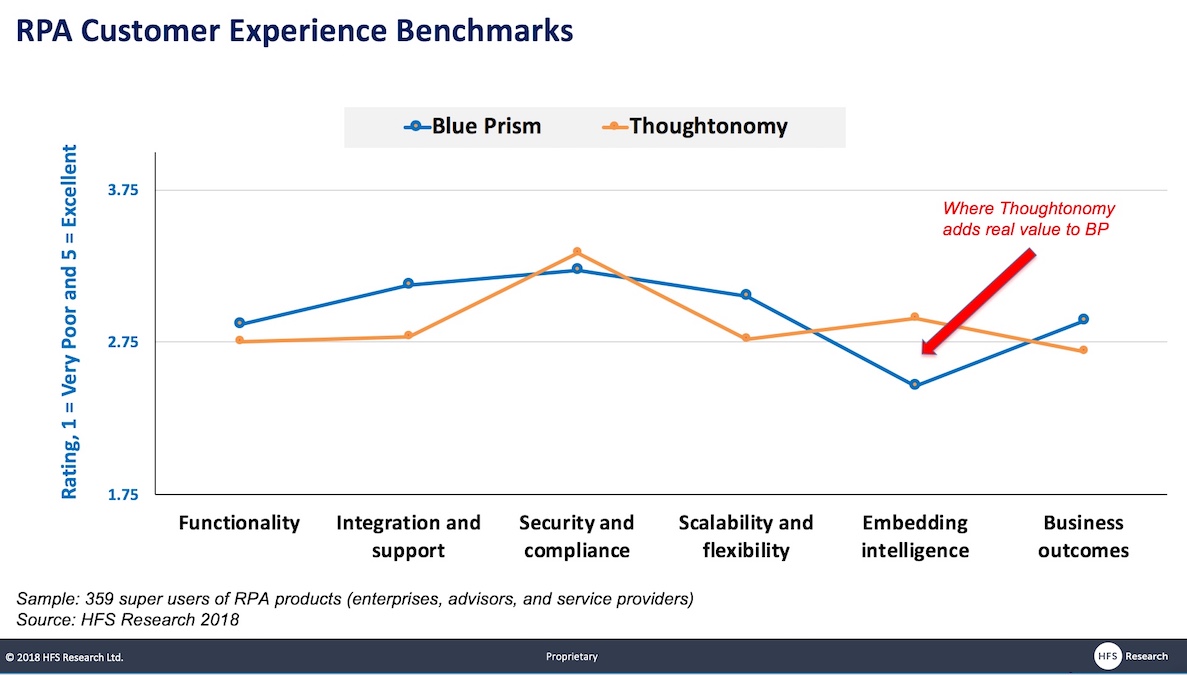 However, Thoughtonomy is small and not (yet) profitable and has never benefited from funding. For the twelve months to 30 April 2019, it reported revenues of £9.8m and an adjusted operating loss of £3.6m. It has suffered from the difficultly of being ahead of its time, offering a general purpose integrated automation tool as a service when most enterprises are still experimenting with RPA and other piecemeal automation solutions. Enterprises that have made the leap to integrated automation tend to be those that have both a clear digital transformation execution strategy and an informed perspective on which tools they need in their toolkit to achieve their objectives. Thoughtonomy offers a great integrated bundle, but, unless enterprises know what to do with it and what it helps them solve, it's value will not be recognized. But, as we recently articulated in "RPA is Dead. Long Live Integrated Automation Platforms", this is where the market is headed, so the potential is there.
Businesses and organizations ought to look beyond desktop automation to deeper integrated automation
It's time for businesses of all sizes to begin their automation journey and going deeper is possible. As it's cloud-based there's no infrastructure capex, just the ongoing cloud opex. Furthermore, Thoughtonomy has, since its inception in 2013, had a strong view and vision on scaling its virtual workforce. Never intended as an attended or desktop solution, the plan was always to effect automation using Blue Prism's RPA platform at a deeper level. Single automations can replace up to thousands of workers as opposed to the desktop automation route where automation is applied at the individual worker level and usually to tasks rather than processes or workflows.
Off-prem accessibility unquestionably matters, especially to the smaller business, what's odd is that it's not that difficult, time-consuming or expensive to build. However, with this acquisition, Blue Prism can now strike that off the list of things to do. Thoughtonomy currently has 54 employees, of which half are "dedicated to product-related activities". Assuming the bulk of those are product development and not other ancillary product management or product marketing functions there is a team that has worked with Blue Prism's platform in two ways that are of value:
Putting a cloud wrapper together around the RPA platform
Integrating it with AI services: Computer Vision, Natural Language Processing and Machine Learning
This technical knowledge is an important part of the value here, and it's really hard in an acquisition to guarantee that talent below the C-suite stays in place post-acquisition, many leave and there's not very much the acquiring company can do about it. With UiPath, Automation Anywhere and other key service providers all hunting aggressively for automation talent across both sales and technical areas, the merging entity will be vulnerable as they integrate the teams.
Consideration for the acquisition is mainly in shares – is this a brave gamble on both sides?
The payment terms of this deal comprise cash and ordinary shares. The initial cash payment of £12.5m on completion of the deal will be followed by a payment of £4.5m 18 months after completion. The remaining £63m is scheduled to be paid out at regular intervals up to two years post deal completion. The payment schedule for the deferred consideration for the acquisition includes a condition that Terry Walby and "relevant recipients" remain with Blue Prism.
With this purchase, Blue Prism is opening itself up to the scrutiny that goes with the process of acquisition at a point in time when it too is still loss-making, and its losses are deepening, increasing from £5.5m to £37.6m (IAS) in HY2019, despite revenues rising by a staggering 82% yoy. Presumably, Blue Prism must be confident of one of two things:
Delighting the stock markets sufficiently to raise more capital – and hypergrowth is in its favor here or
Being snapped up by a larger player that will ultimately pick up the tab
It would be more reassuring if Blue Prism had a clearer message and roadmap plotting out how this acquisition will help them grow and move into profit. But the share price drop suggests that the stock market is not yet impressed by this news.
The Bottom Line: Blue Prism's end game is that it's priming itself as an acquisition target; its market capitalization, currently in excess of £1b, is prohibitive for many would-be acquirers
The RPA landscape is at a peculiar point right now with three dominant players – Blue Prism Automation Anywhere, and UiPath – each with skyrocketing valuations which presents a stark contrast to enterprise confusion and difficulties in scaling. More worryingly, interspersed among the success stories, many stories of abject disappointment are quietly told.
It sometimes looks as if the real product here is not necessarily RPA platforms, rather high growth companies striving to become unicorns, or to launch on the stock exchange or be bought for a tidy sum – and to be fair, if that's what success looks like then Thoughtonomy has definitely made it. When the long tail of others outside the Big 3 in the RPA market is battling to get a strong foothold it's difficult to compete for mindshare and revenues. Thoughtonomy was number four in HFS's Top 10 RPA products 2018: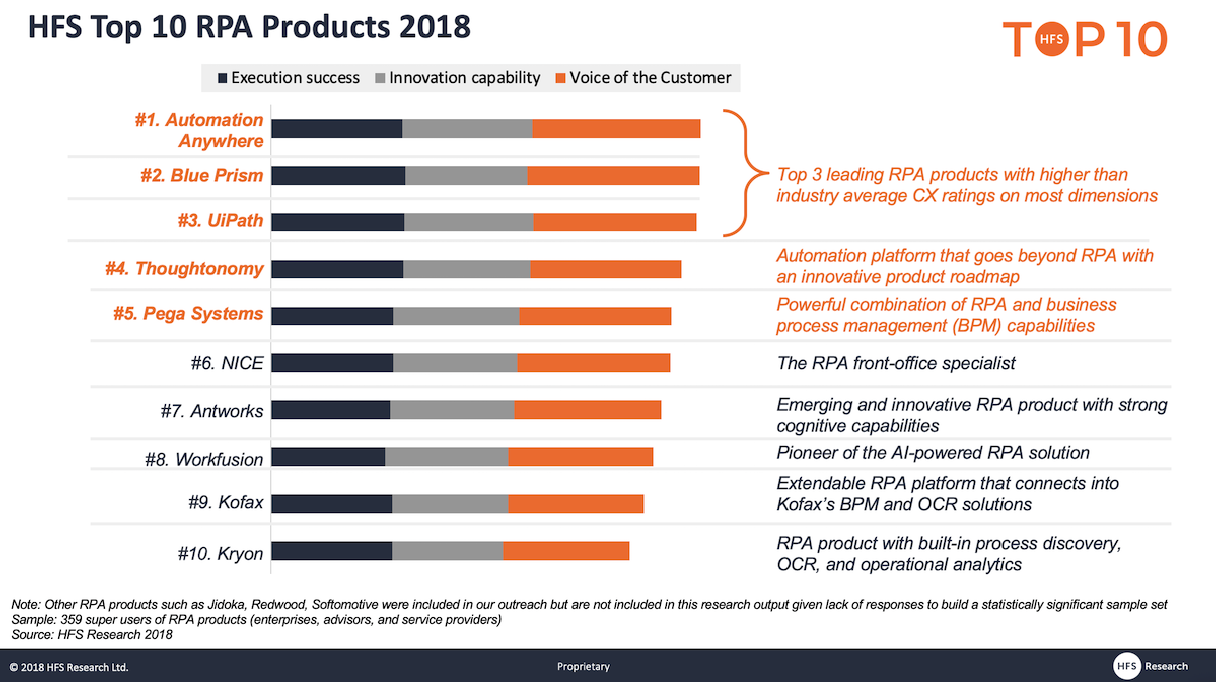 One strategy is worth pursuing; whether it was intentional from the outset or not, Thoughtonomy made use of Blue Prism's platform in a way that is now so useful to Blue Prism, it's finally making this purchase.
And as for Blue Prism in the longer term, some of its founders have already cashed in portions of their holdings, revenues are rising, it's still in hypergrowth, but loss-making. But the stock market has high expectations and the requirements of publishing results mean the current deepening of losses is highly visible. The same could well be happening elsewhere, but we can't see published numbers and the market is dominated more by private equity financing, as opposed to rocketing enterprise spending on the software and services. The current land-grab is taking place with an apparent absence of profit considerations – are we really just seeing growth at any cost?
HFS has previously speculated as far back as 2016 that IBM would or should buy Blue Prism. IBM is in the habit of buying competitors that appear to pose a threat and/or can significantly enhance its go-to-market strategy. While a price tag in the billions, as opposed to millions, would deter many, the $34b Red Hat acquisition last year demonstrates that IBM has no fear of big numbers. Right now, Watson isn't being talked about as much as in the past and IBM uses Blue Prism extensively in intelligent automation solutions – is IBM happy to use, resell and create solutions from Blue Prism eggs or would it rather own the whole Blue Prism chicken?
Posted in : Artificial Intelligence, Robotic Process Automation, robotic-transformation-software