10 years since HFS introduced RPA to the industry (see link), and we're finally focusing on automation as a value-lever that drives business outcomes, as opposed to mere cost takeout in the back office.
The pandemic has shifted the automation focus from creating efficiencies in the back office to delivering immediate business impact, where talent shortages can be overcome, where digital workflows can operate despite broken supply chains, and where businesses can find new opportunities in their virtual and hyperconnected ecosystems.
Our recent pulse data of 602 enterprises proves beyond doubt that automation is the number one initiative currently underway to support enterprises in meeting their strategic priorities: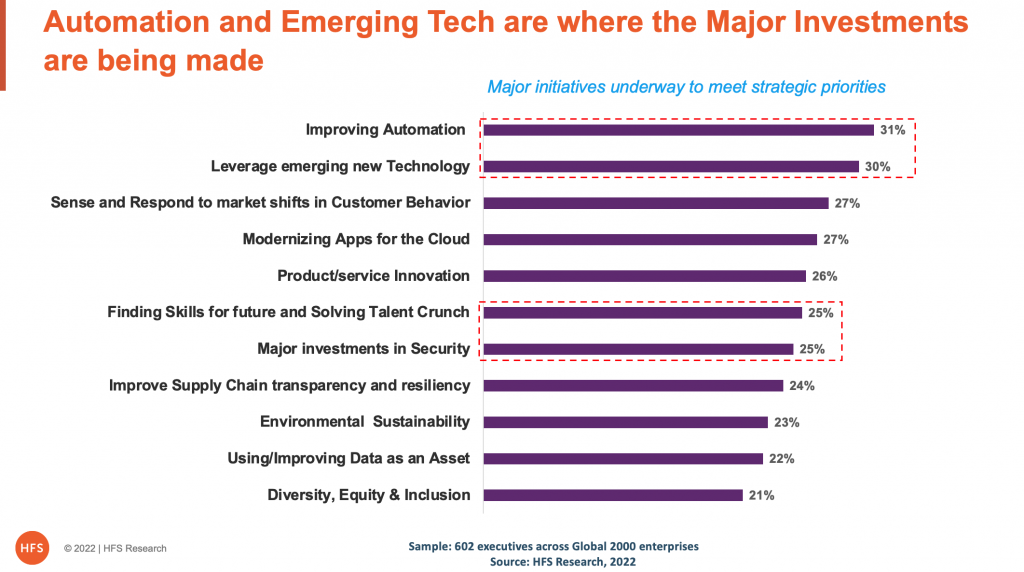 Why automation finds so many problems that really need solving
While so many organizations are facing well-documented problems with talent retention, this is only sixth in the order or priorities behind the race to implement emerging technology, cater to changing consumer needs, and modernize apps for the cloud.
This tells us that automation is becoming so increasingly important to businesses as it helps solve so many of these endemic problems being caused by labor shortages, wage inflation, and poorly integrated systems, workflows, and processes.  Simply put, if you get better at automating, you're solving a lot of these other problems at the same time.
Automation is a discipline and a mindset
Smart business leaders have realized that automation is a mindset and a discipline that needs to be ingrained into every business practice.  It is not why we do things; it's how we do them.  Automation makes what we have function effectively without needing constant human attention and manual workarounds.  And the better we understand automation, the more autonomous it can become to drive genuine artificial intelligence interactions and processes in the future.  AI and automation are becoming increasingly synonymous as we figure out how automation can really work within a business operation.
If there's one thing the pandemic taught us, it's been the necessity to re-think processes to get the data; what should be added, eliminated, and simplified across our workflows to source this critical data.  And there is simply no option but to plan to design processes in the cloud using web-architected applications.  In this virtual economy, our global talent must come together to create a borderless, completely digital business ecosystem where we can connect with other organizations that share common goals and purposes.  This is the true environment for real "digital transformation" in action.
The Bottom-line:  Most enterprises are only at the start of the real automation journey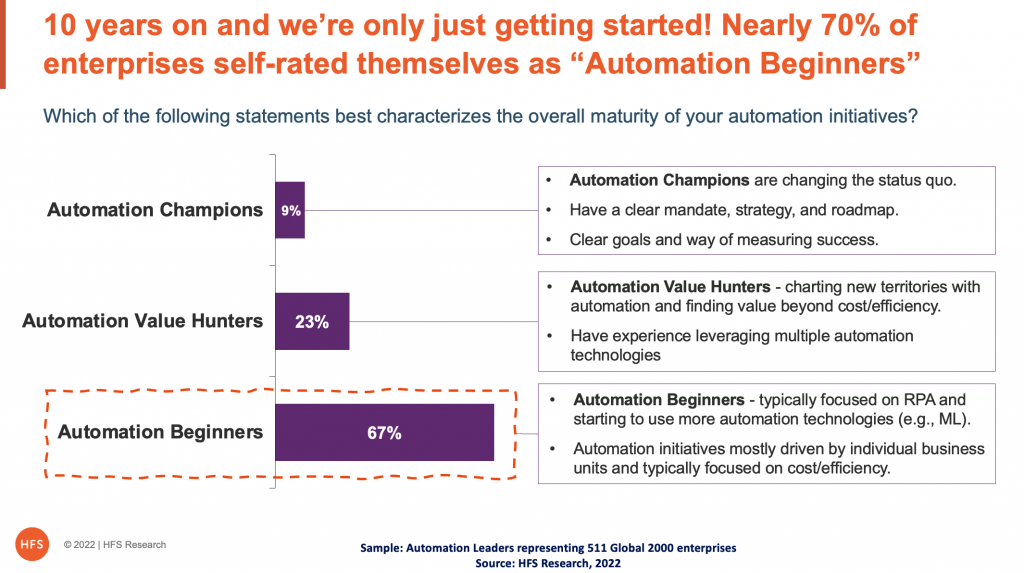 As I reflect on our research covering over 500 automation leaders of major enterprises, what hits me the most is that 70% admit they are still novices.  It seems the more they learn, the more they realize they need to know.  We're only at the start of a long journey for the majority of today's ambitious organizations, and selecting the right partners along the way to help them design, implement and learn from automations across their businesses is so important.  As one CIO delightedly pointed out to me recently:  "I'll keep finding automation 'till I die"… now that's the attitude that is changing the whole approach to automation as the new IT mindset.
Posted in : Artificial Intelligence, Automation, Buyers' Sourcing Best Practices, Cloud Computing, Cybersecurity, Digital Transformation, OneEcosystem, OneOffice, Robotic Process Automation, Talent and Workforce, Uncategorized