Remember the good old days, when sourcing advisors mercilessly roamed the earth in search of inexperienced enterprise executives in desperate need of experts to get them through their outsourcing transactions?
You'd a thought today's prospective buyer of outsourcing would be able to crunch some numbers, do some research and make some difficult decisions themselves. Obviously, with deal sizes shrinking and growth slowing in today's tentative market, more enterprises must surely be running their own deals? In this stinky economy, enterprises must be tightening the purse-strings and muddling through a lot of this stuff themselves.
Of course they're not!  Welcome to Corporate America and Corporate Whatever, where executives still want someone else to make their contentious decisions for them… oh, and do all the heavy-lifting too.
And without further ado, we can exclusively reveal that half of the competitive F&A engagements over the last year had an advisor stuck on them to get them to contract – double the proportion of two years' ago: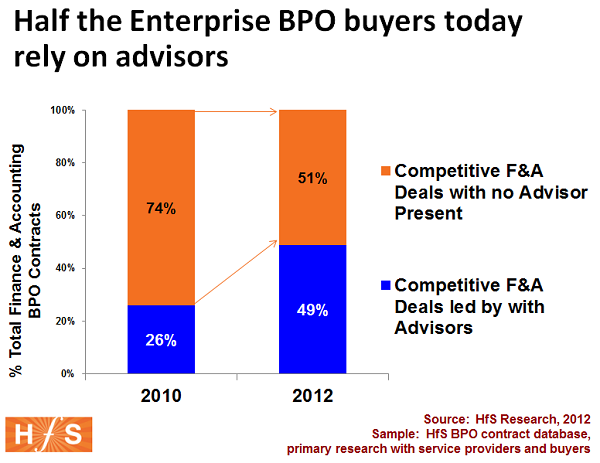 So why, pray tell, are advisors in even greater demand in today's maturing and cautious market?
Advisors are much cheaper than they used to be.  We've seen advisors run deals as low as $30K for a quick "back of an envelope business case" and a three vendor negotiation bake-off.  Compare this to the lowest price point of $300K just a couple of years' ago.  Even some of the management consultants have figured out how to wangle their internal fee structures to do this stuff for competitive project rates.  On the flip-side, we've seen McKinsey sniffing around BPO with their clients, so some are still willing to pay top rates…
Much more data is available, which simplifies the consulting process.  In the dino-sourcing days, some advisors would charge ridiculous sums of money to perform such tasks as drafting vendor profiles, averaging price benchmarks and crafting service levels.  Not to mention the ridiculous science some of them developed around architecting business cases.  Firstly, most of the research needed to support outsourcing down-selection and contracting is available off-the-shelf from analysts such as HfS (ahem).  Secondly, most of today's contracts (sadly) are too frequently copied and pasted from each other, and new buyers can enjoy the same insane manifestation of SLAs and clauses that make little business sense, but make them feel they are going to get incredible provider performance, once the ink has dried.
Most executives hate taking on onerous and resource intensive work-tasks.  It never ceases to amaze me that the first thing every consultant has to do when he or she evaluates a BPO engagement, is to request the client documents their processes.  And 90% of the time the consultant ends up doing it for the client (and bills another hundred grand for the privilege).  And don't even get me started on running operational analysis, mapping out the workflows etc.
External validation during an initial transaction can still be incredibly valuable.  While people can claim that the whole outsourcing transaction process has become commodotized, there is still an enormous about of risk involved – and while less money needs be spent on many of the tasks mentioned above, having third party validation on selecting the right provider and getting a decent price can (and usually does) save millions – and a great deal of pain if a lousy service provider is selected.  I recall a recent example where an advisor showed up at a client for two days and saved them $5m off the TCV of the contract and made sure they went with the best provider – and he only charged about $30K for the time and effort involved.
Providers continue to recommend advisors for a competitive deals.  The average pursuit costs for a provider chasing a complex engagement can go well over the million-dollar mark in some instances (even though they are getting smart at slimming down their own sales pursuit resources).  And an inexperienced client can make the provider jump through all sorts of hoops – and there isn't much the provider can do… but jump through them.  Plus, we've seen some buyers take providers all the way up the aisle and then get cold feet, with no warning.  Providers have peace of mind that a decent advisor will rarely allow this to happen – and they also are comforted by the fact that if the buyer is paying for the advisor, they are actually serious about going through with the deal.  Obviously, if the provider is in pole position for a sole source deal, the last thing they would want is an advisor who'd come in and recommend some competitive bidding…
The Bottom-line:  Transactional advisory lives to see another day
While the combination of increasing commodization of basic BPO services and an ever-smartening buyer, seemed to signal the end of transactional advisory services, the consulting industry has found a way to adapt to keep itself relevant and much more price-friendly, while still being in a strong position to help clients deal with the sensitive and political task of outsourcing.  However, as the deals get smaller and the role of BPO proliferates into one vehicle of many for business operations leaders, the consulting community will need to increases its broader sourcing skill-set to deal with blended shared services/BPO models, and have a great degree of process knowledge and consulting finesse to deal with complex corporate situations.  There's a reason why the likes of KMPG, McKinsey and PwC are in this space – they see the bigger picture that BPO transactional support is one arrow of many that they need in their quiver to help operations leaders with ever-increasing global needs to keep their companies competitive.
Posted in : Business Process Outsourcing (BPO), Finance and Accounting, Outsourcing Advisors, Sourcing Best Practises