This week we crossed the Atlantic to meet the cream of the crop of the utility industry in Miami for the International Utilities and Energy Conference, hosted by Accenture. A packed agenda entertained the brightest minds in the utility space from around the globe.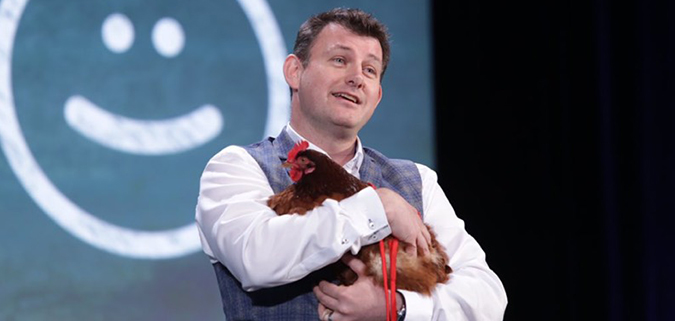 We were in for a surprise: from the first session to the closing key-note it was one big future-oriented gig, focusing on business value instead of enabling technology. No sales pitches from the provider (many providers can learn from this), zero bad jokes… and a highly engaged audience (yes, we are still talking about utility executives here) that wanted to smell, touch and work towards a better future with more and better client interaction. They all want to be more profitable but more important (for real) greener! Their customers demand it; the infrastructure is ripe for an upgrade, and so the question is, why not make it happen?
Fossil is the new uncool, and renewable energy (with loads of digital components for their clients) the new hipsters, the future of utilities!
Let us explain with a couple of fantastic examples that had a high impact on your peers at this week's event. Over to you Derk!
Thanks, Bram. We had an interesting time for sure. Let me give you some quick pointers on the new, the unexpected and the future that headlined IUEC 2017.
A dizzying barrage of industry shattering disruptions thrown at attendants
As one Utility executive put it; the first day of the event was a succession of shock and awe, fear and nausea. Florida Power & Light CEO Eric Silagy set the stage immediately; the unstoppable force of renewables and how being clean is good business. It is a vision that not everyone dares to execute on as radically as Florida Power & Light, but they are doing it without hesitation. CEO Silagy provided an excellent example of lowering his customer's bills by taking the most polluting oil and coal plants offline.
In this picture, you see a perfectly well-operating oil based power facility Florida Power & Light just blew up (after many people try to stop them) to build a far cleaner and more profitable (not only for them but also their clients) and this is just one of many examples. Don't wait, just do it. There are always excuses, but just doing it will pay off in the end.
Further, he explained his strategy for relationship building with the regulators, being proactive and ahead of the curve and highlighted Florida Power & Light's investments to build a more resilient infrastructure to deal with (the ever increasing) hurricanes' ravaging effects in his service area.
Salim Ismail of ExO Works and Singularity University, talked about Exponential Organizations, and the drastic competitive forces these present in many markets. As electricity shifts from a scarce resource to an abundant resource, the dynamic of the market changes. Exponential organizations find business models to leverage abundance. Ismail explored Airbnb, GE and Ford's journeys. One key takeaway that resonated with the audience is how innovation in large organizations is almost impossible. Innovation needs to be positioned at the edge, insulated from the internal organization. Large organizations have immune systems that attack any threats to the status quo, i.e. innovation. This is particularly relevant to utilities; being large, engineering-oriented and traditionally conservative organizations.
Accenture's Digital guru Mark Sherwin brought his analogue chicken Penny to illustrate digital business models (his chickens and eggs turn out to be some of the world's most expensive when factoring in the services he gets offered through digital channels to make his and the chicken's life easier, from predictive food delivery to chicken hotels).

MIT professor George Westermann implored the audience to challenge pre-digital assumptions, as those hamper real transformation, reinforce the status quo and limit the ability to think outside the current frame of reference. Unintentionally providing great input for Design Thinking exercises.
Accenture's Chief Strategy Officer Omar Abbosh shed light on disruptive forces over the last decades, from mainframes to IoT, AI, and Quantum Computing. He provided a great comparison of how he and Accenture's leadership reinvented the strategy five years ago to rotate to "the new," completely overhauling the organizational structure to change the culture, and how utilities are on a similar trajectory.
Vlogger and, more importantly, former monk Jay Shetty reflected on the Millennial mind, demystifying and busting myths. It turns out; millennials are not as scary as you might think. Jay called on the audience to incorporate four 'Millennial mindsets' (which are great for anyone by the way): the leadership of a coach, the fresh eyes of a child, community thinking and the mindset of a coder.
Missy Cummings, one of the first ever female US Navy's fighter pilots and currently Duke professor of the Humans and Autonomy Laboratory Duke Robotics, talked about the highly relevant topic of drones and other unmanned vehicles and robotics' potential in the utility industry. One of the key points she made addressing the fear robots will destroy jobs, is robotics and automation will likely create more jobs than destroying them, albeit different jobs requiring different skills, providing examples of people and robots working side by side in aviation.
It was time to evaluate all this and time to hit the Miami's South Beach and more specifically Nikki Beach. The first feedback trickled in, and people had a lot to think about. Clearly, the platform that is IUEC worked.
Day two focused on more practical, "how to" examples and some great new research findings from Accenture and Bloomberg New Energy Finance about the industrialization of renewables, and Accenture's global lead for Smart Grids Stephanie Jamison presented fascinating findings from a study of distributed generation (DG), focusing on business disruption of DG and the lack of clear forecasts utilities have around the impact of DG integration.
What stood out
At previous editions of IUEC, there were still reservations amongst executives about how fast digital and renewable energy would force change upon them. Those reservations are completely gone. Overall, utility executives have a positive outlook. Solid examples and cases are providing proof points and inspire the way forward, but there still a lot of work to be done.
A terrific event was wrapped up by living legend Clay Christensen, the godfather of disruptive innovation and Silicon Valley's favorite guru. He gave the audience an excellent perspective and frame of reference of disruptive innovation and clues to shift capital investments to disruptive innovations to prevent becoming the next Blockbuster.
The Bottom Line
It is all about disruption and making a play instead of being played. Harvard Business School professor Christensen expressed his desperation for his industry – higher education – being disrupted with lightning speed by online learning and corporate universities. He did not worry too much about Harvard itself, but many universities are not that well funded and will be disrupted by new forms of learning leveraging technology. His response, without any hesitation, to a question about disruption in the utility industry was: "If you all pray for me, I will pray for you."
From Derk and Bram; Godspeed, safe travels back home and until next time.
Posted in : Energy