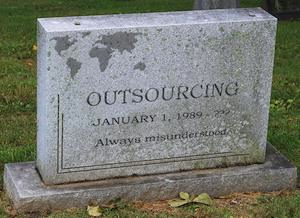 A momentous event quietly occurred on Friday which could well have significant ramifications for the business practice that calls itself "outsourcing".
Accenture dropped the term from its strategy line, "Consulting, Technology, Outsourcing", which it had been using for more than a decade, changing it to "Strategy, Digital, Technology, Operations". In addition – and perhaps more significantly – it renamed its BPO growth platform "Accenture Operations".  The BPO term is still used when you drill right down to the specific business service lines, but Accenture wants to emphasize to its clients that it provides end-to-end services that go beyond just BPO.
As many of us universally lamented last weekend, the outsourcing (so-called) industry has long been struggling to create a clear, meaningful identity and establish recognized career paths for almost two decades, and much of this is because so many of the service providers, advisors and enterprise customers have failed to create a positive brand perception – and communicate effectively – the value of partnering with service providers to improve and extend operational capability and productivity.
Accenture was one of the last bastions of the outsourcing term, and its de-emphasis of it may be the final nail in the coffin for the dwindling band of outsourcing diehards still clinging to the fantasy that an "outsourcing industry" actually exists. In fact, the term IT Outsourcing is already practically dead, with only a couple of advisors and IBM (oddly) still using it, so let's see which of the providers actually still use BPO as their official terminology: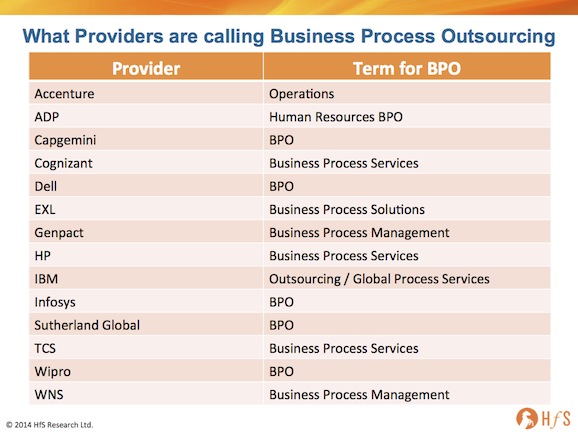 Well – there you have it – most have actively distanced themselves from the term, with only Capgemini, Dell, Infosys, Wipro and Sutherland still wed to it. Oh – and for some inexplicable reason, the major HR services firms like ADP still use it, even though the HR profession looks more negatively at outsourcing than any other.
The Bottom-line:  It doesn't ultimately matter what the providers call it, more how the enterprise clients view it
In my view, "outsourcing" really describes the initial act when an enterprise moves the responsibility for processes and operations over to an external party. Once that act is complete, those processes being executed form part of an externalized service or operation for the customer.  "Operation" signifies more than merely a service, but the orchestration of an end-to-end suite of processes, so I give Accenture credit for the being the first provider brave enough to use the "operation" term.  Now we can sit back and observe many of the above providers also slip that word onto their websites and marketing copy.
However, whatever these providers name their offerings, the real litmus test is going to be whether the buyers of services will start approaching service partnering as a genuine opportunity to improve their capabilities. Ultimately, they are the ones who would need to drop the O word and view services as what they are:  services.
Accenture's move is the most significant yet in terms of rebranding the outsourcing business – my best guess is that O will be pretty much gone from our business vernacular within a year.
Posted in : Business Process Outsourcing (BPO), Confusing Outsourcing Information, Global Business Services, HfSResearch.com Homepage, HR Outsourcing, HR Strategy, IT Outsourcing / IT Services, Outsourcing Advisors, Sourcing Best Practises