What a difference six more months of staring into the digital abyss has made
When we interviewed leadership from 400 Global 2000 enterprises at the end of last year only 37% saw them returning to an in-office environment. Our very latest HFS Pulse study, covering 800 Global 2000 enterprises, clearly shows a marked shift towards sending staff back to the office, with a 60% ratio of staff expected to be office-based over the next year: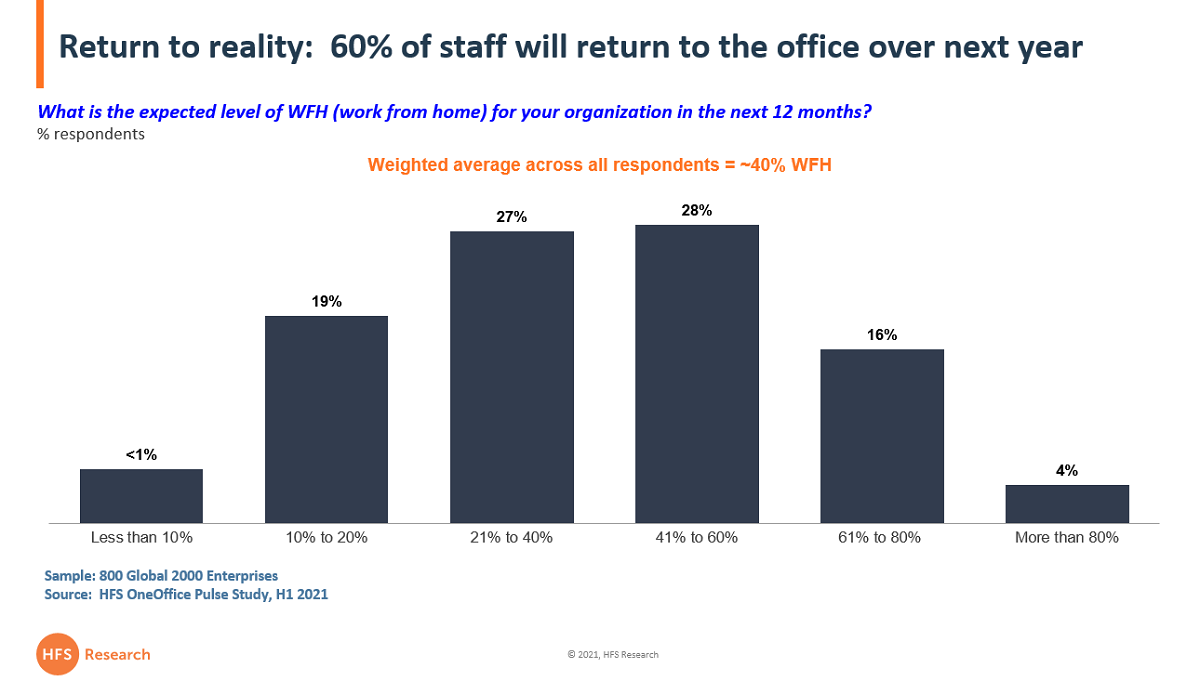 We're entering a hybrid reality, where digital and physical work cultures are blended
The digital exuberance of 2020, where declarations from many leading enterprises – the likes of Unilever, Hitachi, Mastercard, Google and Amazon – that they had become "work-from-anywhere enterprises" is clearly losing steam as so many enterprises have struggled to maintain a motivating, dynamic culture. Employees – from leadership down to interns – are burned out with the sheer monotony of a 100% digital environment and the inability to whiteboard ideas, share ideas, collaborate on process design and embrace emerging tech. This is especially the case with Gen-Z and Millennial staff who are desperate to get back to an office environment. In fact, many are choosing to work for firms that are embracing an in-office culture – something we have already seen happening aggressively in the call center environment (download POV here).
Bottom-line: We're seeing a significant "digital-flip" towards an in-office model
We can't deny the experience of the last year has driven a genuine need to configure business operating models to function in a remote virtual environment, as most businesses simply can no longer limp along with on-premise systems, fragmented processes, and an inability to operate in the cloud. However, as we evolve towards a new reality where we can really visualize a physical future for businesses, it's also become clear that businesses are struggling to function entirely in the cloud and depend more than ever on a people-driven culture. Why is this?
Businesses thrive on people and technology empowers us, not dictates how we work. While many businesses struggled – or failed completely – during the pandemic, many have thrived as costs have been decimated and a return to growth has created so many new markets to exploit and customer demand to satisfy. This has also created a highly fluid job market, where people can get hired rapidly over Zoom and staff can dictate where they want to work. Companies with strong, dynamic leaders who inspire staff to learn new things, collaborate together, and focus on purposes beyond mere profit and efficiency are fast becoming venues where ambitious staff want to apply themselves. While much can be achieved in a pure remote model, it's simply not sustainable for a healthy, energizing work environment in the medium-long term. Running data and processes in the cloud is critical to keep companies operating effectively, but those are merely the baseline table-stakes to survive in this new hybrid reality. Technology is critical to provide the infrastructure to exist, but it doesn't dictate the business model… people do.
There is only so much you can achieve remotely. We've talked to hundreds of executives over the past year, and they all complain about the same thing – they are managing an almost-unmanageable amount of internal meetings over video calls, simply to keep the wheels on basic task management and accountability. Simply put, it's becoming increasingly complex and awkward to run business operations in a remote model where training is a huge challenge, where motivating people is almost impossible, where getting beyond the basics of keeping activities functioning is a huge challenge. Communicating, collaborating, idea-sharing, white-boarding etc are critical for taking businesses forwards and driving real innovation. They are also critical for helping employees become comfortable with change, to be comfortable with automating mundane elements of their jobs, and to become adept at embracing ways of accessing the data needed to exploit market opportunities. With industry lines blurring, supply chains fragmenting and new opportunities and challenges springing up at a breathtaking pace, the time to bring people back together is fast-arriving, and so many enterprise leaders are now seeing this in spades.
Posted in : Cloud Computing, OneOffice, Talent and Workforce