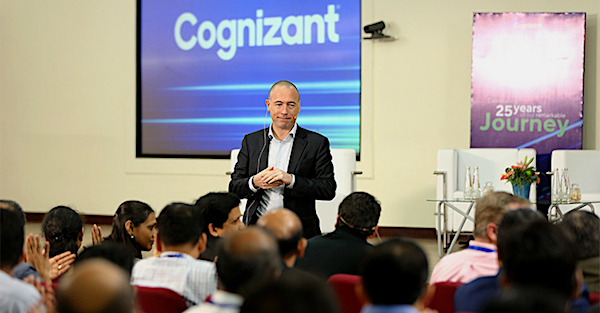 What has happened to the Indian-heritage IT service provider that stoked fear into every Accenture client partner? "They think like we do" was the declaration one of Accenture's leaders made at an analyst briefing in 2016. Well, the slide from grace has been alarming, leading to the appointment of a new leader to stem the bleeding.
However, when the problems cut this deep, you can't just apply lipstick to the pig, you need to reconstruct the whole farm, or you can quickly find yourself in the zombie services category alongside the likes of Conduent and DXC, where finding any sort of direction and impetus would be a major accomplishment.
Yes, it could really get this bad, as Cognizant has posted its slowest revenue growth and worst dip in profit margins. Ever. A mere 5% annual revenue growth, when in its heyday it was posting well over 40% (and slipping below double digits was unthinkable until last year). Yes, declining revenue growth is one thing, but declining profit margins is when the panic button gets pressed.
Frank should have left when Elliott came along to poison the well
It's clear to see why Francisco "Frank" De Souza, the poster boy CEO of the emerging power of the Indian IT Services industry, jumped ship (or more accurately was made to walk the plank a burnt out husk due to the unenviable pressure Elliott Management placed him under to keep the gravy train on the tracks and kick back billions to shareholders.) If anything, Frank should have considered making a move in 2017 as Elliott started squeezing Cognizant's margins at a time is needed to keep pace with Accenture's aggressive digital investments. He'd grown the firm to over $15bn by then and could have exited with a legacy no one could rival in the tech business.
And in his place comes IT Services newbie Brian Humphries – well we're sorry to say this Brian, but the baby you just adopted has got a bit ugly, and is screaming for attention. Let's just look at the numbers– now we're going to be generous and forgive Cognizant's dip in margin, a likely result of a reclassifying activity to meet fresh regulations. But the sinking revenue growth is much harder to look past:
In 2012, Cognizant invented the Digital concept before everyone else jumped on it. They were that cool...
In a punishingly competitive market, it looks like Cognizant has started to lose traction. Back in the good old days, the firm could do little wrong by challenging Accenture's strategy – driving a hard-digital bargain and bringing in design consultancies along with their pony-tailed
Posted in: IT Outsourcing / IT Services