At the HFS Summit this week, we asked 200 enterprises if they cared about automation software vendors bragging about self-inflated valuations. Not a single person did.
The robotic transformation software industry has three problems right now:
i) Defining itself;
ii) Scaling Bots and being Transformational;
iii) Obsessing with this "Funding Arms-Race"… so let's dig in
1) Defining itself correctly… "RPA" is not correct. Most of "RPA" in its current form is incorrectly defined, and this market is dying if it doesn't have a radical overhaul. Only a small portion of "RPA" it is actually "process automation" – most of it is desktop apps, screen scrapes and doc management. RPA in current form is incorrectly labeled and the way forward is to integrate these tools. When we introduced the term RPA in 2012 (with Blue Prism) the focus was on unassisted automation, it was self-triggered (bots pass tasks to humans) and centered on increased process efficiency. Only a small portion of "RPA" today is actually "process automation". Most "RPA" engagements today are not for unattended processes – they are attended desktop automation deployments, a loop of human and bot interplay to complete tasks (not processes). These engagements are not the pure form of RPA that we envisioned back in 2012 – they are a motley crew of scripts and macros applying band-aids to messy desktop applications and processes to maintain the same old way of doing things. We need to refer to these "RPA" products as Robotic Transformation Software products which is a far more appropriate description. Now if these firms cannot partner with their clients and the services ecosystem to support transformative automation as part of an integrated automation platform, this market balloon will burst as dramatically as it got inflated…
2) Scaling bots and finding a transformation story versus a "fixing legacy" one. The more these robo tools can be used by clients – not only to do things better and more automatically – but also to help re-wire their operations, then we have lift-off to something fr more strategic than merely getting crappy tasks working better and moving data round the company better. If you just work on steady-state fixes without focusing on the real changes needed, we will see many firms stuck in legacy purgatory, unable to switch out bots in the future. Sure, there is usually a reduction in labor needs – but in fractional increments – which is rarely enough to justify entire headcount elimination. Crucially, the current plethora of "RPA" engagements has not resulted in any actual "transformation".
As our global study of 590 leaders of Intelligent Automation initiatives, supported by KPMG reveals, barely more than one-in-ten enterprises has reached a place of industrialized scale with RPA – and the word from so many clients is loud and clear that they need help: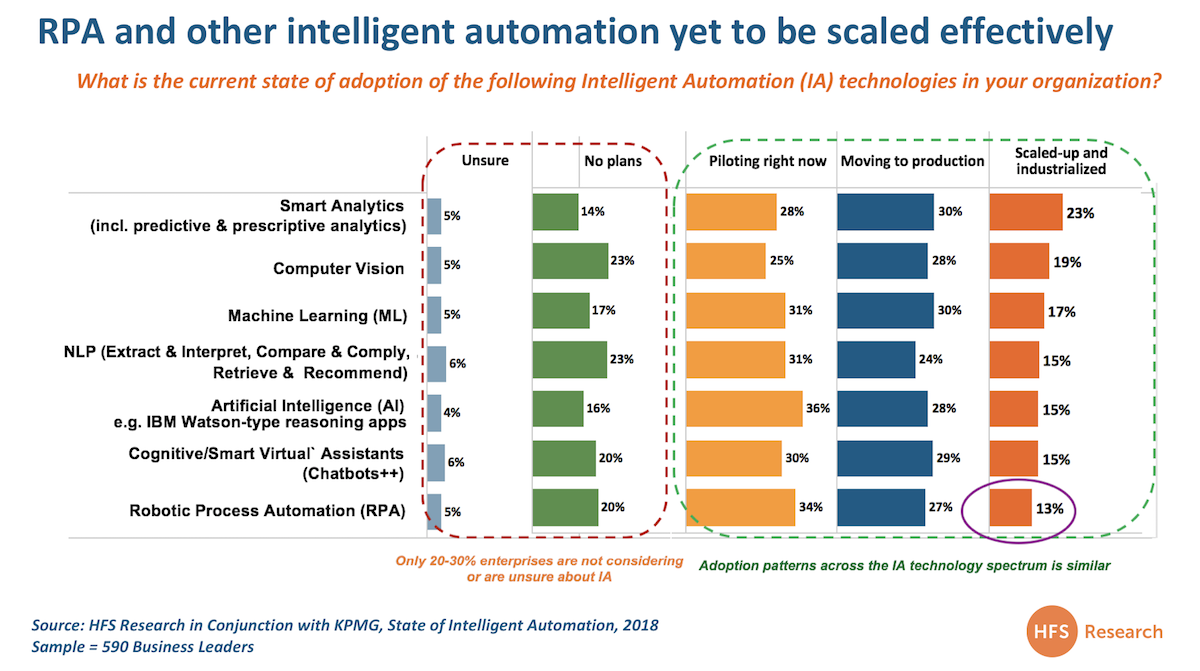 This struggle to get to a point beyond pilot exercises and project-based experimentation could prove to be a serious point of failure for the whole industry. There needs to be a much stronger melding of enterprises with implementation and consulting capability to fix these issues. Just like we realized that throwing bodies at a problem does not solve the problem, we need to recognize that merely hurling software at business process will not drive transformation. The real genius lies in understanding what to use when and how. The software also needs to come with support and services. Otherwise, we're just selling more snake oil and magic.
3. End this "Funding Arms-Race" obsession nonsense. Now. While Automation Anywhere was busy with its Imagine conference in London, on 20th March, "news" about UiPath's self-proclaimed valuation, based on its much-discussed future Series D funding round, was conveniently released the day before, claiming the $3 billion touted last year was now a whopping $7 billion. It was also widely rumored that UiPath was pushing to announce their Series D during Automation Anywhere's New York event last week. Here are some snippets from the Business Insider news publication, which was also picked up by Tech Crunch: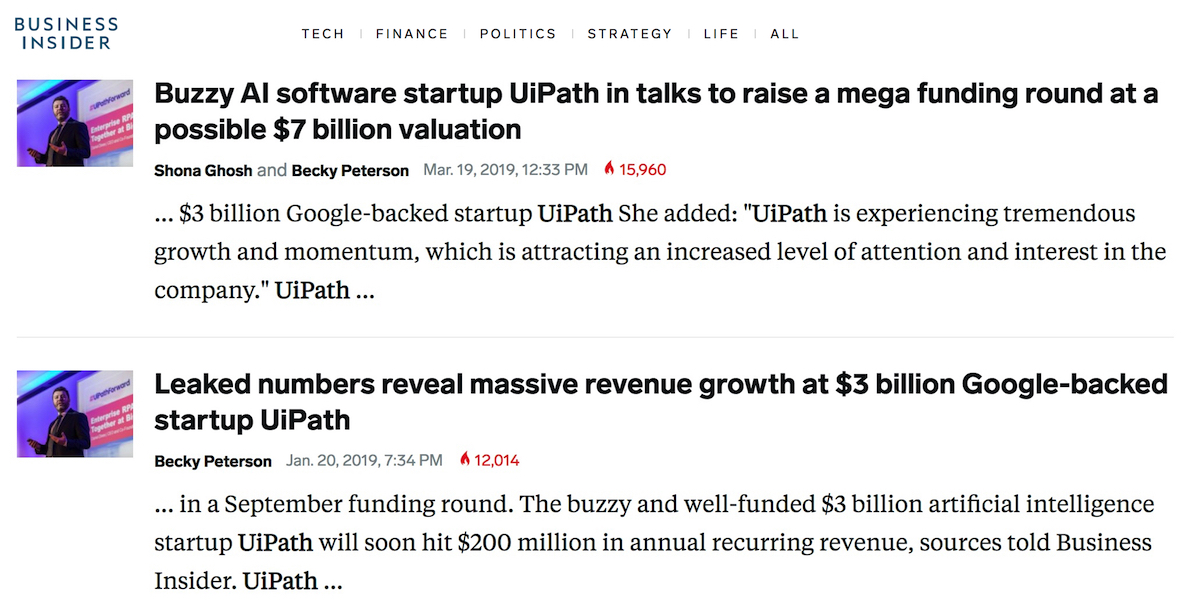 So what, pray tell, is the point in all this?
UiPath is putting the whole automation industry under unnecessary pressure. If the UiPath Series D round has yet to be signed, these antics could be placing the negotiating power into the hands of the investors, who can clearly see UiPath's management is obsessed with embarrassing its hated rivals as opposed to focusing on the first 2 items discussed above. Fortunately for UiPath, they have officially secured Series D this week, but these antics and obsession with fictitious valuations do the industry no favors and put incredible pressures on the automation software companies and enterprise to deliver genuine scale and results on months when the reality is this integrated automation journey will take years.
UiPath is creating the perception that this whole industry is after a short-term cash bonanza. Our automation industry cares about making these solutions work, and this ridiculous noise about inflated funding isn't adding any value anywhere – this valuation noise only makes most people think these software firms are obsessed with a quick IPO or a quick sale, as opposed to a true long-term journey that will help enterprises enter the hyper-connected age. I can guarantee you all – right now – that none of today's enterprise operations leaders are basing their robotic software selections off these crazy media-fuelled "valuations". It is also an entirely separate debate about why robotic software firms with revenues under $200m can claim 35x valuations… stay tuned for that.
I can only hope UiPath CEO Daniel Dines' classy announcement (in Paris) to contribute 1m Euros towards the reconstruction of Notre Dame is an about-turn in this behavior.
Posted in : intelligent-automation, robotic-transformation-software