Over the last 15 years, we've witnessed the rise and fall of the sourcing consultancy. Clients needed help finding the right services partners - at the right price points - and the likes of EquaTerra, TPI (now ISG), Everest, Alsbridge were there happily to oblige. Today, only ISG survives as a credible boutique sourcing advisor, while the Big 4 have moved into developing sourcing practices of their own. However, new data from our soon-to-be-unveiled, Journey to the Digital OneOffice study, conducted with the support of Cognizant, shows that decision makers for business operations are looking largely to other places to stay ahead of all this change: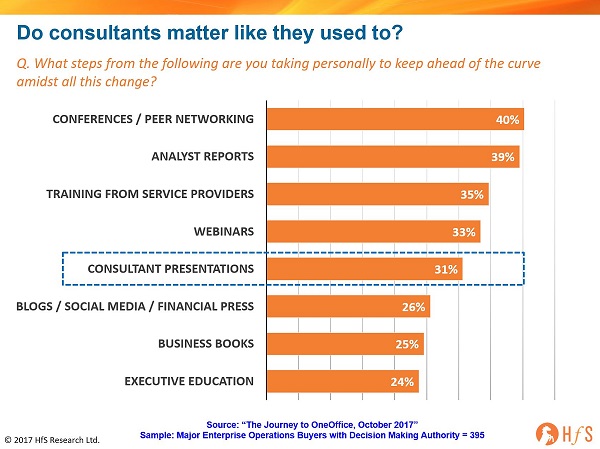 However which way we look at this, not even a third of decision-makers are relying on consultants in this ever-confusing market, when you would have thought consultants would be licking their lips at the opportunity. Don't these guys feed off confusion, hype and nervousness from the well-resourced enterprise leaders, only too keen to pay their rates to get a steer on what to do next? What's going wrong here?
Consultants just don't do research. For example, I have yet to see a single set of publications from any of the sourcing advisors examining the performance of the RPA solution vendors. There are a million best practice pieces, but nothing of actionable substance. Clients want substance, not just the fluff. Clients are shifting to soliciting help from firms which can do the work and have the proven knowledge to support it, which is why so many are resorting to analyst reports to figure stuff out.
The MBA bus can't find its usual parking spot in the visitor's parking lot. As the demand for expertise in areas such as complex operating models, understanding murky automation challenges and being able to design outcomes-focused models is reaching unprecedented
Posted in: Digital Transformation, Outsourcing Advisors, Robotic Process Automation