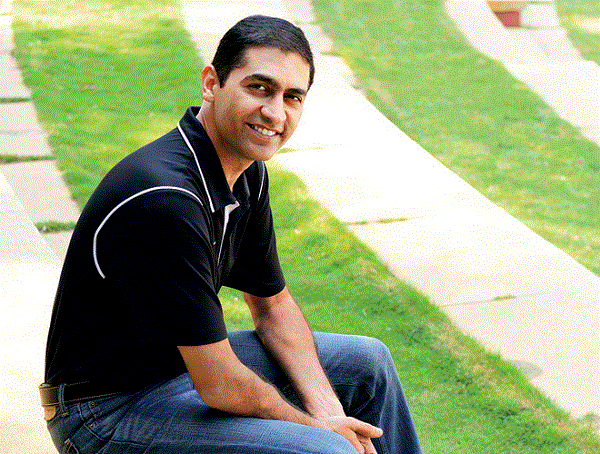 If there one service provider who's really got focused over the last couple of years, it's Wipro – not only expanding all its main business lines and making some exciting acquisitions, but also revamping its brand and showing a very focused approach to its marketing and positioning. While several of its Indian-heritage competitors have struggled to differentiate themselves, or just failed to develop a coherent strategy, Wipro has stayed focused on pushing its automation platform, Holmes, and making determined efforts with its digital proposition.  One man who is tirelessly pushing its digitization efforts to a new level is Rajan Kohli – a really nice guy who doesn't mince his words….
Phil Fersht, CEO and Chief Analyst, HfS Research: Good afternoon Rajan – thank you for your time today. We would love to hear more about Wipro's digital strategy. We have been hearing a lot about the opening of your new centers and the recent acquisitions of Designit and Appirio. There really seems to be a lot of energy around the strategy here.  Maybe we could start with a bit about you, Rajan… could you tell us a bit about yourself, your background and how you came to be leading Wipro Digital?
Rajan Kohli, Senior Vice President and Global Head, Wipro Digital: It's a great honour to be speaking to you, Phil. I have spoken to you many times before, but this is the first interview with you specific to Wipro Digital. So thank you.
A brief history about me. I have been with Wipro for 22 years now. I have been through various roles within Wipro in both Sales and Leadership. I was also the Chief Marketing Officer and more recently running the banking business for Wipro globally before I was moved into our digital business three years ago.
When we were going to start this new digital business we wanted to do something differentiated in the market and we had to decide what that differentiation would be about. We identified four pillars:
Design. Design will be the starting point of differentiation for our clients. Design talent would be the starting point of differentiation for us. That's why we acquired Designit – because we really wanted a proven platform, that we can really build on for design.
Talent. We had to think about the quality and the type of engineering talent that we wanted to bring in. A lot of the system integrators really have grown up where technical talent is grown in 'I' shape. You go deep in a particular technology and you earn your stripes off that particular technology. In the digital world, we need a fuller understanding, we need T shaped, Pi shaped and what we call X shaped.
Velocity. Velocity for our clients because that was going to be a big differentiator for us. How we can service our clients. How we can come together in autonomous small teams quite quickly, behave and operate in autonomous agile teams to deliver larger projects in smaller pipes for our clients and how we can localize our workforce. This enables us to work in a 'No-Shore model'. We call it a 'No-Shore model' not an offshore model, because talent is more important than the location.
Combining our skills. There are a lot of agencies that can do small digital projects and there are system integrators, but we didn't really see a company that could combine the best of what a digital agency can do with the best a systems integrator can bring to the table. We really wanted to be that company.
That was the intention behind how we started with Wipro digital and our digital foray for Wipro.
Phil: So when you talk to clients today, Rajan, how would you define the digital opportunity to them? What is different about "digital" than the next generation IT conversations we were having three or four years ago?
Rajan: That is a hard question to answer in a short interview, Phil, because it is actually very difficult to box what digital is. So we unbox it, and we tell our clients that actually it is not about digital transformation, it is about transformation. That transformation could be in what is traditionally known as the back office. It could be operations, operational transformation. It could be a transformation of your channel, transformation of the enterprise, of how enterprise works between business and IT, or in more realistic terms, a transformation of a new product or new business model.
That, to us, is the holy grail. But really we don't call anything digital or un-digital, as long it is a transformation in its true sense then it is digital for us. That's what we attack with our strategy – design and technology teams coming together and working in very un-siloed ways to solve company problems.
Phil: When we look at the value that Wipro brings to the table, Rajan, we like to talk about the whole being greater than the sum of the parts.  So when you look at the design piece of digital, the execution piece, the enablement piece, where do you think that the true value and strengths are, that can help you win out against other illustrious competitors?
Rajan: The best value for us is that all the pieces are utilized together. As I said, if a client just wants to use strategic design, there may be another five to ten firms which would be equally good in a particular region, as you know design is quite regional and localized. If a client just wants digital engineering, then there may be a handful of firms who can deliver that. But when a client wants both, strategic design and what we call strategic tech, along with solving large problems in their enterprise, that means you need real system integration capability and world-class technology competence, being able to look under the hood in client enterprise systems. That to us is our sweet spot. Those three pieces together. There are very few people who could address this with the quality and the quantity that we at Wipro could.
Of course, we are happy to do some strategic design standalone projects as long as they are strategic and designing a new market entrance strategy or a new product. Because they reposition us. But our real intention, and where our clients see true value from us, is when all three come together. That's where our positioning is to become a transformational partner.
Phil: In terms of your broader market capabilities, we've spoken about partnering in the past, but as you look at the emerging digital pure plays and Fintech firms etc., we are talking about a very different marketplace than we have been operating in. I'm even seeing advertising executives joining IT firms now, because of this. So as you look at this shifting landscape, and you look at the role of Wipro in this industry,  do you feel it is more important than ever to develop much tighter partnerships with emerging digital players, so you can have that broader offering?
Rajan: Absolutely, Phil. It is critical and it is a part of the objective that I carry. Wipro clearly believes that there will be tremendous innovation outside the enterprise and we cannot be restricting our client's access to innovation through this channel. In fact we need to use this channel of Wipro to expand our client's access to innovation, and we have used that quite effectively.
We have broadly three sources of partnership. One is a broader 360 degree partnership where start-ups come to us and we evaluate these. They want to work with us because we understand our enterprise clients. We want to work with them because they are at the forefront of innovation and will help set new standards of experience for end customers.  Second is the higher level partnerships for us when we make investments in these firms. At the last count, we made 13 investments through our Wipro venture fund and they have been very successful. Our interest is to take these products and services to our clients because our clients see tremendous value in working with a known trusted player like Wipro while working with the start-ups.
The third way for us, when it truly makes sense, is to do mergers and acquisitions. We would not want to acquire a company that really doesn't fit in when we can use the other two channels, the partnership and investment channel to really maximize the returns for both the partners, the company as well as for our clients.
We have been on this journey for the last two years and it has been quite successful.
In addition, there are obviously our traditional large partners. There are a number of smaller services areas today where innovation can lead to potentially becoming very big projects. For example, thinking about how AWS or Azure would have been four years back. We are also working very closely with our large partners to identify these innovative opportunities and focus areas so we are part of them from the start.
Phil: Thinking about two or three years ahead, and with everything happening in the industry, what do you think this digital landscape will look like? Do you think it's going to be vastly different as more cognitive engines come into play, as human interactions get replaced by more machine interactions? What do you think this landscape is going to look like?
Rajan: A very important and an interesting question. I hope I have the answer to this. In my broad thinking, number one, we should see more differentiation between the players in the market. It is already beginning to happen through the acquisitions or investments that have been made. They are beginning to create a differentiator between each other. That is a path we are all on, and I think that will continue to move forward quite briskly.
Second to your point about automation. I think automation is really key, both for running operations or running infrastructure and applications services. How automation happens will look different but automation is here to stay. Again there will be investments that we do directly, for example we have invested in Wipro HOLMES. At the same time we have key investments in the partner ecosystems. We work with almost all the top cognitive players in the industry to actually implement those products for our clients. In many cases we have clients who have already invested in those products. We leverage HOLMES and our Capabilities to help clients maximize their value in those investments.
So I definitely see automation being central.
Number three is where certain players will become the best providers in a certain space. There could be certain areas where, for example, Wipro would have the advantage with acquisitions. For example, we acquired HPS. Similarly, we may make more bets on BPaaS. So where there is standardization of process and clients we believe would want As-a-Service model, you would also see that sort of differentiation coming into the picture.
There are several elements of differentiation. Different companies will place bets in different places. At Wipro we have clearly identified design, cloud, BPS, security and data space as areas for investment and to drive our experience.
Phil: Right. If you were made the emperor of the digital industry for a whole week and you had one wish to change the industry for the better. What would that wish be?
Rajan: Thank you for making it one week and not one day. I think first of all I would go and find the answer to your previous question because that would really help us invest better and make better decisions today. I would try to build myself a crystal ball in the seven days because it's not just those seven days, the industry is changing almost every day. I would want to be the emperor almost every day.
I think the biggest struggle our clients are facing today is they are getting disrupted both on the consumer side whose expectations are changing and on the provider's side they are not getting what they need. They want the same partner to be able to do strategy, design and technology implementation. The technology itself is changing so fast.
I would like to find out which are those technologies, which are those use cases that enable our clients to get value three years from now and start investing in them today. That is how we will be more successful in the future and that's how our clients will be more successful.
Phil: Very good answer and the perfect end to this conversation! So thank you very much for your time, Rajan. I look forward to sharing this with our readers very shortly.
Posted in : Digital Transformation