Ever since President Obama proposed to change the IRS tax code that regulates how US corporations declare income from international activities, I've been thinking about other measures governments can take to slow the recession and help businesses become less myopic with how they navigate these rough waters. 
Reading between the lines, he appears to be targeting a revenue grab, while making political overtones against companies which use offshore resources.  However, he's simply penalizing firms from being more productive with their exports.  Sure, there are issues with tax fraud from havens such as Bermuda or the Caymens, but this is primarily an issue with individuals, not large enterprises. 
Why penalize a US conglomerate for manufacturing diapers in Brazil for the

Brazilian market?  It saves a fortune in both production and shipping costs.  If that firm produced those same diapers from the US, it opens the door for competitors to take away their business.  Without going deeper into this proposed legislation, the point I am trying to make here is that we live in unprecedented times where major banks are effectively nationalized and governments are printing money to stimulate broken economies.  
Why not go a step further and intercede with firms' rampant layoff tactics?  One of the reasons why our corporations are failing is this culture of knee-jerk reactions to adverse circumstances, without an eye on the long-term.  Surely this recession provides an opportunity to change this mentality?
Meanwhile, the majority of US and British firms have developed an alarming mentality to cut staff as quickly and deeply as they can, as opposed to taking measures to get to the root cause of their uncompetitiveness, namely poorly integrated business processes and an inability to operate as a global enterprise.  Laying off vast numbers or workers often impedes development in becoming more globally effective and more efficient at streamlining business workflows on a global ERP backbone.  Why not give firms incentives for retaining the vast majority of their workforces?  If firms are encouraged to look at other measures beyond laying off,  they will be forced to dig deep into their internal operations to eliminate waste, drive out hidden costs and explore innovative methods for doing things more efficiently. 
Simply eliminating workers is far more harmful to an economy than offshoring some labor:  it harms the culture of that firm for being focused on developing long-term careers for its staff, and immediately adds to the unemployment ranks.  By retaining staff and exploring outsourcing as an alternative, the firm is broadening the experience and value of its staff, in addition to globalizing the support operations.  This data point from our recent study shows why firms are motivated to explore outsourcing in this environment: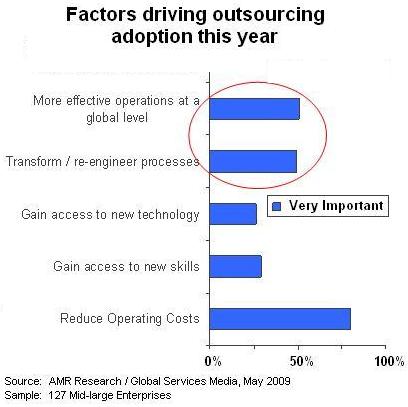 For example, one company I have spent time with has recently rolled out a new procure-to-pay platform, which has helped it manage its expenditure far more effectively, and enabled it to standardize its processes at a global level.  The firm now finds itself in a far better position to explore outsourcing these processes at a far more beneficial business case then prior to its internal transformation.   Hence, firms should use this market as an opportunity to get their internal processes and global operations in order.  Laying off staff is simply preventing them from being more competitive – I wish politicians were focusing their anger on eliminating jobs than "shipping a few overseas".
Posted in : Business Process Outsourcing (BPO), IT Outsourcing / IT Services, Procurement and Supply Chain, Sourcing Best Practises