The financial markets have fired warning shots across the bows of Kyndryl's management. To be more precise, it's more a barrage of artillery fire, as investors obsess with bashing tech firms that sustain the old, as opposed to their hugely inflating the valuations of the shiny new tech stuff. What they tend to forget is that much of the old can't be ripped and replaced overnight as the majority of the Global 2000 is in a desperate rush to hurl their legacy into the cloud:
Our Pulse study of 800 Global 2000 enterprises clearly illustrates two factors that dominate the focus of leaders:  moving operations into the cloud at speed and training staff to understand how to balance digital business needs in a virtual environment.  Surely there is still some value left in the likes of a Kyndryl as firms demand immediacy of cloudification and a desperate need to plug talent gaps fast?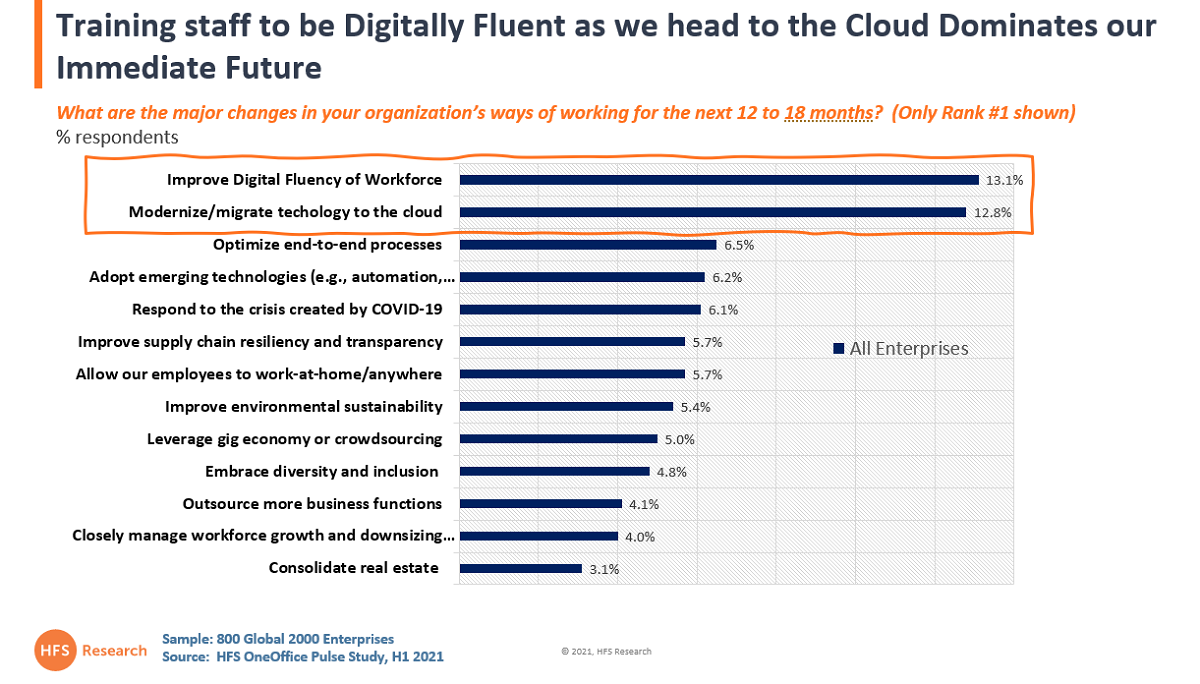 In short, Kyndryl has started life as a separate entity with still-colossal revenues of $19 billion. After a lackluster first earnings report the market cap was a mere $4 billion, which has now slipped even lower. However, these warning shots are not just a worrying sign for Kyndryl's new management, but also for service providers weighed down by legacy infrastructure services such as Atos, DXC, and the like.  With tech infrastructure commoditizing faster than knock-off AirPods on Amazon , the need to support rapid complex enterprise change is where the focus is firmly shifting, and where these traditional infrastructure providers can help.
Kyndryl is guiding the markets on the larger addressable market and operational efficiencies
Executives at Kyndryl were suggesting that the separation from IBM would more than double their addressable market from $240 billion pre-spin to $510 billion by 2024. Intelligent Automation, data services, cloud services, security and resiliency are said to be the segments that would drive an expansion of 7% CAGR growth in those segments. The key levers for this expansion are meant to be upskilling of talent around cloud capabilities, a more energy-efficient operation of data centers, and a strong increase in the application of Intelligent Automation. However, in its first earnings statement, perhaps not surprisingly, the big picture is still that of decline, with revenues in Q3 decreasing YoY to $4.6 billion.
While the launch of Kyndryl was underwhelming both in terms of communication as well as conveying a compelling investment thesis, executives were pointing to the new partnership with Microsoft as a reference point for new strategic options after the separation. Furthermore, the company announced a tuck-in acquisition of Samlink, a Finnish service provider focused on financial services (very familiar to Cognizant). Yet, despite this progress, the (ridiculously) low market capitalization is hanging like a millstone around Kyndryl's neck as there are several IT services firms that can easily digest an acquisition with this price tag, confident of quickly upping that $3.5b valuation to at least $10b. First off, opportunistic M&A moves.
Possible Scenarios. Which firm has the cojones to aggregate legacy infrastructure?
The purists will argue that Kyndryl is a dead asset unless someone revives its mojo, is prepared to cannibalize it's own assets, and move legacy workloads to the cloud.  But surely there are some juicy clients to be won over and profitability to be eeked out if Kyndryl is handled with surgical gloves.  Moreover, let's not forget about the awesome talent that came across from the IBM divestment including the leadership of the respected Martin Schroeter who knows this business inside and out, and will now have the chance to make some incisive changes outside of the IBM shackles..
So let's examine the suitors which would have little problem raising $3-5bn to seal the deal:
HCL: Hindustan Computers Limited has a long history of gobbling up commodity IBM service and product lines with the purchases of the Lotus and Domino and previously the Tivoli support business from IBM. Furthermore, it is infrastructure-centric and has long ruled the roost for low cost efficient offshore-centric infrastructure support. With Lotus, for example, it has demonstrated it can extract value from even outdated technologies that have a long shelf life and could take more than a decade to sunset. Yet, the level of integration of an acquisition like Kyndryl is on a vastly different level from anything HCL has experienced, but the firm is gaining confidence with leading complexity at a global scale with massive engagements with the likes of Xerox, Chevon and Exxon.
HFS verdict: We consider them the favorites to make this acquisition with its IBM history and strong heritage and appetite for infrastructure services. It's hard to see them not fancying their chances to make this a super-lucrative venture for themselves and become one of the largest service providers around.
Atos: Atos already got its fingers burned with the DXC takeover proposal, which was three times the price, but the same revenue base as Kyndryl. But probably more importantly, it has a power vacuum as the new CEO will only take the helm in January and this purchase is seismic in all dimensions. But there are lessons for Atos to be learned as it is seeking strategic partners for its infrastructure business. However, the most significant appeal for Atos would be the immediate US shop window Kyndryl gives the firm, and an excellent array of client-facing talent to nurture the business. It is indeed a less risky bet that DXC was earlier this year.
HFS verdict: The new CEO transition will likely derail this for Atos.  However, they could move fast seeing Kyndryl as a bargain replacement for the DXC-sized hole in its aspirations.  A definite possibility.
Capgemini: Kyndryl pushes a lot of the right buttons for Cap.  Firstly it would give its infra business a much-needed injection of scale.  And secondly, it finally puts to bed its difficulties getting a strong IT services brand in the US, which has plagued the firm for almost two decades.  A third reason is that Capgemini has grown through many acquisitions and has gotten good at them in recent years, with IGATE and Altran standing out.
HFS verdict: Cap has made its OT+IT bed and this deal seems a bit too left-field for their new direction. A distinct possibility, but it's likely Cap will shy away from a major infra play in this market.
Infosys: Infy has a war chest that could easy cover the price tag, and a pandemic-induced thirst for cloud deals that could easily take the firm down this path.  What's more, the firm has developed a strong US presence in recent times and can realistically look at absorbing the culture of a Kydryl as it explores where it next directs its focus after three very successful growth years.  On the flip side, Infosys has perennially struggled with acquisitions in the past. Still, Nandan, Salil and Ravi could find themselves needing to roll the dice here while the opportunity is there.
HFS verdict: Makes a lot of strategic sense, but previous acquisition horrors will likely hold Infy back here.  However, a bold move is on the cards after such a strong growth surge, and recent successes with its Cobalt cloud launch and mega Daimler cloud engagement might just tip the balance in their decision-making.
Cognizant: The Hudson Yards-led firm may fancy adding some serious infra to its armory as it continues its impressive 2021 rebound and absorbs several smaller acquisitions from the last couple of years.  Brian Humphries is a strong M&A guy and will surely be feverishly running the numbers over this Kyndryl beast, but you have to question whether it has the appetite for dishing out several billion just as the firm is back on a healthy growth trajectory. However, IT infrastructure is an area where  Cognizant could make serious inroads with a power-play like this.  Don't rule them out.
HFS Verdict:  A definite dark horse in the race, but you have to doubt whether Humphries wants to take such a huge gamble just as the firm has found a strong growth-groove and new leaders settling in to the firm.
Google Cloud Platform:  GCP needs access to enterprise clients – plus could support its expanding Google docs/collaboration platform.  It's well-known in industry circles that GCP came close to acquiring DXC a couple of years ago for this very reason.  With the gap between AWS and Microsoft Azure still widening in the enterprise space, you could certainly see Goog making a renewed play.
HFS Verdict:  GCP is an outlier possibility, but you have to question why it hasn't made any moves into infra cloud services since its dabble with DXC.  The price tag is certainly digestible for Google, but you have to think it has shifted focus away from making a major services acquisition – and Thomas Kurian taking the helm definitely shifts the onus to software and not services.
NTT or any of the Japanese juggernauts: While any of the large Japanese conglomerates like NTT or Hitachi are pushing strongly on innovation, the attraction could lie in getting access to clients in North America and Europe whilst tapping into an international talent pool. This would be more akin to Lenovo buying the PC business of IBM.
Other tier 1 Indian heritage service providers:  Wipro could be tempted, especially with the bold moves taken by Thierry Delaporte.  However, this is likely too much to swallow after Capco, and memories of Infocrossing probably still give Azim Premji heartburn.  TCS doesn't buy anything, but probably should one of these days.  LTI could be a wild card with its recent cloud success and ambitions to break into the top tier.
Private Equity: Scenarios could be manifold from asset stripping to creating synergies for a set of portfolio assets. Fundamentally, it would be opportunistic but not strategic.
Other Hyperscalers: Probably more of a wild card. The logic could be getting access to clients, transforming them, and consequently upselling to them. If anything, Chinese hyperscalers like Alibaba or Baidu. But even that needs a lot of fantasy.  There were some Google rumors, but we just don't see it
Kyndryl must strike back with clearer communication and more strategic moves
The more likely scenario is that Kyndryl will seek to calm investors' nerves with a much more compelling investment thesis. That would require a more imaginative strategy, beyond an expanded addressable market and improved operational efficiencies to improve its flagging profit margins (see below). For instance, outlining bold investments in innovation or strategic partnerships with Chinese hyperscalers are the messages and actions investors want to see being made. Thus far, communication has focused on infrastructure being the core for innovation. Yet, this is ignoring the elephant in the room: it is a margin-sucking core. The following chart provides the context of the operating margin of IBM's two services business lines, with Global Technology Services being the core of the spun out entity: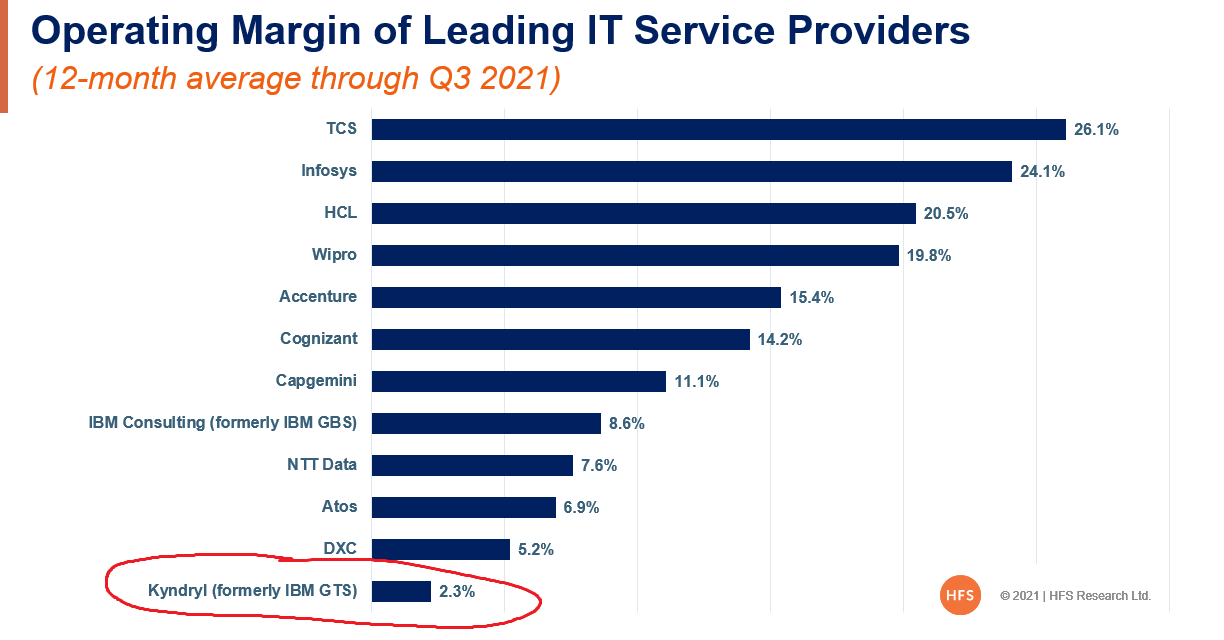 The Bottom-line:  It's likely we'll see some acquisitive moves on Kyndryl in a market short on talent and great at adding sugar frosting to commodity work
Infrastructure services provide us with a classic example of the Innovators Dilemma – should firms prioritize meeting clients' immediate needs versus focusing on future innovations that could create opportunities in the future?  IBM has made the difficult and (probably) correct decision to spin out its legacy infrastructure assets. Yet, the communication behind the launch of the new company Kyndryl has been underwhelming, lacking a fresh vision for its assets. Therefore, unsurprisingly the financial markets have not been remotely excited by the new company, with a revenue to market cap disparity that is even worse than Conduent and Unisys. Atos and other providers, held back by legacy, can glean valuable lessons from those experiences. It's been many years since we've seen a firm the sheer size of Kyndryl is finding itself in such a position where so many suitors will think they can find some gold in it.
Posted in : Cloud Computing, Digital Transformation, Infrastructure-as-a-service, IT Outsourcing / IT Services, it-infrastructure