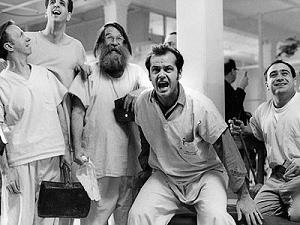 Thanks to all of you who participated in December's survey "Seeking The New Normal in Outsourcing Delivery". 
In total, 1051 companies gave their opinions, with a strong mix of buyers, intermediaries and providers participating to give us an unprecedented pulse on the outsourcing industry.  About time we had less prophesying and some actual hard facts on what's really going on out there…
In anticipation of releasing the results of the study later next week, I'd like to recap some recent thoughts on where the industry is headed, to help make sense of what is really happening in the industry.  And a special thanks to our friends at Global Services Media and the Shared Services & Outsourcing Network, who graciously invited their member communities to complete the survey (thank you, Ed and Sarah).  And curses to those of you who pilfered our phrase "New Normal"… you know who you are 🙂
The "new normal" in the outsourcing delivery business
This truly has been a pivotal quarter for the outsourcing business.  As we've discussed several times here, many services contract decisions have been delayed during the economic crisis while organizations worked out the best course of action to get through the downturn. 
In Q3 we've started to see definitive action, with many service providers meeting, and some even beating, Wall St. expectations.  But while some providers are clearly delivering, others are struggling to compete in this "new normal".
So what is this "new normal"?

Operational service provision is commoditizing and leveling the playing field.  Coming out of the recession, there is a backlog of engagements which are largely labor arbitrage-focused and it's often a question of price balanced with the promise of delivery performance for most clients.  There isn't a lot of secret sauce these days for what many clients are currently demanding, where in the past, incumbent service providers could play the "capability game".  With many of these skills becoming mainstream, the competitive playing field has leveled out.
A not-so-secret sauce is undermining the business models of the old-guard.  When selecting a provider in commodity services areas such as ERP software development and maintenance, or transactional accounting processing, it's getting harder and harder for the traditional branded service providers to command higher price-tags against the new breed of offshore service provider.  Essentially, everyone's competing for the same pool of talent in commodity areas these days, and for some providers used to commanding higher multiples in the old days, they simply cannot compete effectively anymore.  This is especially the case where clients simply want technical support, without significant business transformation. 
The recent round of financial results from the service providers is confirming this new reality - and it's happening at a fast-pace in this environment, which is alarming the old-guard.  The crux of the matter, coming out of the economic crisis, is that most clients are not yet readyfor real business transformation (even though many need it) - that will come further down the road.  Their current requirements are to take advantage of operational arbitrage opportunities, and this market is a long way from becoming saturated.  For example, 75% of ERP services are still being delivered onshore – hmmm… that's a lot of room for future labor arbitrage. 
The winners in the arbitrage game have a future seat at the table for higher end services, but need to reinvest to deliver.  Those providers proving operationally-efficient and cost-competitive to win the less sexy work today, will find themselves in a strong positiong to push higher-end business transformational services in the future, because they will already be present within clients delivering operational work.  They need to demonstrate they are capable of learning their clients' businesses, in order to move up the value chain to take on more consultative work. 
However (and it's a big "however"), in order to move up the services value chain, the winning providers of today need to invest in their talent, their IP, their global delivery platform and their industry acumen to prove they can deliver more innovative services down the road.  They need to develop, either through organic investment, or through smart acquisition, this capability to help their clients find the next phase of efficiency gains for themselves and new sources of revenue.  Hence, while clients demand cost-arbitrage today, the next wave of efficiency gains can't continue to be found from swapping out higher cost for lower cost (which we discuss here).  They're going to come from doing things differently and re-wiring their operations.
The struggle for differentiation.  With several providers that can deliver essentially the same service within a narrow price-band, it's getting very tough for some to break out of the pack to prove they warrant being the long-term partner of choice for a client.  Simply put, a client needs the following: a provider which is financially sound and is re-investing in its global delivery platform, and has a stellar track record in delivering results for its clients. 
Trust trumps brand.  Customer references are critical in this business.  A consistent voice from multiple customers is now the tell-tale sign as to whether a provider can deliver.  In most cases, where a clients have unique requirements, they have to take a leap of faith in whomever they select.  It's no longer all about brand and executive relationships for smart customers today; it's about having a unique culture that encourages clients to trust their provider to deliver results and to explore constantly new avenues to make them successful.
All-in-all, as we discussed recently, those business that persist in the old way of doing things will go by the wayside, and the service provider landscape is certainly no different.  There's a changing of the old-guard happening, and at a speed which is making it increasingly worried.
Posted in : Business Process Outsourcing (BPO), IT Outsourcing / IT Services, Sourcing Best Practises