Last week, we launched the Analyst 2.0 Model along with the HfS ThinkTank to revolutionize our industry. And today we unveil the new HfS 1-2-3-4 Research Agenda. The updated agenda serves the real needs of our clients. The tired legacy analyst model continues to only look at the past and lacks out-of-the-box, stimulating, and forward-looking thinking. We aim to turn this legacy Analyst 1.0 Model on its head, by delivering impactful knowledge and insights that will help our clients survive and succeed in the VUCA (Volatile, Uncertain, Complex, and Ambiguous) world that we all live in.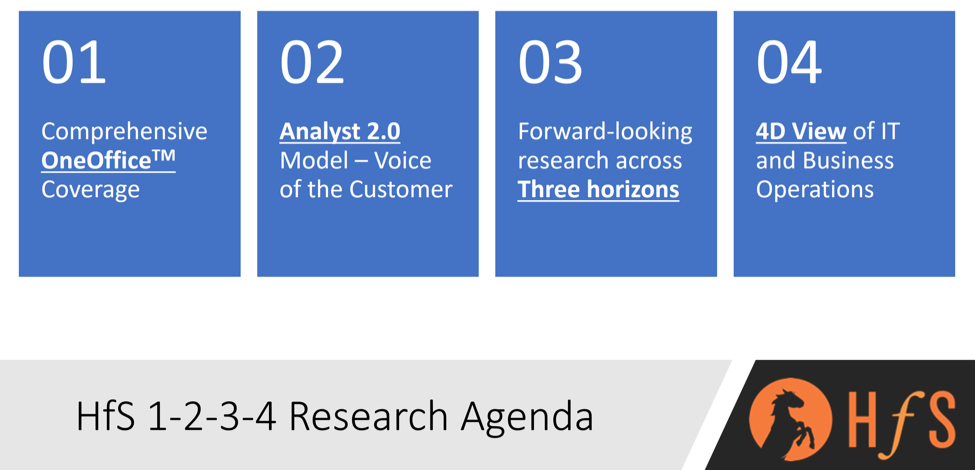 1: Research coverage across each element of the

One

Office

™
HfS launched the OneOffice Framework in January 2017. Our industry is evolving to an era where there is only "OneOffice" that matters anymore, one that is focused on creating an impactful customer experience and intelligent operations to enable and support it. At HfS, we like to practice what we preach. We have aligned our research practices with the OneOffice with designated research leaders.
The Digital Front Office research explores customer engagement, design thinking, contact center, marketing and sales, as well as social, mobile, and interactive solutions.
The Digital Underbelly research focuses on desktop automation, robotic automation, and security.
Our coverage for Intelligent Digital Support Functions spans across IT services, Finance, Procurement, Supply Chain, Payroll, and Engineering services.
The Intelligent Digital Processes research explores advancements in artificial intelligence, smart analytics, blockchain, and IoT.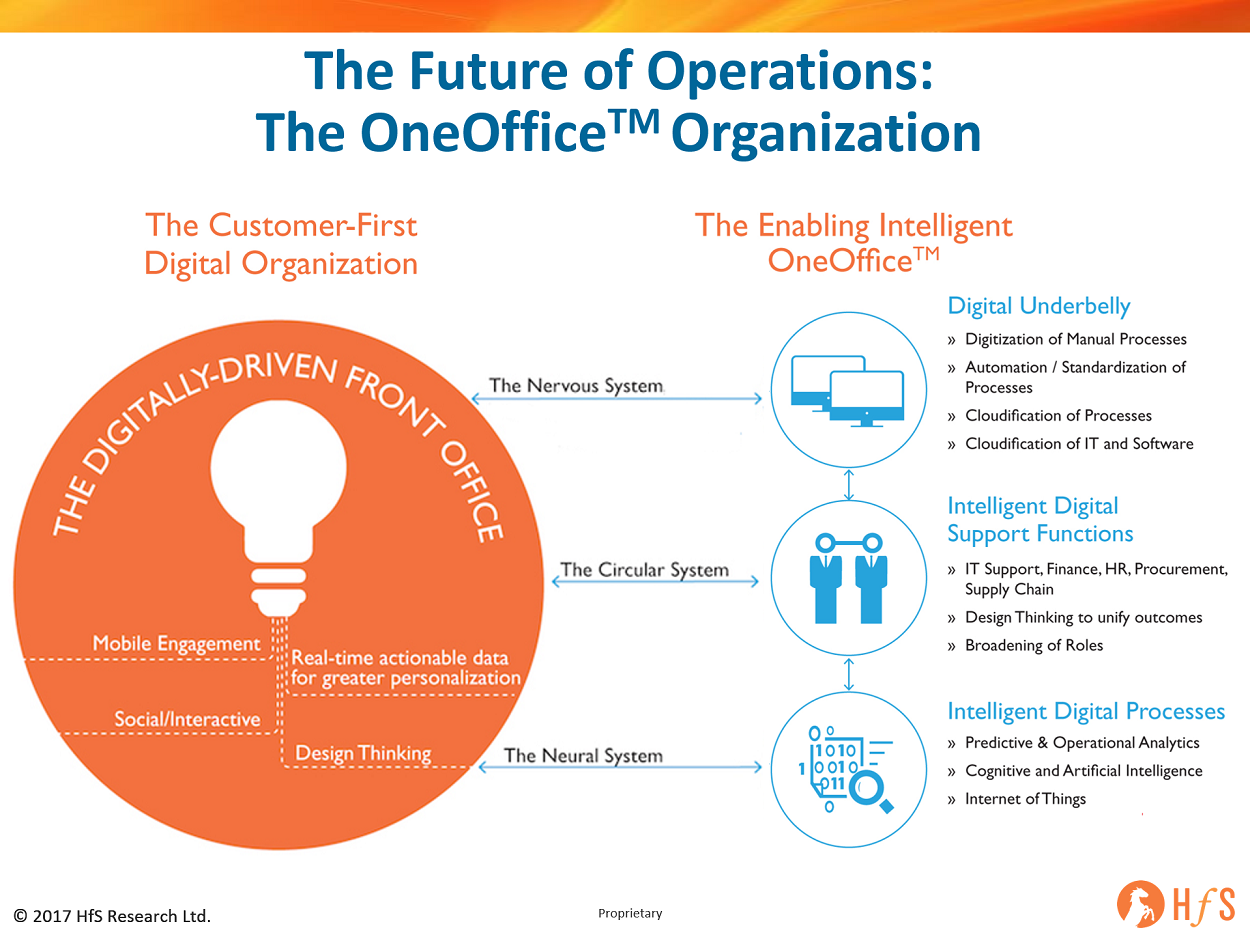 2: Voice of the Customer embedded in the Analyst 2.0 Model
In-sync with the Analyst 2.0 Model, we designed the new research agenda to help us become the leading Voice of the Customer. Our team of global analysts speaks to over 3000 stakeholders across the Global 2000, our industry summits provide us with an unmatched platform to interact with senior stakeholders, and our analysts publish real client stories. We've always mandated customer reference calls for every Blueprint report that we publish and with the new research agenda, we are taking this customer focus a notch higher. Some key initiatives:
Our recently published and upcoming IT-services research, based on a Global 2000 client-only survey that helps us get beyond the supplier marketing and sales spiel.
Similar survey(s) for mature horizontal business process areas as well as industry-specific offerings.
Our major Blueprint reports will now be accompanied by a summary of client conversations in the space to present aggregated patterns of how clients view market execution and innovation.
A unique buyer experience guide for the top RPA products, based solely on interviews with RPA clients. 
3: Forward-looking research across three-time horizons
A key reason for clients to engage with us is the provocative nature of our research.  We're future looking, and unafraid to call a spade a spade. The new research agenda aims to arm our clients with the knowledge and insights across three-time horizons they need to navigate the future of operations:
Horizon 1 – Act-now: Mainstream topics in the market, such as Robotic Process Automation (RPA). Horizon 1 research is aimed to deliver practical insights into current market trends, supplier capabilities, as well as current client experience that will help institutionalize the concepts.
Horizon 2 – Watch-out: Emerging themes and topics that are likely to become mainstream in the next 1-2 years, such as Artificial Intelligence (AI). The objective is to help clients test value propositions and understand potential benefits and challenges in their industry.
Horizon 3 – Investigate: Areas that show tremendous potential but are still too nascent to predict adoption, such as blockchain. The purpose of covering such topics is to ensure a healthy dialog with key industry stakeholders to define these spaces, articulate challenges and support awareness.
4: Four-dimensional view of business operations
The future of business operations is not one-dimensional. To provide our clients with a completely holistic view of the market, we have a team of four-dimensional analysts who understand the market across four lenses in their area of specialty:
Dimension 1 – Change agents: Major change agents driving the industry including automation, artificial intelligence, blockchain, digital business models and smart analytics.
Dimension 2 – Business functions: Detailed coverage across Business Process Services (both back office and front office), IT Services, and engineering services.
Dimension 3 – Industry orientation: Business operations impact across 10+ industries including Banking & Insurance, Healthcare, Energy, Utilities, Manufacturing, Telecom, Retail, Travel & Hospitality, and Public Sector.
Dimension 4 – ThinkTank: Bringing together our collective knowledge and insights across change agents, business functions, and industries to think out-of-the-box and collaboratively solve real business issues.
Bottom-line: We are raising the bar, and we are revolutionizing the industry with our new HfS 1-2-3-4 Research Agenda.
Check out the details of the Analyst 2.0 Model, ThinkTank, and our 1-2-3-4 Research Agenda.
Posted in : OneOffice