"The pandemic has shown the importance of connectivity and visibility for enterprise resilience and operations management. As IoT is a key building block of connected systems, IoT initiatives have become a strategic lever for enterprises and received significant investment commitment. With clear business benefits, IoT adoption has gained significant traction with scaled IoT engagements," says Tanmoy Mondal, Practice Leader, HFS
Mayank Madhur, Associate Practice Leader, HFS adds "IoT usage has been propelled up by its convergence with different emerging techs such as AI, Blockchain, and Cloud, driving the next wave of digital transformation helping to create new business models. COVID-19 has shown that we have been using IoT use cases piecemeal, making fragmentation across the IoT industry. The real benefit of IoT will be when it can connect seamlessly with other devices to benefit the user using the interoperability feature."
The HFS Top 10 Rankings for the IoT Service Providers 2021 is out! HFS defines IoT (internet of things) services as any service provider engagement aimed at enabling a physical asset to generate or communicate data to a centralized platform with the goal of driving insight into ways the recipient enterprise might raise operational efficiency or increase revenue through the creation of new products or services.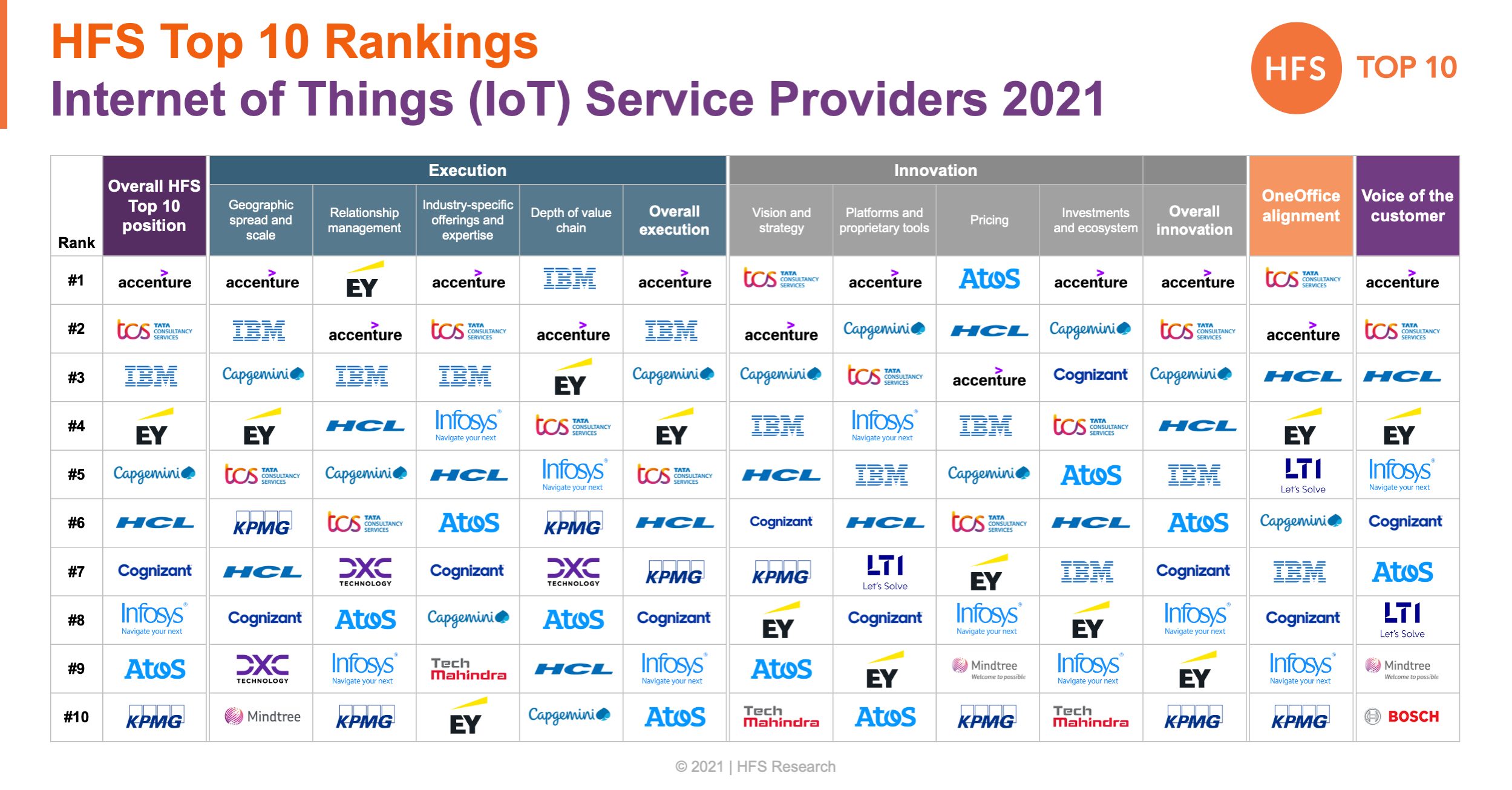 The HFS Top10 Internet of Things (IoT) Service Providers 2021 report examines service providers' role in the evolving IoT landscape. We assessed and rated the IoT service capabilities of 15 service providers across a defined series of innovation, execution, voice of the customer, and HFS OneOfficeTM alignment criteria. We spoke with Mayank and Tanmoy, the analysts behind this comprehensive study to learn about their perspectives and insights from working on the report.
To download a copy of the report, please click here.
Phil Fersht, CEO and Chief Analyst, HFS Research: So, Mayank – My first question to you is around understanding the IoT market. Please can you share key highlights as we step into 2022?
Mayank Madhur, Associate Practice Leader, HFS Research: The global pandemic has accelerated IoT adoption across industries as it enables remote monitoring and real-time actionable insights.
Among all the industries, we have observed the highest IoT adoption in industrial manufacturing. The HFS Pulse survey covering 800 G-2000 enterprise respondents indicates that in industrial manufacturing, around 80% of the respondents hinted at IoT budget increase in the near term. Some of the key industrial IoT use-cases are the application of digital twins, remote operations monitoring, and supply chain tracking.
The pandemic has impressed upon firms to align IoT initiatives with the other enterprise applications to realize greater business values, and not to use IoT as a piecemeal technology. For example, in industrial manufacturing the IoT use-cases are scaled within the organization (for example, across multiple factory sites/ multiple assets within the same site) and integrated with larger enterprise applications like ERP for broader insights and visibility. Also, the convergence of IoT with other emerging and digital technologies such as cloud computing, 5G, etc., is becoming more prevalent across the engagements.
Phil: What were your biggest learnings from this report, Tanmoy?
Tanmoy Mondal, Practice Leader, HFS Research: With the increasing adoption of IoT, we observe several large IoT deployments. For example, TCS has implemented the TCS Clever Energy™ solution for a Global Retail Giant across 1300 stores, malls, HQ, and warehouses. LTI engaged with a global elevator manufacturer to create a portfolio of connected elevators (130,000+ elevators) across the globe. This implies the realized business benefits of IoT, which compelled enterprises to expand the scope and scale of existing IoT engagements.
The IoT platform ecosystem is also maturing and we see two leading IoT platforms dominate the market landscape: Microsoft Azure IoT Platform and AWS IoT. Service providers already have strong partnerships with Microsoft and Amazon for their cloud computing and enterprise technology capabilities and are now extending to IoT. They are building joint solutions to address specific problems.
Interestingly, most of the IoT engagements are still associated with operational efficiency (as connected systems provide detailed insights about the state of operations), which in many cases also enables enterprise resilience. Real-time visibility and cost-efficiency are two key targeted outcomes of IoT applications, which are also key drivers for operation optimization. In industrial manufacturing, enterprises have realized the importance of re-designing the operations to be resilient and more flexible through IoT-enabled use-cases such as predictive maintenance, workforce monitoring, etc.
Phil: Which service providers are Top on the list? Why?
For the Top 10, we assessed 15 service providers across execution, innovation, OneOffice alignment, and Voice of the customer criteria. The top 5 leaders are, in order, Accenture, TCS, IBM, EY, and Capgemini.
#1 overall – Accenture: Accenture's IoT capability is in two main business units within the organization, Industry X and Technology. Accenture Technology provides traditional technology expertise and resources, and Accenture Industry X focuses on sales and go-to-market leadership, client relationships, and cutting-edge IoT skills. They act as a transformation partner with a large delivery presence and follow acquisition-led growth strategy giving it a #1 in IoT services Top 10 report along with #1 In innovation as well as execution.
#2 – TCS: TCS formulated an IoT business framework named "Bringing Life to Things" that analyzes the value chain to unlock exponential business value related to new business models, business agility, customer experience, and sustainable business. TCS also built a robust IoT solutions portfolio that helped it earn the #2 spot overall this year.
#3 – IBM: IoT services in IBM is a part of the Intelligent Connected Operations practice. The four key pillars of the practice are Asset Optimization, Building Optimization, Manufacturing & Industry 4.0, and IoT & Edge Computing. IBM leverages its service lines such as Data & Technology Transformation (D&TT) to infuse emerging technologies such as AI, analytics, 5G, edge, blockchain, automation, and digital twin in IoT services and solutions that helped it earn the #3 spot this year.
#4 – EY: Most of EY's IoT engagements are in the advisory and consulting domain. EY's key advisory frameworks are the Industry 4.0 Maturity Model and IoT Maturity Framework for Smart Cities. EY has several smart city engagements in Qatar, India, Singapore, and South Korea. EY also has the highest number of clients among the service providers surveyed for this study and a balanced client portfolio across geographies. All of this helped EY to earn the #4 spot overall this year.
#5 – Capgemini: Capgemini extensively leverages Altran's capabilities for IoT services portfolio, building strong industry expertise across automotive, aerospace, defense, telecom, semiconductor, electronics, and energy. Capgemini focuses on developing end-to-end solutions for connected products, digital platforms, and Industry 4.0 systems. Its core capabilities are connected mobility, connected healthcare, software product engineering, experience design, and advanced networks. Post-acquisition of Altran, Capgemini has improved from #14 in 2019 to #5 this year.
The large firms continue to dominate on the execution side. Accenture impressed with its Industry revenue as it touches the $5B mark. On the innovation parameter, HCL makes its entry in the top 5. They have built 50+ solutions in the IoT domain and have been scaling IoT engagements. TCS, HCL, Accenture, EY, and LTI are the top 5 firms on the OneOffice side.
"Voice of the customer" is a tight category as clients mainly were pleased with their providers, particularly their ability to shift to remote work with minimal disruption. Accenture, TCS, HCL, EY, and Infosys were the top 5 firms per Voice of the customer.

Phil: Tanmoy – Anything that surprised you from this study?
Tanmoy: Overall, the size and maturity of the IoT services portfolio of the providers have surprised us. This has been reflected in the IoT P&L as almost all the providers have registered double-digit revenue growth (YoY) in IoT services. Also, the number of $1M+ accounts for the providers increased significantly on a YoY basis.
Providers have invested significantly in developing their IoT solutions both from vertical and horizontal use-case points of view. In addition, service providers are investing in co-innovation initiatives (for example, Atos has several co-innovation initiatives: Connected Vessel – Maersk, Smart Control Room – Stora Enso, Digital Pharma Twin – GSK) to build joint solutions with the clients. Some service providers have also brought a new narrative around their IoT services. For example, TCS started their IoT campaign, Bringing Life to Things.
Phil: Any interesting trends that you spot from speaking with customers, Mayank?
Mayank: Broadly, clients are satisfied with the quality of the services provided to them. Clients spoke highly of the industry and technical knowledge of the teams delivering these solutions. Some of the providers have also impressed clients with customer centricity and strong account management practice. But providers could focus on the consistency of the services they provide. Clients discussed delivery challenges (availability of talent for new projects, resource attrition, retention, coordination among resources across geographies, etc.). Some clients expect more flexible pricing models from providers. Overall, according to clients, industry, and technology expertise are the key provider differentiators.
Phil: How do you think the IoT market will evolve in the next 12 – 18 months?
Mayank: There has been the trend of acquisition to strengthen its IoT offerings from the past few years, and post COVID-19, there has been a rise in the same. Acquisitions are acting as key growth enablers for service providers' capability and scale. Capgemini's acquisition of Altran enabled it to achieve these parameters, and Mindtree's acquisition of NxT Digital Business from the L&T group will help it expand its footprint in the industrial IoT and smart city segments. Accenture has been on an acquisition spree to strengthen its IoT offering too.
Tanmoy: As IoT has become a strategic lever for enterprises, so IoT consulting services will be a differentiator in this space. I also believe that the large IoT deployments will continue. The manufacturing industry will observe the highest adoption among the verticals due to the convergence of IoT and smart manufacturing. From the service perspective, mid-tier providers will remain on a high growth path due to their IoT investments, close client relationships, and domain capability.
Phil: What are you looking forward to in terms of developments in the IoT market in 2022?
Mayank: Well, post-COVID-19 healthcare is one area where the use cases have increased significantly. Medical practitioners are increasingly relying on real-time data for immediate services, treatment of various diseases, and even tracking resources like staff, assets, patients, and others. As IoT is expanding, data governance and security is becoming a huge concern and focus area. Use cases like Telemedicine, contact tracing, wearable for health parameters have seen an increase which causes IoT data security and governance. Healthcare transformation has been bringing a lot of positive effects, but data security issues need to be addressed to enable growth and scale. So, I feel healthcare is one area where the IoT market will expand exponentially in the coming days.
Tanmoy: In terms of technology, 5G, cybersecurity, and data analytics/AI will be the major differentiators. 5G improves the connectivity aspects, which in turn brings more IoT adoption, particularly in the Industrial IoT area. Cybersecurity is also a critical area as IoT applications involve sensitive data.
Another development that I am expecting a massive surge in is the adoption of non-linear pricing models from an IoT services point of view. Though the majority of the IoT engagements are dominated by fixed-price and time-and-materials (T&M) pricing models, we have seen several examples of non-linear pricing models. As IoT enables "as-a-service" business models, the adoption of outcome-based pricing models will pick up. In most engagements, a non-linear pricing model is blended with fixed-price and T&M models.
Phil: Terrific work guys – looking forward to sharing the report with the industry!
HFS Subscribers can click here to access their copy of Top 10 IoT Service Providers, 2021 
Posted in : The Internet of Things