If you had dropped by our new Bangalore office last month, you would have found fellow HfS Research analyst Tanmoy and me poring through loads of engineering services data for the Q2. The end result was that we prepared a comprehensive 29-page report (which even our Editor-in-Chief Mark Reed-Edwards had a hard time editing!) highlighting Q2 Engineering Services Trends with a large number of data points and charts.
I have picked three charts from this report to convince you that automotive is in the driving seat of engineering services growth.
The first chart is the percentage breakup of the engineering services outsourcing deals announcements by verticals in Q2 2016 (see below). This chart shows that automotive vertical bagged the highest number of deals in the last quarter at ~30% of the total.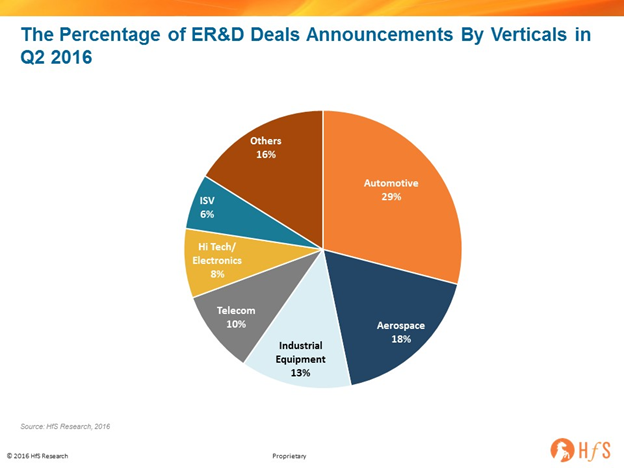 The second chart is the percentage breakup of the engineering services partnership announcements of service providers by ER&D services in Q2 2016 (see below). This chart shows that smart vehicle, at 33%, is the most preferred partnership area in the last quarter. There is a lot of investment in smart vehicles globally with the likes of Tesla, Google, Apple, Uber along with the traditional automotive OEMs investing in self-driving vehicles, connected vehicles, etc. Engineering service providers are developing their value proposition in this fast evolving space by partnering with other firms.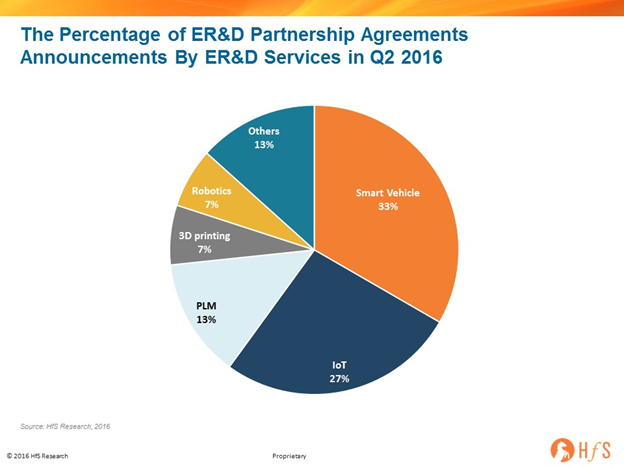 The third chart is the percentage breakup of the engineering services captive center announcements of either new centers or expansion of the existing centers in Q2 2016 (see below). This chart shows that though automotive vertical is at number three position, the gap between automotive verticals and other top two verticals is small. The top two verticals are from emerging areas such as software and high tech where R&D needs are higher. Among traditional industries, automotive leads all the way as there are a lot of R&D requirements in connected vehicles, self-driving vehicles, etc. which OEMs and Tier 1s will like to research and test in-house.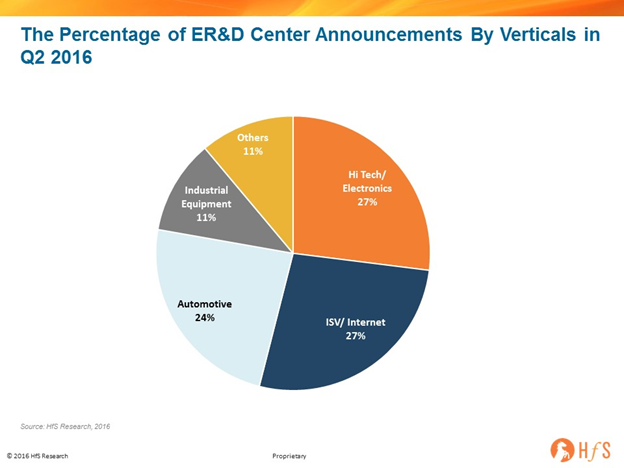 These charts show that automotive customers are actively outsourcing to engineering service providers and also setting up their own engineering centers across the world. Also, engineering service providers are augmenting their automotive capabilities with partnerships. These are all good signs for the automotive vertical. Also, in one of my earlier blog I discussed the spike in vehicle recalls and its implication on the growth of automotive testing, verification and validation services.
The Bottom Line: We believe that automotive may become the largest vertical in coming years as a result of the growing interest of automotive customers and engineering service providers.(In our Engineering Services Blueprint Report we discovered that automotive is the second-largest engineering services vertical after telecom and hi-tech)
HfS subscribers can click here to download the full POV on Q2 engineering services trends.
Posted in : Procurement and Supply Chain