We have recently published our Blueprint Report on Industry 4.0 Services. This is our fourth engineering services Blueprint in which we analyzed and positioned twelve Industry 4.0 Service providers according to their execution and innovation capabilities. In the first one, we focused on the mechanical engineering services. In the "second" engineering Blueprint, we looked at Software Product Engineering (SPE) services in detail. The third Blueprint was about Product Lifecycle Management (PLM) services.
What does Industry 4.0 Services Blueprint cover?
This Blueprint includes the Industry 4.0 offerings of different service providers across verticals for shop floor manufacturing. This includes their capabilities across the HfS Industry 4.0 Services Value Chain of R&D, Plan, Implement, and Operate for thirteen technologies that are relevant to Industry 4.0. These technologies are Manufacturing Data Analytics, Robots, Manufacturing Automation, Digital Clone or Simulation, 3D Printing, Manufacturing IoT, Plant Cybersecurity, Manufacturing on Cloud, Augmented Reality in Manufacturing, Virtual Reality in Manufacturing, Artificial Intelligence in Manufacturing, Visual Analytics in Manufacturing, and Small Batch Manufacturing. This report also provides insights into the internal R&D, capability, vision, investment, and partnership priorities of the service providers. We also outlined the strengths and challenges to take into consideration for these service providers. The report also mentions market analysis of the Industry 4.0 Services industry, the current focus area, and the future growth areas over the next few years. The service providers included in this report are Accenture, Altran, Atos, Cognizant, Genpact, HCL, IBM, Infosys, L&T Technology Services, TCS, Tech Mahindra, and Wipro.
What is unique in this Blueprint?
Our focus is not solely on size, revenue and global scale of the Industry 4.0 service providers but our emphasis is also on the Industry 4.0 use cases, customer case studies, service provider strategy, way service delivery is organized, the availability of industry domain expertise, investments in industry talent, academic partnerships, industry body associations, acquisitions of companies to augment industry 4.0 capabilities, etc. Also, the Blueprint includes recommendation sections for buyer enterprises as well as the service providers. Another point of emphasis in our research is the effect of digital and emerging technologies in Industry 4.0 and how service providers are enabling new ways of working with these new technologies to address industry-specific challenges and the level of innovation brought to clients. For example, we covered how service providers are leveraging existing digital capabilities (analytics, cloud, automation, IoT, AI, cybersecurity etc.), and emerging areas (robotics, augmented reality, virtual reality, 3D printing etc.) in Industry 4.0.
This Blueprint also includes Industry 4.0 market analysis. This is first of its kind of Industry 4.0 Services study where we tried to collect details of Industry 4.0 engagements and arrived at the overall current adoption level of Industry 4.0 across verticals, technologies, service lines, and geographies. This should help each Industry 4.0 service provider, Industry 4.0 software provider (technology providers related to the mentioned thirteen technologies), and enterprise to benchmark their Industry 4.0 footprints and identify their strengths as well as areas or levels of improvement. The intent of this report is to provide valuable intelligence and a reality check on what is going on in the Industry 4.0 services world.
As part of this work, we are launching Digital OneManufacturing framework (refer Exhibit 1) that provides our view of the Industry 4.0 operating model. The framework represents an integrated manufacturing operation center that has digital prowess for a manufacturer to meet future manufacturing complexities.
In brief, Digital OneManufacturing is the platform on which digital technologies meet manufacturing engineering technologies and controls a manufacturing landscape in real time to serve clients. It's where all the process elements are combined: Connectivity, the processes, and the intelligence come together as one integrated unit, with one set of unified business outcomes tied to manufacturing organizations.
Exhibit 1: Digital OneManufacturing Framework- Click to Enlarge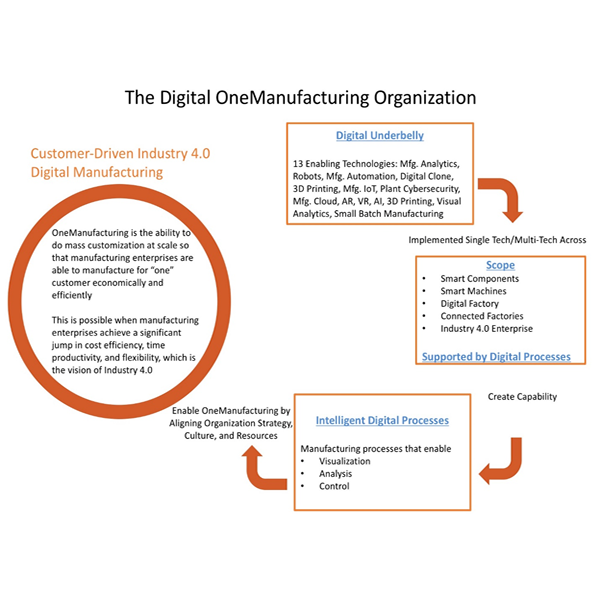 Digital OneManufacturing is the ability to do mass customization at scale so that manufacturing enterprises manufacture for one customer economically and efficiently. Please refer our PoV on Digital OneManufacturing to get more details about the framework.
What is the current state of Industry 4.0 Services market?
Since Industry 4.0 is a relatively new concept, manufacturing organizations are conservative to implement Industry 4.0 across the enterprise. Big enterprises are committing modest investment, and resources in digital manufacturing for specific manufacturing functionalities and once they realize the benefits enterprises will go for digital factory and then connected factories. Geography wise, North American manufacturing organizations are at the forefront of Industry 4.0 adoption followed by European and APAC enterprises. The automotive, aerospace and industrial equipment verticals are the leading verticals for Industry 4.0 services. Service providers are also developing industry-specific Industry 4.0 platforms, and plug-and-play solutions in partnering with Industry 4.0 related technology providers (Siemens, GE, Dassault etc.) to address specific client challenges. The biggest challenge manufacturing organizations are facing in Industry 4.0 implementation is the lack of digital maturity and enterprise readiness. Once the Industry 4.0 technologies mature, and the adoption increases, the expectation about Industry 4.0 benefit realization will be realistic.
What are we expecting in the coming years?
As discussed, Industry 4.0 is gaining traction in the manufacturing industry, and in the next few years, we will see more Industry 4.0 adoption, and increasing integration of Industry 4.0 with ERP, PLM, and other enterprise applications. It will take decades for manufacturers to implement Digital OneManufacturing at scale but surely manufacturers will make progress with the help of progressive service providers in this area in the next couple of years
Consulting is often starting point for the large Industry 4.0 programs, so service providers are augmenting their consulting capabilities. We expect to see an acceleration of this trend in the near future. Also, the market will see M&As as the global and Indian service providers will look for specific capability augmentation in Industry 4.0 space. Industry 4.0 will generate a huge amount of data in real time from every connected digital asset, so actionable intelligence from the data is of paramount importance. Thus data analytics is a differentiating factor for successful Industry 4.0 implementation. Security is also one of the most important features of Industry 4.0 as critical manufacturing, and customer data is generated and stored as a part of Industry 4.0 services.
We think there's a high chance the grid could be very different again next time round! Stick with HfS to monitor the important changes in this rapidly evolving market!
HfS subscribers click here to access the new HfS Blueprint Report, "HfS Blueprint Guide: Industry 4.0 Services 2017"
Posted in : Digital Transformation