In our bid to make our research more visually appealing we would like to post the first version of our IT Services market primer. This shows the first round of the 2017 HfS market size and forecast for IT Services for 2015 to 2021. We will be doing a full update of the forecast at the end of Q1. When we have a chance to analyze all the vendor results for 2016.
This chart gives our top level view of the IT Services market in numbers – the market we focus on here is our high-value market – by this we mean the outsourcing/managed services and professional services markets – we exclude standalone support and training from these numbers.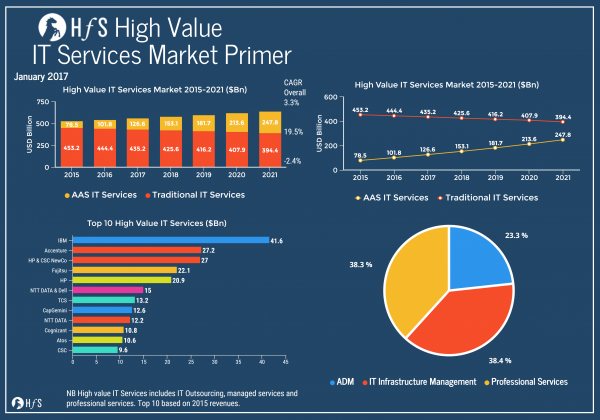 Click to enlarge
The Bottom Line – Watch this Space
We will be producing more graphics such as this, the next will be a top line view of the BPO market. We'll also be writing up our thoughts on both markets in a PoV by the end of the month. 
Posted in : IT Outsourcing / IT Services