We have ranked the major service providers in the Procurement As-a-Service market in our 2016 Blueprint grid, see Exhibit 1. 
Exhibit 1: HfS Procurement As-a-Service 2016 Blueprint Grid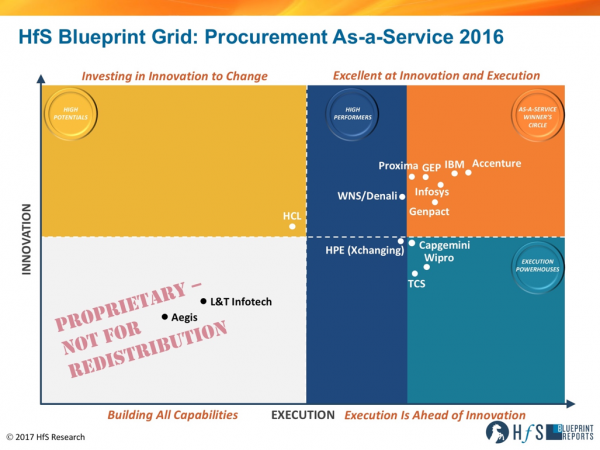 Looking further into the future, who will dominate the space in 2020? Three providers are set to remain at the helm for the foreseeable future: Accenture, IBM, and GEP.
IBM has a massive supply chain, which it smartly leverages in its procurement offerings. IBM is bullish on cognitive procurement. IBM BPS is morphing into Cognitive Business Solutions. Its own procurement provides a great playground for applying and road testing all the new cognitive procurement solutions, giving it an advantage over providers who don't manage procurement for their own organization or have less 'cognitive savvy' clients.
Towards 2020 IBM will be leading in the cognitive procurement services space. Underpinned by a strong BPaaS platform, most clients will look at IBM first when it comes to new cognitive technology-driven services with vastly improved data analytics capabilities. The biggest challenge for IBM to succeed with cognitive procurement is to bring clients along this journey. The vast majority of procurement organizations perceive itself as far removed from advanced innovative procurement capabilities – they are fixing the basics, getting procurement technology to work and pondering the opportunities RPA could bring the procurement function. The gap between cognitive procurement and the (perceived) level of maturity and change readiness of procurement is the hurdle IBM needs to take to make its cognitive ambitions reality or be at risk of running too far ahead of the game.  
Accenture has a significant head start to all other providers, having invested and developed capabilities through acquisitions like Procurian and putting technology into every procurement engagement, leveraging one-to-many advantages for years. Now Accenture is betting on modularity to give them sustained advantage with current clients. And opening markets with medium-sized enterprises, for whom the business case of outsourcing procurement never added up.
Accenture seems to have a more 'wait and see' stance when it comes to cognitive procurement, investing in capabilities and use cases, but not willing to bet the farm just yet. Be confident they'll pounce when the time is right and gobble up any procurement related cognitive and artificial intelligence capabilities they might lack. We expect via acquisition, maybe not of the magnitude of Procurian, but an inorganic technology growth strategy makes sense.
GEP plays in an increasingly contentious market, with its procurement BPO brethren gobbling up smaller niche firms, investing heavily in technology and partnerships. As the largest pure play procurement service provider and a pioneer in procurement technology, the onus is on GEP to continue its leading position and 'best in class' technology. We expect technology and services to converge more and GEP may emerge as an acquirer of cognitive capabilities as cognitive and AI in procurement are on the rise. 
Which are the providers emerging to challenge the leaders?
The early 2017 activity is driven by Indian heritage providers WNS and Wipro. They show their ambitions and make steps to move up the strategic value chain and incorporate more procurement technology into their service delivery and offerings.
WNS, with the Denali brand as a strategic procurement services arm, will have moved into the As-a-Service Winner's Circle by 2020. The strong vision and upstream procurement capabilities from Denali put together with the execution prowess of WNS leads to cross-selling opportunities and investments in tech-enabled new services. The downstream procurement side of the business will have moved to procurement platforms of WNS' partners, with WNS managing the platforms.
Wipro announced an investment and strategic partnership with Tradeshift, which is emerging as a top 3 digital procurement platform and arguably the only real "platform" in the space. This will turn out to be a smart move for Wipro, addressing a technology gap in its procurement offerings and developing on top of the proven platform that is Tradeshift, leveraging an existing and expanding network and adding Wipro Holmes capabilities. On top of this, the partnership with Tradeshift has the potential to help Wipro move up the strategic value chain, with more upstream services and shifting technology-based services to new commercial models faster.
Genpact continues to move up the strategic value chain, and between now and 2020 will have sought to bolster the technology layer in its Procurement As-a-Service offerings, something it lacks compared to other As-a-Service Winner's Circle providers in 2016. Genpact's conundrum is choosing between organic growth to add technology prowess to its BPO capabilities and acquisitions to get there faster. With a poor track record with acquisitions – Headstrong comes to mind –  we will follow their ability to make the RAGE Frameworks acquisition work and how the newly obtained Artificial Intelligence capabilities are transferred to procurement solutions.
Infosys builds out the procurement practice on AI, analytics and platform technology. ProcureEdge and Mana will continue to converge and bring innovation in downstream and upstream procurement. The lack of enthusiasm for BPO from Infosys' top brass is a big concern. To make a concerted move in the Procurement As-a-Service space, Infosys needs a bigger commitment to BPO in general and more focus on bringing all the pieces (Mana, ProcureEdge, category management and strategic sourcing talent and capabilities) together.
Proxima leapfrogged incumbent legacy procurement BPO providers with high value, on-demand As-a-Service services, leveraging technology and expertise. Building out technology led point solutions (beyond current offering in Commercial Management) and marketing pure subscription-based services, a fairly new area for Proxima, will be a major effort to cement a leadership position in Procurement As-a-Service.
All signs point to buyers looking for more modular services – fitting well with Proxima's focused approach and offerings. However, if the market would shift back to demanding end-to-end procurement services, Proxima would have to quickly acquire more end-to-end capabilities.
Fading into Obscurity?
In an earlier version, I wrote: "Capgemini will have lost most of its appetite for the BPO side of procurement, while IBX remains a technology asset in the increasing tech-focused procurement services market". Reality caught up, and Capgemini sold IBX to Tradeshift last week – essentially selling its biggest asset in procurement. Combined with the seeming lack of focus for BPO in Capgemini's C-suite post iGate acquisition, we can conclude it exited the Procurement As-a-Service market in early 2017, well before 2020. IBX needed significant attention and investment from its parent to compete in the procurement platform market, and Capgemini decided it wouldn't stomach this.
HPE is now the home of Xchanging, once a force to reckon with in procurement outsourcing. Xchanging dropped from the As-a-Service Winner's Circle in the 2016 Procurement As-a-Service Blueprint and are in danger of sliding down further in this space. Neither 'interim-owner' CSC nor HPE are big on procurement outsourcing, a market HP neglected in the last decade, although it had the biggest supply chain in the world to service and leverage.
The Bottom Line – From Cost Obsession to Value Creation
Looking into the glass bowl, we expect the procurement As-a-Service market to continue to build value for providers and service buyers as the value of digital solutions, analytics, procurement tech platforms and cognitive automation takes hold. Albeit with a smaller number of providers, which have a full stack approach ranging from upstream strategic capabilities to platform-based execution of transactional procurement – delivering business outcomes on a subscription model.
In 2020 the market will be bifurcated into the 'Haves' and 'Have-nots', the 'Haves' being those providers with technology, platform based delivery and upstream procurement capabilities, offering flexibility, agility, modularity and superior digital customer experience. 
With affordable, modular services making procurement services accessible to midmarket enterprises, a new hunting ground for service providers is gradually emerging. Moreover, emerging digital clients, which may be less than $50m in revenues, but have high volume transaction needs, will need to access procurement services.  It's not going to be all about size and scale, but also profitability and transaction volume.
Providers will be venturing, more and more, into direct spend delivery models, supporting clients to drive value and efficiency with cognitive, AI capabilities. As enterprises like to keep control of sourcing of direct materials and services, this will be a collaborative, partnership approach as opposed to full-blown outsourcing.
Posted in : Procurement and Supply Chain