Industry analysts are often accused of hyping the market they cover, creating hockey-stick growth projections to get everyone excited and avoiding ever reporting a worrying decline in growth.   I just heard you gasp in shock and horror at this revelation…
So what do you do when you're actually in a position to dust-off the old hockey-stick, last seen used adorning a forecast for online vacuum-cleaner parts from '99, and slap it under a title such as "Outsourcing spending to reach $250 Gazillion by 2016"?
Which brings us to the topic du jour: what are customers intending to do this year with their outsourcing strategies?  When we spoke to 1055 customers, intermediaries and vendors across the global sourcing industry earlier this month, they gave us the real picture:
Figure 1: How 2010 will play out (from the customers' perspective)… IT Outsourcing reaching its peak and a banner-year for BPO likely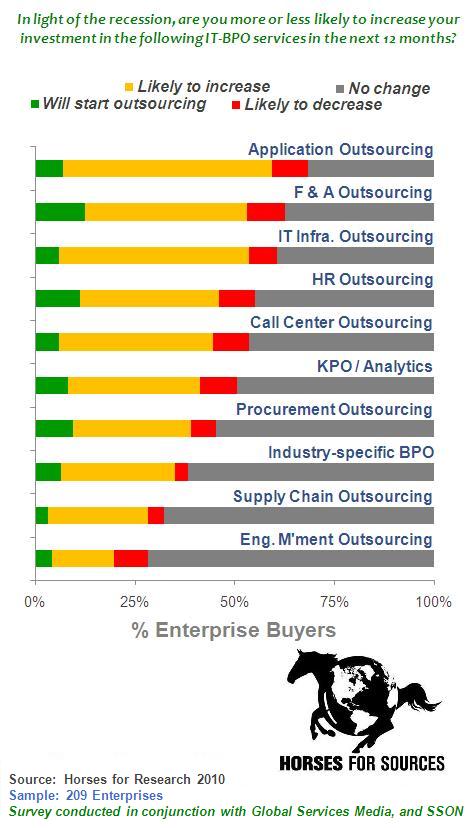 This chart is revealing the dynamics of enterprises now looking to execute on plans to reduce costs and drive change into their business operations after hunkering down during the recession.
The green represents where customers are intending to initiate outsourcing for the first time, the amber where they are intending to increase scope of existing outsourced processes, the red where they intend to pull-back scope, and the gray where they haven't made any plans, or just intend to maintain their status quo.  Let's take a closer look…
Applications and infrastructure:  most larger firms have already been using IT services vendors to deliver work in outsourced contracts for some time now, hence the relative small percentage of customers starting ITO for the first time.  The notable trend here is the sheer magnitude – over 50% – of firms intending to increase the scope of their existing IT outsourcing engagements.  We're already seeing significant revenue growth from several of the ITO vendors over the last couple fo quarters, as they layer on work for customers.  As we've discussed at length, there's still a lot of room for labor-arbitrage deals in the short-medium term, with 75% of ERP still being maintained and supported onshore.  Hence 2010 will constitute something of a land-grab for the arbitrage work from the leading services vendors.  The big question will be who wins the higher-value transformative work when the obvious arbitrage opportunities eventually dry up.
Our take – IT outsourcing to peak this year.The delivery models for standard ITO services are mature and scalable enough to cope with the demand. 2010 will be a peak year for the ITO business as the services vendors rapidly mop-up the labor-arbitrage deals. The gauntlet really gets laid down towards the end of this year, as customers want to find new ways to drive productivity after the arbitrage is exploited, for example virtualization and cloud-based services.
BPO: simply put, many BPO functions are a lot less developed, less scalable and less "productized" than those of IT outsourcing, so expect a lag-effect between the resurgence in ITO and a bounce-back in BPO engagements being signed.  We'll delve deeper into the BPO dynamics, in the coming days, to discuss the development path of the process areas and their blend with IT delivery.  However, similar to ITO, it's clear a lot of pent-up demand from business case evaluation in the recession months, will come into play in 2010.  
Transactional finance and accounting (F&A) outsourcing (i.e. payables and receivables) has become well-resourced and supported by a number of vendors, with over 70,000 delivery staff working for services vendors across the globe.  One-in-six customers expect to venture into an F&A BPO engagement for the first time this year, but more significantly, 40% of them will be layering on additional F&A processes to existing engagements, with only a small fraction actually pulling back work.  Much of this demand is coming from mid-market firms, so expect a multitude of smaller transactions in the $5m-$20m range being signed this year. 
In a similar vein, some HR outsourcing functions will be outsourced, with 11% expecting to outsource for the first time, and a third of customers adding additional scope.  Unlike the multi-process HRO business of yesteryear, most of the new HRO engagements will be single-process in areas such as payroll, staffing (recruitment process outsourcing) and benefits administration, where vendors have established and more scalable delivery models, underpinned by technology platforms and a blend of onshore, nearshore and offshore delivery.
Other areas of note, that will be discussed in further detail down the road, involve an uptake in call center work, to be expected during a period of some economic recovery, and a lot of firms exploring analytics / knowledge process outsourcing, especially among mid-market customers.  Most interestingly, we're seeing a real interest from customers to explore industry-specific BPO models, most notably in the financial services and life sciences sectors.
Our take – BPO to re-emerge, but demand will outstrip supply. Simply put, many firms that laid-off heavily during the recession are opting for more flexible support models as we move into an uncertain period of economic recovery. Outsourcing fits the bill in many cases, as it provides a more flexible, lower-cost option that can support uncertain business volumes. Moreover, outsourcing can provide a unique change opportunity for firms, as they look for better payroll systems, flexible recruitment support, a streamlined global accounts payable process flow etc. However, BPO areas usually necessitate more intricate business re-engineering and change management than those in IT support areas, and the cost-savings can be a lot less attractive in many instances. In addition, a lot of the fresh demand is coming from the mid-market, where the numbers of process staff involved are fewer, and the labor arbitrage savings less attractive than those of larger companies with greater scale. Not to mention the pressure on vendors to maintain their profit margins, which is going to make it tough for them to be as cost-competitive with mid-market deals as they are with higher-end pursuits.
The bottom-line: outsourcing is back on the table, but the industry will only be able to respond initially to demand in commodity areas.  It's encouraging for the outsourcing industry that customers are seriously looking at outsourcing to solve many of their performance issues, however, trying not to insert too much of a damp squib into this positive data, many services vendors are not geared to give them the cost-savings they hope for, in many instances.  Not many customers will turn away opportunities to drive out 30%+ cost-savings and the chance to improve their support operations, hence the resurgence in demand after such a  long period of careful planning.  However, the industry has been geared to solving low-hanging fruit outsourcing opportunities, such as application support and standard transactional business processes, where the common denominator has been cost-reduction via high-scale labor arbitrage. 
While there is clearly a lot of new business to be taken on in this environment, the real issues are arising in the mid-market, where lesser-scale necessitates a vendor partner which can deliver more  than low-cost staff in a scalable delivery model.  The transformation many mid-market customers need to move into an outsourced environment, often requires new technology implementation that incorporate elements of SaaS and Cloud computing, deep domain-specific consultative support and a skilled change management program.  While several services vendors have these capabilities today, they are scarce and come at a price. As a consequence, many of these customers will be disappointed at the level of immediate cost-savings on the table and will be challenged to create outsourcing business-case justifications to their leadership, in order to proceed. 
The challenge is on for services vendors to craft creative solutions for clients that provide more than merely standard delivery underpinned by labor-arbitrage.  The winners will be those that can step up and craft creative, innovative offerings and convince their shareholders they are doing the right thing.
Posted in : Business Process Outsourcing (BPO), Cloud Computing, Finance and Accounting, hfs-industry-2010, HR Outsourcing, IT Outsourcing / IT Services, Procurement and Supply Chain, SaaS, PaaS, IaaS and BPaaS, the-industry-speaks