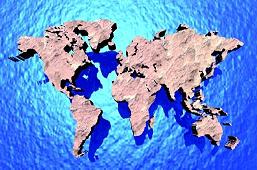 So it's time to drip-feed the intentions and experiences of 1055 buyers, intermediaries and vendors into the global sourcing industry.   
We'll be discussing the results from our "Seeking the New Normal in Outsourcing Delivery" in full at the Global Services Conference on 28th January, but the nuances behind why – and how – companies are exploring sourcing delivery models, as we come out of a painful recession into an uncertain climate, need to be aired and discussed.  
There's been a lot of talk about a "New Normal", or a "Reset Economy", that things will never be quite the same as before, however, we really need to zone-in on reality to grasp what these new dynamics really entail, in order to understand how we can address them.  
To cut to the chase, most industries are in a state of profound change, where businesses are having to accomplish new levels productivity and sources of revenue simply to survive, let alone grow, in this climate.  Whether you're making cars, pharmaceutical products, providing consulting services, and so forth, the chances are there's someone else in your industry vying to deliver what you do at lower cost, and potentially better quality.  (Unless you're in banking, where it's business as usual…).  
The big difference today is there aren't really any major developments on the near-term horizon to fuel a fresh wave of new economic growth, such as those provided by the Internet, computing and telecoms revolutions of the last 20 years.  This time, the name-of-the-game is to optimize the tools we have, and be smarter than our competitors.  Eventually, we'll see real progress being made in areas such as medical research, Cloud computing and Green tech that should fuel a new growth era, but it's not going to be upon us quite just yet. 
In today's global economy, the options available to provide products and services leveraging global talent and new technologies, are almost suffocating for most firms.  There's never been a time more crucial than now to find the right partners who can help you source global talent effectively. 
When 209 enterprise buyers of outsourcing services were asked what were the most important reasons  driving them to evaluate outsourcing in 2010, we received the following results across small (under $750m revenues), mid-sized ($750m-$3bn) and large ($3bn+) customers: 
Figure 1: Customers are looking to drive change into their operations to become more effective globally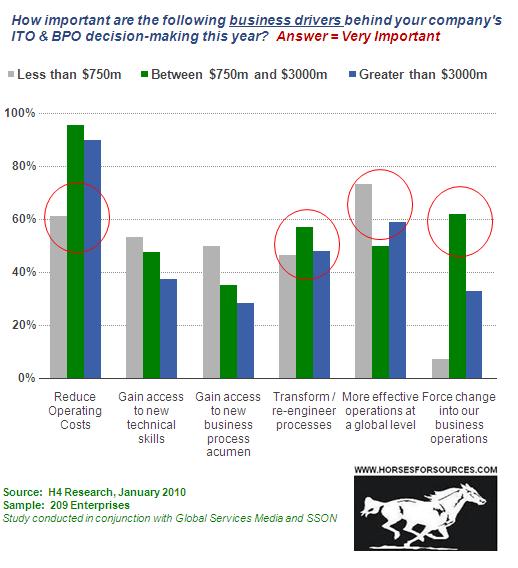 You can clearly see the contrasting motivations here between small, medium and large-scale enterprises when in comes to their motivations behind outsourcing.  Let's drill a bit deeper here… 
Cost-reduction dominates, but only where there is significant scale to exploit labor arbitrage opportunities.  While the mid-large customers (90%) overwhelmingly look at cost-reduction as their prime driver, smaller firms do not have the same scale to enjoy such immediate cost take-out potential, with only 60% citing reducing costs as a primary driver.  They actually regard accessing new process acumen, technical skills and having support to operate more effectively at a global level, as similarly powerful motives.   
Empowering global operations and re-engineering processes are coming to the fore.  When we ran a similar study six months' ago, it was already becoming clear that customers, when looking at outsourcing, are anticipating more business benefits than merely driving our some initial cost.  As we emerge from the recession, their desire to leverage global sourcing to help them operate more effectively as a global organization and re-wire their operations to support that process, is becoming even more apparent, with over half of all customers citing the need to globalize and transform processes as prime outsourcing motives.  And this is across all size-classes of customer.  The need to globalize is impacting all companies, and outsourcing is providing one vehicle firms are looking at to help them achieve it.   
The mid-market increasingly views outsourcing as a vehicle to force change into their business operations.  As we've discussed exhaustively during the downturn, many businesses are struggling to break out of the old way of running operations, and outsourcing is increasingly being viewed as a major change-agent, with close to two-thirds of mid-sized customers citing this as a very important driver for outsourcing this year.  While mid-market customers clearly feel the need to combat fatigue from old business support models, large firms are less inclined to view outsourcing this way, as they are more used to using customized sourcing approaches and captive / shared services models, that are harder to "change" solely with outsourcing engagements.  Small firms tend to use outsourcing moreto augment the value it brings from an added resource, talent and global standpoint, but because of the lack of scale will struggle to force real change into the business models with limited labor arbitrage opportunity. 
There's much more to follow from this study in the coming days, but we can already conclude that this unique view across the real drivers behind outsourcing clearly compliments the profound and fundamental changes we are going through across most industry sectors.  Global business is rapidly changing, and outsourcing provides a vehicle for many business to change with it.  Love to hear your thoughts / comments.  You can also email me at phil dot fersht at horsesforsources dot com. 
Posted in : Business Process Outsourcing (BPO), Cloud Computing, hfs-industry-2010, IT Outsourcing / IT Services, Social Networking, the-industry-speaks