During Part 1 of the largest-ever study that's looked at outsourcing across both IT and business process, we revealed – beyond any doubt – that outsourcing is now a proven business model for reducing operating costs, with 95% of buyers reporting positive outcomes.  Moreover, our study also reveals huge untapped potential for future outsourcing right across both IT and business functions, so surely this means the market is set to explode and we can wield new hockey-stick growth projections? Perhaps… but a few things need to happen first. Let's investigate…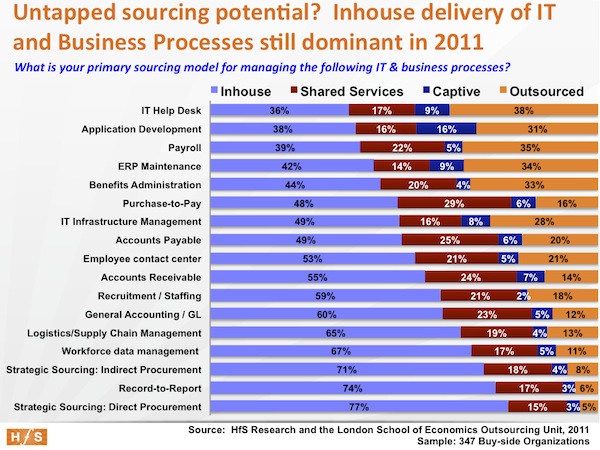 Strong outsourcing growth potential exists across both mature and virgin outsourcing areas
Established outsourcing areas have a lot of runway. As our data across global enterprises illustrates, as many as four-out-of- ten enterprises still primarily conduct mature outsourcing-friendly processes such as IT support, ERP maintenance and application development, payroll and benefits administration inhouse. In fact, with the exception of IT help desk, more enterprises still predominantly manage these processes inhouse than choose to outsource them.  This seems unfathomable – right?
Maturing outsourcing processes are poised for heavy growth. For maturing outsourcing areas such as purchase-to-pay, accounts payable/receivable, general accounting etc.,  50-60% of enterprises still adopt an inhouse sourcing model, roughly a quarter house them in shared services, while under a fifth have chosen the full outsourcing path.  That's a lot of administrative work still being run at unnecessarily high cost – right?
Emerging outsourcing functions are only just at the beginning of their growth curve. With emerging outsourcing areas, such as record-to-report, strategic sourcing and supply chain management, barely 10% of organizations have chosen to outsource, with the vast majority still clinging to inhouse delivery. OK – these are more complex processes, but not many enterprises are dipping their toe in the water – right?
So with these proven cost-savings on the table, why is outsourcing still in its infancy for so many business support functions?
Buyers are distrusting of providers' capabilities and haven't been convinced of the proof-points
Clearly, many buyers have not been convinced by providers that they can deliver the goods: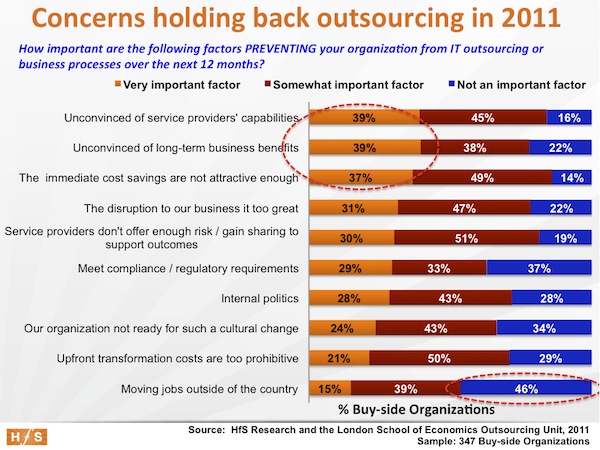 Four out-of-ten cite they have yet to be given genuine proof-points that providers have the know-how to produce long-term business benefits for them.  So why are they unconvinced?
The industry is polarized around cost. We believe a main reason for slower adoption of emerging outsourcing areas, lies with the fact that outsourcing has becoming polarized around cost as opposed to business value. Advisors and lawyers are too often brought in to develop watertight contracts and swathes of SLAs, which in turn diffuse much of the trust and relationship energy from the relationship before it's even been signed.  In far too many cases, it takes years to establish the level of trust that should have been established before the onset of the contract.
If you're just inking a help desk deal and want your lowest price per help-ticket, that's fine, but if you're looking to globalize your procurement processes, or improve the quality and timeliness of your management reporting, you really need to see what's under each provider's kimono before you tie the knot with them.
Many providers lack proof-points and the ability to communicate effectively with buyers. Part of the reason for this, is that many areas of outsourcing are barely a decade old and there aren't actually a lot of proof points available.  Even so, some providers do a lousy job relating to buyers and providing a listening environment where they can have other clients share their experiences.  Several providers still have archaic channels to market, whereby they simply fail to communicate with business function leaders who want to learn more about outsourcing and global business operations.  Smart, creative relationship energy is required to influence the right business executvies and convince them of what can be achieved in a well-executed global sourcing environment.
The bottom-line
As Part 1 highlighted, buyers are only seeing modest business benefits in areas such as achieving new business process or technology delights.  We believe this polarization around cost-reduction is manifesting a distrust among buyers to increase their outsourcing scope into new areas.  It's not about moving jobs out of the country – the core issues are about trust and demonstrating real business value and competency.  Moreover, many organizations take a long time to accept such disruptive change as outsourcing – and they require a softer, more value-based and consultative approach to sourcing than simply hard metrics.  Cost pressures have dictated much of the growth in outsourcing over the last decade, but it's clear that many organizations want to see more before they will take the plunge.  Remember, today's corporate decision makers are unlikely to be schooled in the world of global sourcing – they usually come from finance, legal, sales or operations backgrounds.  They want to see how outsourcing will really impact their business, and many of them are still yet to be convinced providers are going to deliver business value to which they can relate.
Stay tuned for the next installments in this series, where we will look at trends by industry, company size and by region, in addition to anticipated outsourcing adoption.  And your comments and debate are always welcome!
Posted in : Business Process Outsourcing (BPO), Captives and Shared Services Strategies, IT Outsourcing / IT Services, sourcing-best-practises, state-of-outsourcing-2011-study