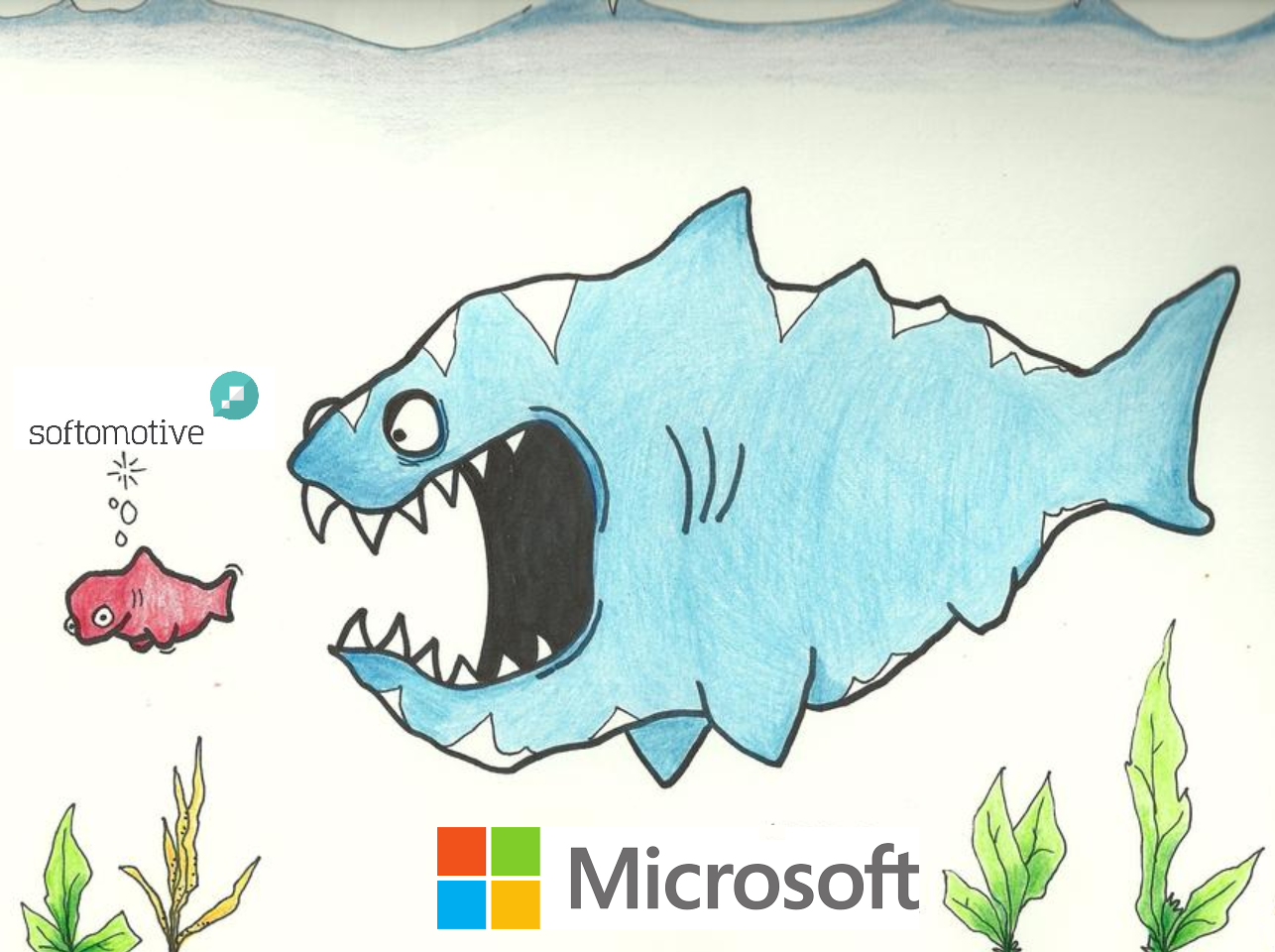 There's a very strong rumor that Microsoft is in talks to buy Softomotive, unconfirmed by either party which didn't stop Bloomberg running the story, and we're happy to wonder what it might mean. There's lots that's promising – for Microsoft, for Softomotive and for the RPA category as a whole. And most likely great timing in a market where rapid digitization is the calling card.
The smaller proven RPA vendors are more attractive acquisitions to fill functionality gaps
At the beginning of this year we cogitated that no one would buy any of the big three RPA vendors when we made 2020 predictions – then within weeks when Appian bought Jidoka we noted that smaller RPA vendors are still certainly likely acquisition targets. We even suspected UiPath was positioning itself to be acquired by MS last year but was clearly far too hefty an investment for Microsoft's appetite as it eyed ticking the RPA box in its catalog of automation and AI solutions. However, an acquisition of Softomotive, which could fetch a low nine-figure number, clearly shows MS is serious about adding this much-needed capability to address the space.
In 2018 Softomotive secured funding of $25m (Series A) and we reckon it's not easy to get funding these days. Although Blue Prism managed to raise $125m to strengthen and protect its balance sheet and Kryon recently finalized a $40m Series C. We expect there are more acquisitions to come. So, we're not that surprised, and we are hoping there is truth to this tale.
Microsoft has shown up to the RPA party late and it can easily buy its way in
Microsoft has been talking RPA all through the second half of 2019, in multiple earnings calls and announcing the Power Automate launch at Ignite. It recently launched its Power Automate version of RPA to general availability. HFS initial reactions laid out Power Automate (RPA) and its overall fit in Microsoft's Power Platform. It is mainly what was Flow (close to IFTTT) with some UI screen scraping for the legacy green screens and the ability to record the various keystrokes or clicks. We saw attended automation as per UiPath and Automation Anywhere, but couldn't help but question the unattended capability as per Blue Prism at that point and called out the need for catching up to RPA vendors' level of capability.
Softomotive would give Microsoft both attended and unattended capabilities, a significant customer base and real credibility as an intelligent automation solution
What Microsoft could gain here with Softomotive (if this goes ahead) is an RPA veteran with roots in desktop automation, with a solid engineering approach and a decent set of both attended (WinAutomation) and unattended (ProcessRobot) capabilities. It has more than 9,000 customers worldwide and is a longstanding Microsoft partner. For more on HFS's view of Softomotive and other RPA players see HFS Top10 RPA Products 2020. Softomotive demonstrates sound thought leadership with its "People 1st Approach" and it made an interesting move last year with the launch of Robin, an open-source RPA language. At HFS, we liked the vision and concept of Robin very much but struggled to see how people (especially competitors) would be motivated or incentivized to play along, and it really needs lots and lots of developers playing along to be successful. Softomotive is hitting the jackpot here though and might find a lot more people throughout Microsoft's extensive installed base readily incentivized to ensure portability and interoperability of RPA using Robin if it becomes part of the Microsoft empire. If Robin proves popular with that critical mass, competitors have little option but to follow.
Microsoft is well on its way to becoming a one-stop-shop for all enterprise software needs
So, there's the hardware of course, but the real value of this acquisition would be embedding or connecting robust RPA into Microsoft's many well-established software product families, from MS Office, Teams, SharePoint and Dynamics 365 for ERP, CRM etc. This is all subject to Softomotive's technology being absorbed at a technical level into the Microsoft product family – not just in slideware. Microsoft Power Platform is not reliant on only MS software, other software will be in use at its customers' organizations, so its running with a vast array of connectors (300+ at last count) to hook up to the many large enterprise platforms in common use. Considering how many RPA use cases start with or rely on a trigger like an email (with attachment) or an excel spreadsheet it's easy to see why Microsoft has a vested interest in picking up the baton itself with RPA extending its value proposition, rather than letting third party vendors come in to carry the data along its process journey. What Softomotive could provide to Microsoft is more much needed connective tissue, to help business users with the complexity of business processes laden with process debt.
The bottom line: Microsoft is just one of many big fish menacingly circling the RPA space
Not only does this move validate the RPA category, it also threatens those who pioneered the category. Other independent software vendors (ISVs) are making moves too. Pega has its Infinity platform low-code, BPM, RPA combination fueled by the Openspan acquisition, SAP's Intelligent Robotic Process Automation (IRPA) offering is based on a combo of previous internal efforts and its Contextor acquisition. Appian acquired Jidoka. Compelling pricing propositions for RPA as an add-on are visible. And these approaches, including Microsoft's, are broad approaches supplementing the rigor of enterprise software platforms, low-code, BPM, AI and APIs with RPA.
What's more, Google is tackling the intelligent part of intelligent automation to structure unstructured data with Document AI, in partnership with UiPath, Automation Anywhere and Appian amongst others. Given Google's intentions to deliver an array of functional and vertical solutions with partners and its technology stack we should anticipate that some of the pain points that RPA addresses will be targeted in these initiatives. And Salesforce is keeping its options open, with MuleSoft in hand already with an API led approach and Salesforce Ventures led Automation Anywhere's Series B financing.
Other RPA vendors need to pay attention to the fact that while they have undoubtedly proven the market need for RPA, they have no guarantee of keeping hold of the market they created. Their best bet is proving that a third-party layer on top is superior to embedded and connected approaches, and we expect that RPA vendors will make a decent stab at articulating this throughout the rest of 2020.
Posted in : Artificial Intelligence, intelligent-automation, Robotic Process Automation